Ushuaia is the charming capital of Tierra del Fuego, located at the southernmost tip of South America. This breathtaking land is home to whales and penguins, icebergs and snowcapped peaks. It is truly one of the most fascinating destinations in South America. However, traveling here can be a bit of a budget-buster. In this article, I'll be sharing some tips on how to travel to Ushuaia without breaking the bank while still enjoying all that this incredible place has to offer.
Where Is Ushuaia?
Ushuaia is located in the Argentine province of Tierra del Fuego, about 1,000 kilometers (620 miles) from Buenos Aires, on the southernmost tip of South America. It is situated on the shores of the Beagle Channel, surrounded by the Andes Mountains and the Martial Glacier. Ushuaia is a major port for ships traveling to and from Antarctica.
The first European to visit the area was the Dutch explorer Willem Schouten in 1616, who named it Ushuaia after the Yámana word for "bay" or "cove." In the late 19th and early 20th centuries, Ushuaia became an important center for the exploration of Antarctica. It was also used as a penal colony for Argentine and Chilean prisoners. Today, Ushuaia is a major tourist destination in South America.
Is Ushuaia Really The Southernmost City On Earth?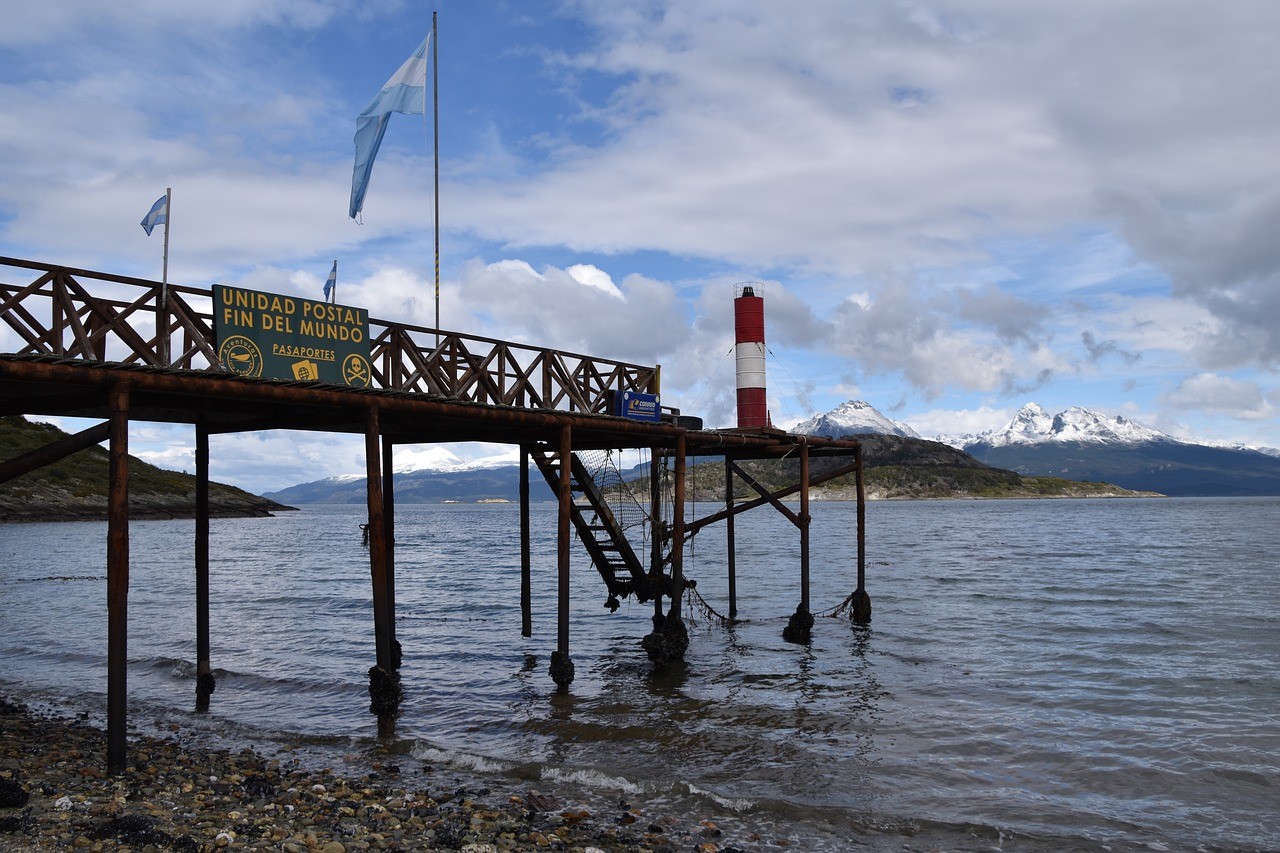 Surprise! Despite the many signs claiming "Fin del Mundo" (end of the world) in Ushuaia, there is no actual end of the world there. The territories of Argentina and Chile extend further south, all the way to the southernmost islands. While Ushuaia was once considered the southernmost city on Earth, that title now belongs to Puerto Williams on the island of Navarino in Chile, since 2019.
Another "southernmost" fact: Cape Froward, situated on the Brunswick Peninsula in Chile, is the southernmost point of the South America. There is an amazing 5-day hiking trail going all the way to the cape. The southernmost point in all of South America, including its archipelagos, are the Diego Ramírez islands, also located in Chile.
Best Time to Visit Ushuaia
☀ The summer months of December to February are the warmest and driest. But it's also when the majority of tourists flock to the area. It's the peak season for outdoor activities, including hiking and rafting, and for exploring the stunning national parks that surround the area.
🌸 If you're an animal lover, the spring season is the perfect time to visit Ushuaia. During this time, many species of birds and marine animals come out to play. If you're keen on seeing penguins, September and October are the best months to catch them in action, as they return to the area to breed.
❄ If you're looking to avoid the crowds and get better deals on accommodation and activities, you may want to consider visiting Ushuaia during months of March and November. The weather during these months is still pleasant. It is also the best time to look for a cheap cruise to Antarctica.
Take a moment to read my guide: Pack Like a Pro: Backpacking Essentials for Endless Adventures
How To Get To Ushuaia
The easiest way to get to Ushuaia is by flying. There are regular flights from Buenos Aires and other major cities in Argentina, as well as from some international destinations. Domestic flight costs on average 80$, but for the summer month you have to book your tickets well in advance. Check out FlyBondi and Aerolíneas Argentinas website.
Another option is to take a bus. Buses leave regularly from the major cities in Argentina, but it is indeed a very long ride. The journey from Buenos Aires will take 55 hours, from Bariloche — 33 hours, and the cost of the ticket is higher then a flight.
Once you arrive in Ushuaia, you can get around the city by local bus or on foot.
Take a look at my article Patagonia: A Guide to South America's Outdoor Paradise if you want to learn about the official and blue exchange rates in Argentina, as well as other helpful tips and tricks. All information is updated for 2023.
7 Amazing Things To Do In Ushuaia
See the penguins in their natural habitat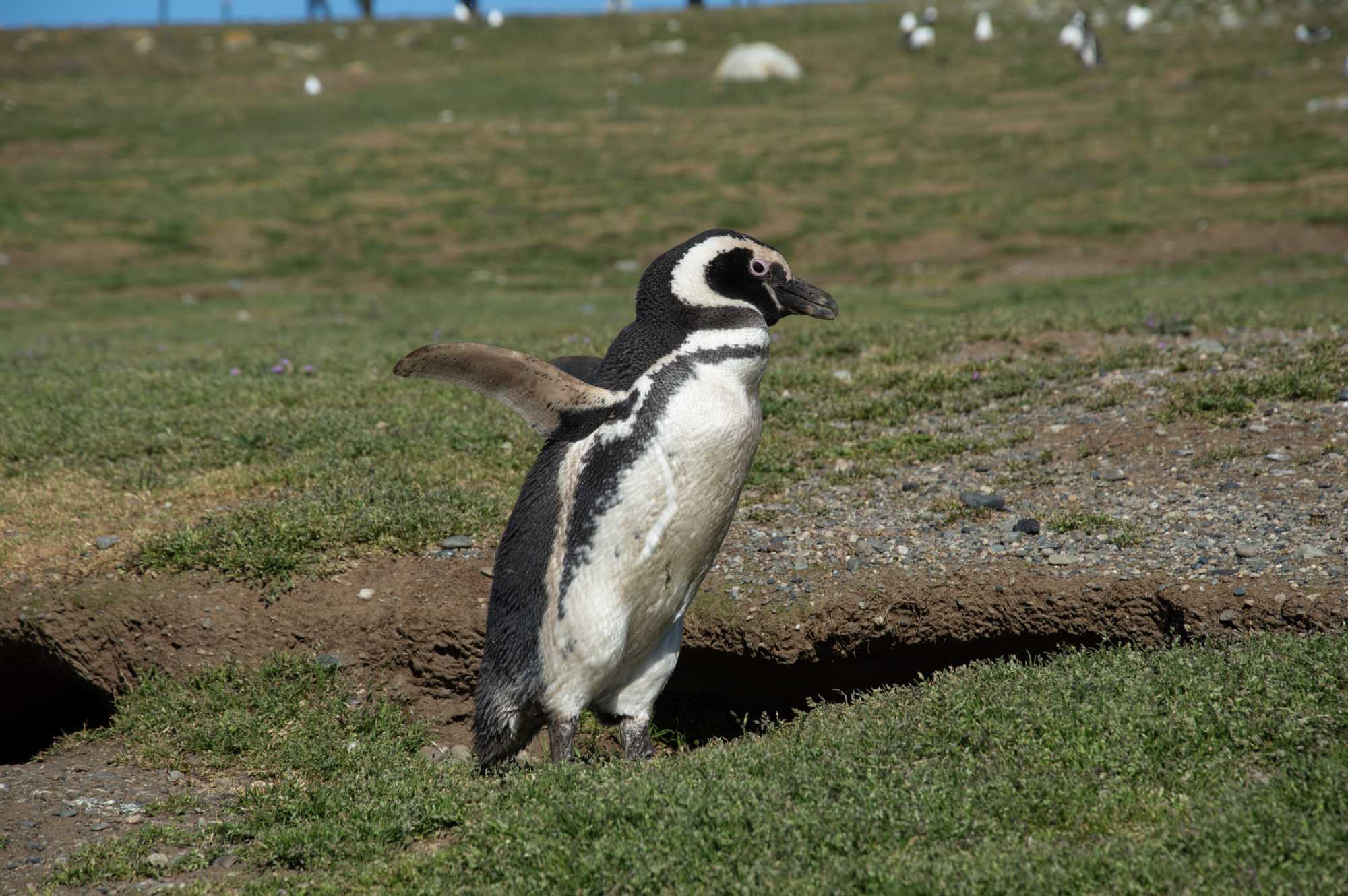 There are a few great spots near Ushuaia where you can observe penguins in their natural habitat.
Martillo Island, located off the coast of Ushuaia, is home to a large colony of Magellanic and Gentoo penguins. This tour offers a unique canoeing adventure on the Beagle channel to this penguin colony. This other tour to the Gable island and birds colony has very good reviews.
Estancia Harberton is the oldest estancia (ranch) in the region. It's a great place to see Magellanic, Gentoo, and King penguins. Check out this tour on Viator.
Isla Yécapasela (aka "Penguin Island") is located just a short boat ride from Ushuaia. It is home to a colony of Magellanic penguins.
Magdalena Island is another popular spot to see penguins in the region, but it is actually located in Chile, near Punta Arenas. The island is home to a large colony of Magellanic penguins, as well as other seabirds like cormorants and gulls. If you book your tour directly from the travel agency in Punta Arenas, you can get it as cheap as 100$ per person.
If you're traveling on a tight budget, there's still a chance for you to visit a penguin colony in Tierra del Fuego almost for free! Just head to Bahia Inutil on the Chilean side of the island. To get there, you'll need your own car or hitchhike. The entrance fee is affordable, and you'll be able to observe King Penguins in their natural habitat.
Hey, penguin lovers! Don't miss out on my latest article about visiting the Magellanic penguin colony on Magdalena Island: Penguin Paradise: A Trip to Magdalena Island Reserve in Chile
Ride the Fin Del Mundo train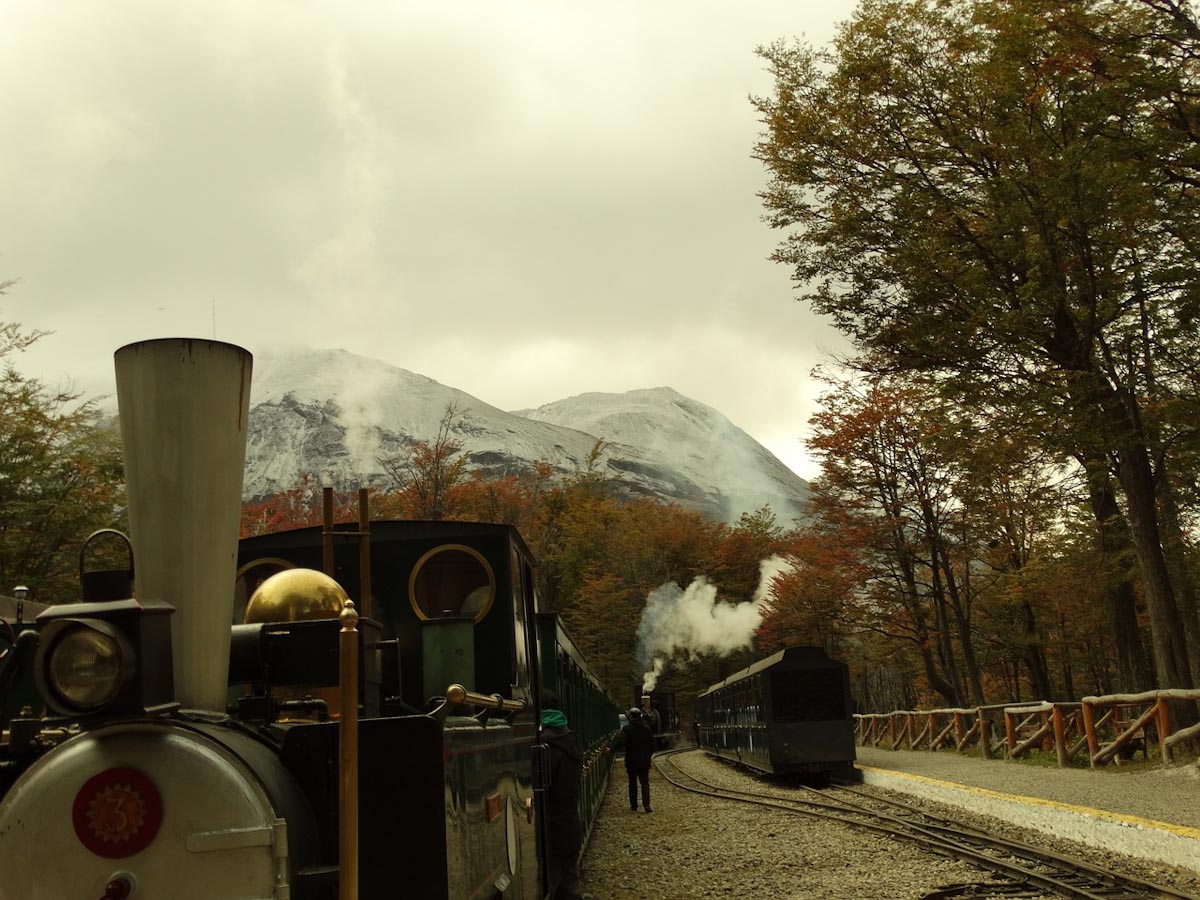 This narrow-gauge steam train was originally used to transport prisoners in the forests surrounding Ushuaia. It has since been converted into the popular tourist attractions. The train is zig-zagging along the Pipo river into an inaccessible part of Tierra Del Fuego National Park for 7km.
The train station is located 8km west of Ushuaia. A taxi ride is required to get there. Tickets cost 9800 ARS, and can be purchased online here. If you want to save money, it's better to pay in cash (previously exchanged at a blue dollar rate). Additionally, there's a 3200 ARS entrance fee for the national park.
Explore the city's museums
Some of the most interesting museums in Ushuaia include:
Maritime and Prison Museum, located in the former prison of Ushuaia.

End of the World Museum, dedicated to the natural history and culture of Tierra del Fuego

.
Museo Yamana showcases the history and culture of the Yamana indigenous inhabitants of the region.
Glacier Museum focuses on the glaciers of Tierra del Fuego and their importance to the region's ecosystem. It has exhibits on glaciology, climate change, and the history of exploration in the area.
Cruise the Beagle Channel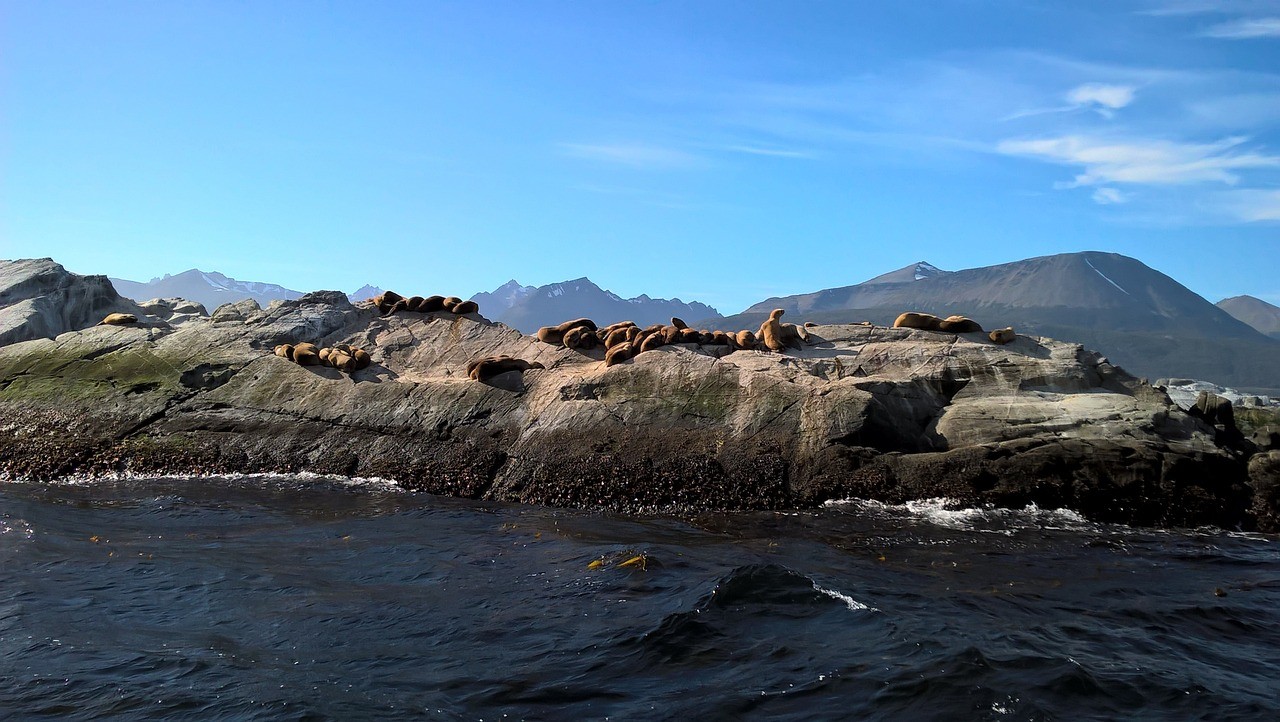 The Beagle Channel is a narrow waterway that runs between the Chilean and Argentinean sides of Tierra del Fuego. It is named after the HMS Beagle, which sailed through the channel during its famous voyage with Charles Darwin on board in the 1830s. 
The channel is surrounded by rugged, mountainous terrain. It is home to a variety of wildlife, including whales, sea lions, and various bird species. It is a great alternative to the pricy Antarctic cruise!
Try local delicacies
Ushuaia is famous for its seafood, owing to its coastal location on the Beagle Channel. Some must-try dishes when in Ushuaia are centolla (king crab), served in a luscious, buttery sauce, and ceviche de centolla, made with fresh crab marinated in citrus juice, giving it a tangy and refreshing flavor.
Asado del cordero is a classic Argentinean dish that consists of slow-roasted lamb cooked on a spit over an open flame. It is often served with potatoes and a simple salad.
Be sure not to miss out on curanto, a delicious traditional stew made with shellfish and vegetables. I also highly recommend trying the cholgas (giant mussels) and merluza negra (perch).
Score a cheap cruise to Antarctica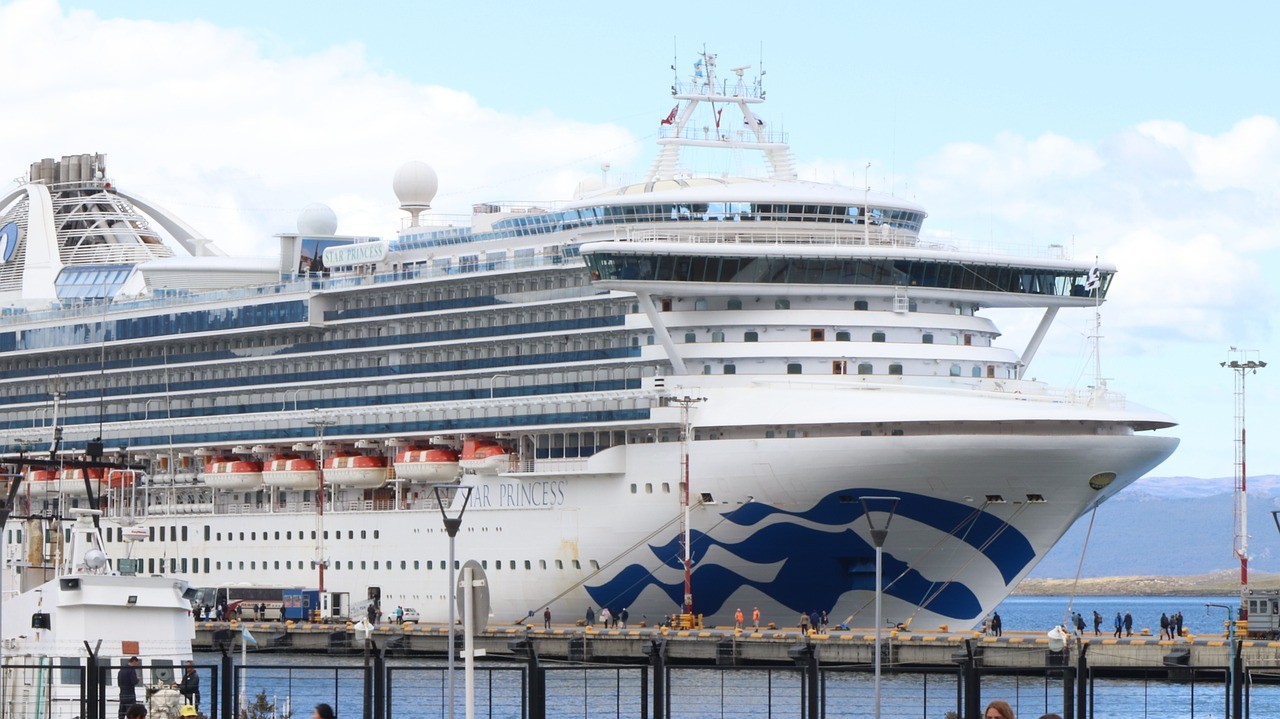 Antarctica can be reached by boat or plane, but traveling by boat is the more affordable option. The ideal time to visit is between October and March. I recommend going either at the beginning of the season to witness icebergs and penguins constructing their nests, or at the end to catch a glimpse of whales. Not only will you have a better chance of finding lower cruise prices, but it's also an excellent opportunity to witness these incredible creatures in their natural habitat.
Once you arrive in Ushuaia, keep an eye for last-minute deals on cruise ships. Agencies often offer discounts to fill empty cabins, and you could save up to 50%! Some tour agencies offer discounts on their social media when they need to fill spots. These deals tend to be brief, so act quickly. Additionally, many agencies offer an "early bird discount" of around 20% for booking shortly after the tour operators release the cruise dates and prices.
You might be interested in this overnight excursion to Antarctica. However, if you're looking for the best deal, you'll need to contact multiple agencies and compare prices. Or maybe you would like to run a marathon in Antarctica? I met someone who did, and it was such a fascinating experience!
Fly a helicopter over the End of the World
How about taking a helicopter flight to admire the magical landscape of Tierra del Fuego? From above, you'll witness breathtaking views of Mount Five Brothers, Valle de Tierra Mayor, the Emerald Lagoon, and Ushuaia Bay.
6 Best Hikes in Ushuaia
Hiking is the best and cheapest way to experience Ushuaia's natural wonders. The region has much to offer hikers of all fitness levels.
Tierra del Fuego National Park
Located just 12 kilometers outside the city in the Andes' foothills, Fin del Mundo National Park stretches all the way to Chile. While the Argentinian side is equipped with trails and signs, the Chilean side remains untamed and free.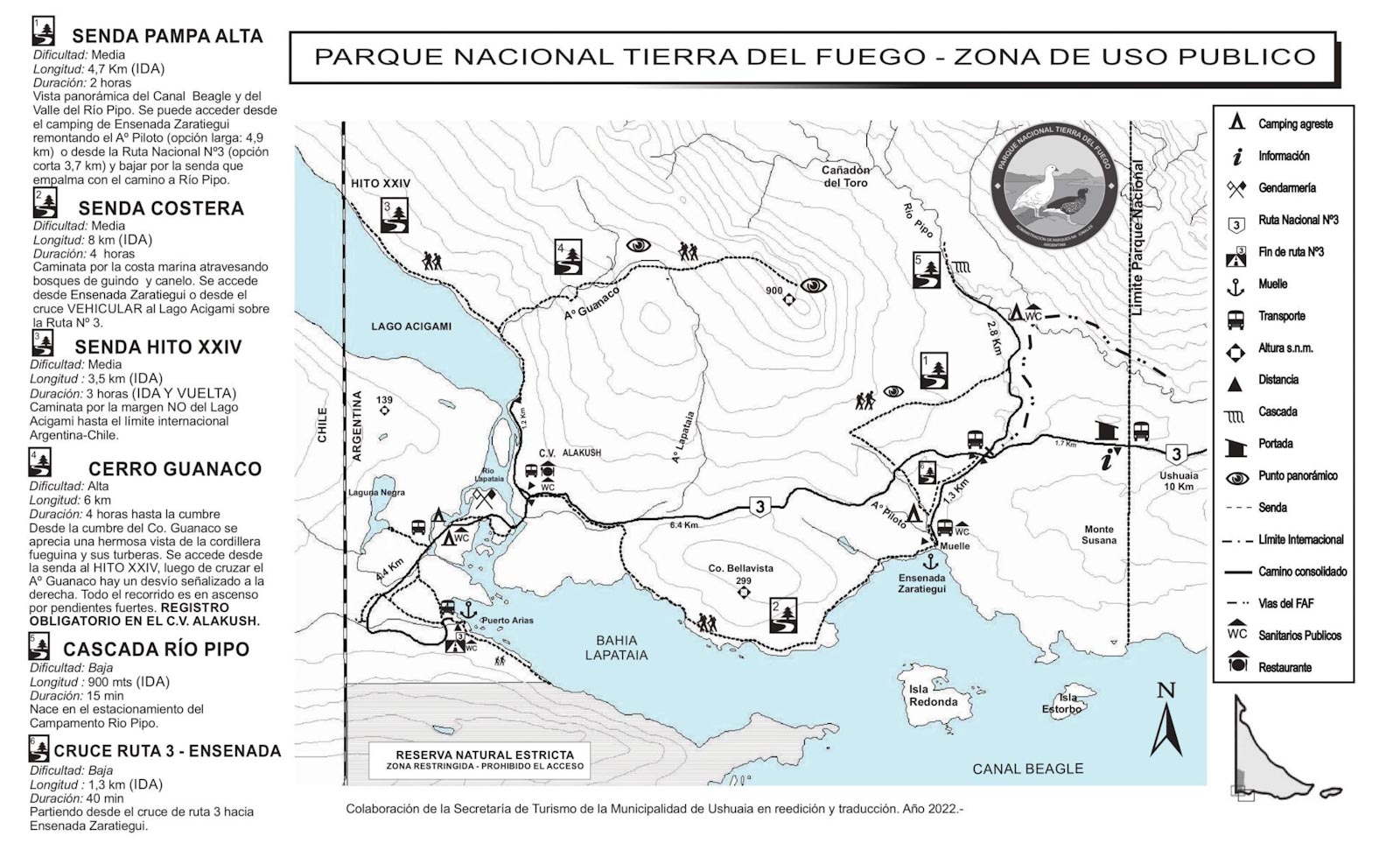 Main hiking routes in the Tierra del Fuego National park: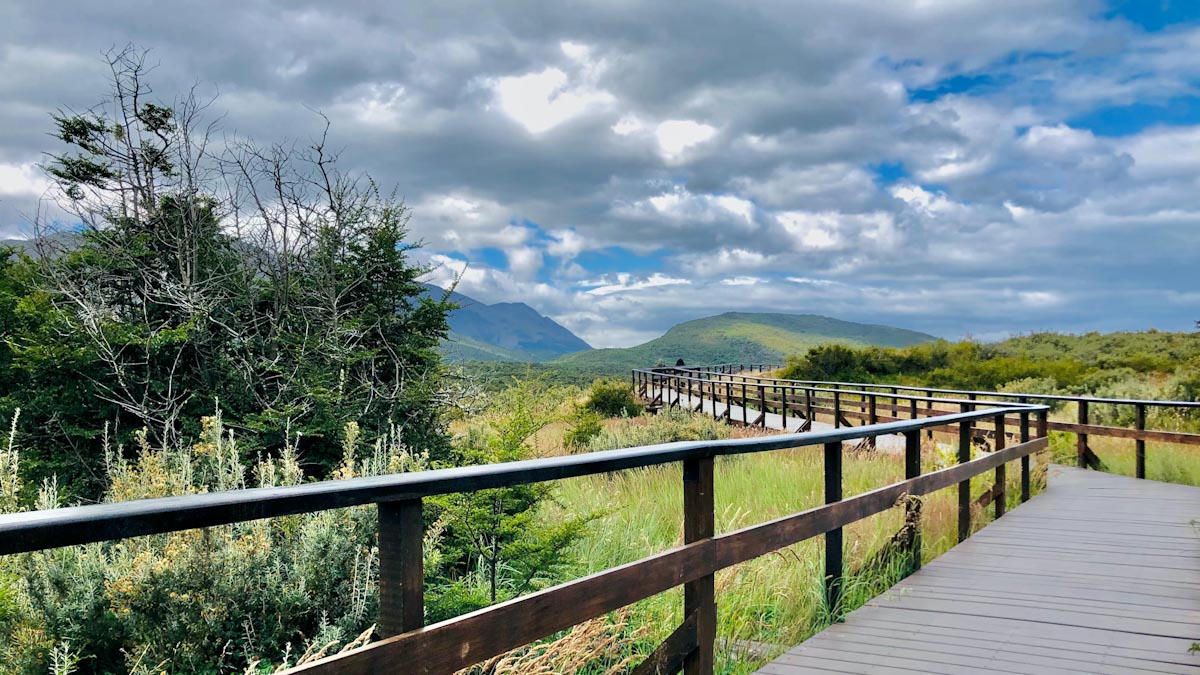 Tierra del Fuego National Park is accessible every day from 8:00 to 20:00, and visitors must pay a 3200 ARS entrance fee, which is valid for two days. Moreover, wild camping is permitted within the park's boundaries. Getting to the park is relatively straightforward as regular buses depart from the Fadul and Maipú streets intersection in Ushuaia. The buses make seven stops within the protected area: Portada, Southern Fueguino Railway Station, Ensenada Zaratiegui, Centro de Alakush Visitors, Lake Acigami/Roca Parking, Isla Entre Ríos Wilderness Camp, and Parking in Lapataia Bay.
More information about hiking routes and gps-treks can be found on https://findelmundo.tur.ar, https://turismoushuaia.com, https://www.argentina.gob.ar/
Martial glacier
This hike provides the best views of the Beagle Channel. It is a relatively easy hike, that doesn't require a lot of effort. You can continue your hike around the Montes Martial through the Paso de le Oveja pass. This is a 26 km route that usually takes 3 days.
Esmeralda and Turquesa lakes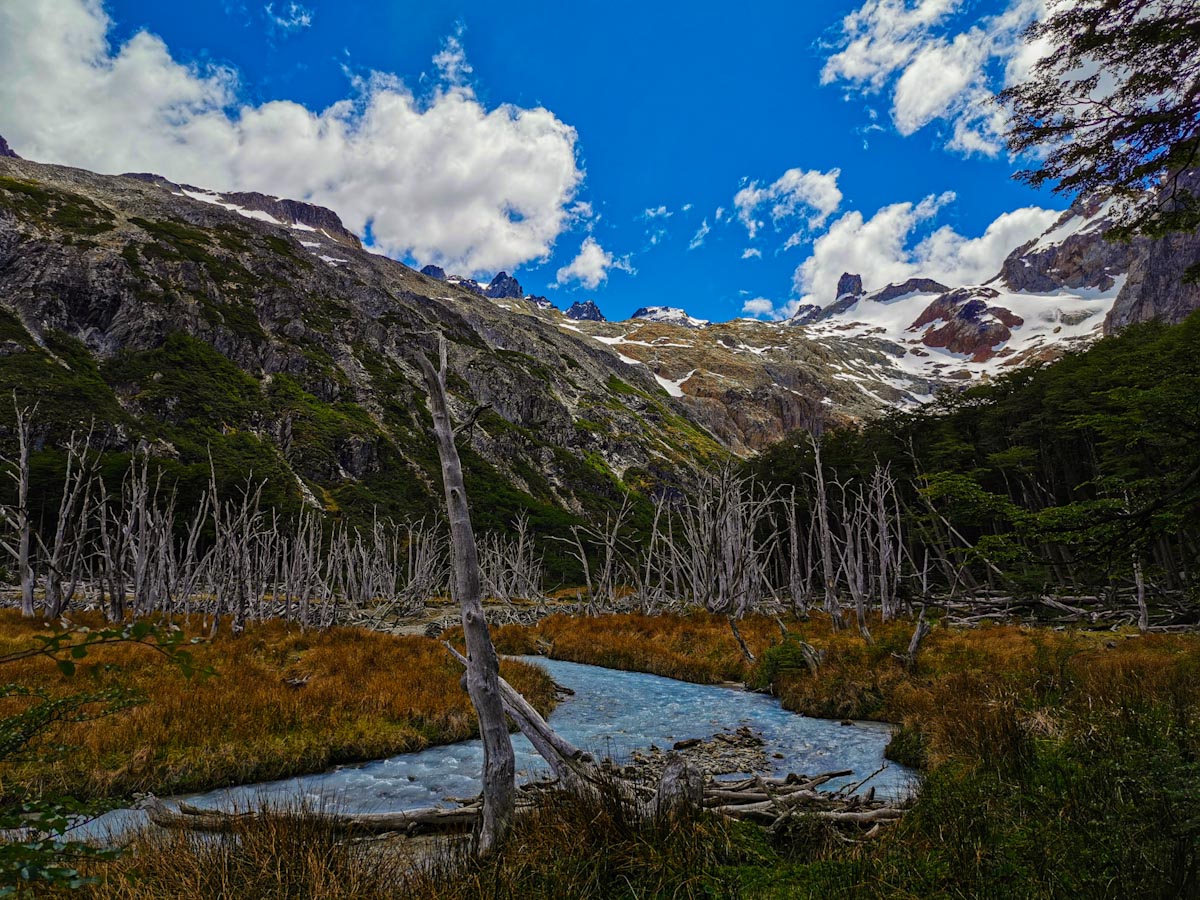 Both trails start at the same point, but scatter in opposite directions. You can visit two lakes in one day, or spend the night in a tent and continue the hike the next day.
Vinciguerra Glacier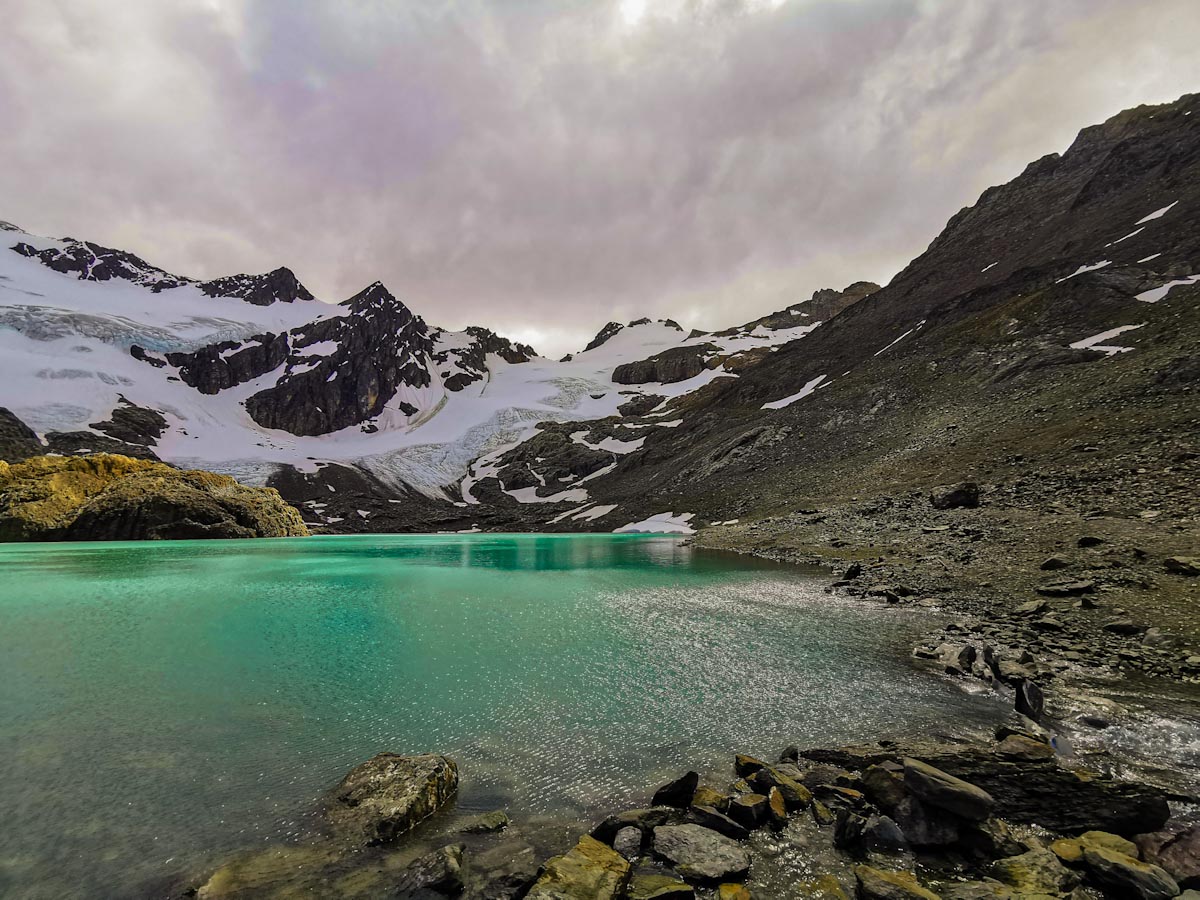 There are guided tours on the Vinciguerra Glacier. Walking on the surface of the glacier in appropriate equipment is safe.
Sierra Valdivieso Trail
This trail is laid around Lake Fangano. This is a poorly marked route, without a rammed path – a real wilderness! There you will find Haberton Station, the first missionary settlement where their descendants still live.
The Beagle Channel separates Navarino Island from Tierra del Fuego. Although it belongs to Chile, it is located close to Ushuaia. This trail is renowned as the southernmost trekking route on the planet. It takes a week to complete on average. The island is adorned with alpine lakes and breathtaking mountain peaks.
A Brief History Of Ushuaia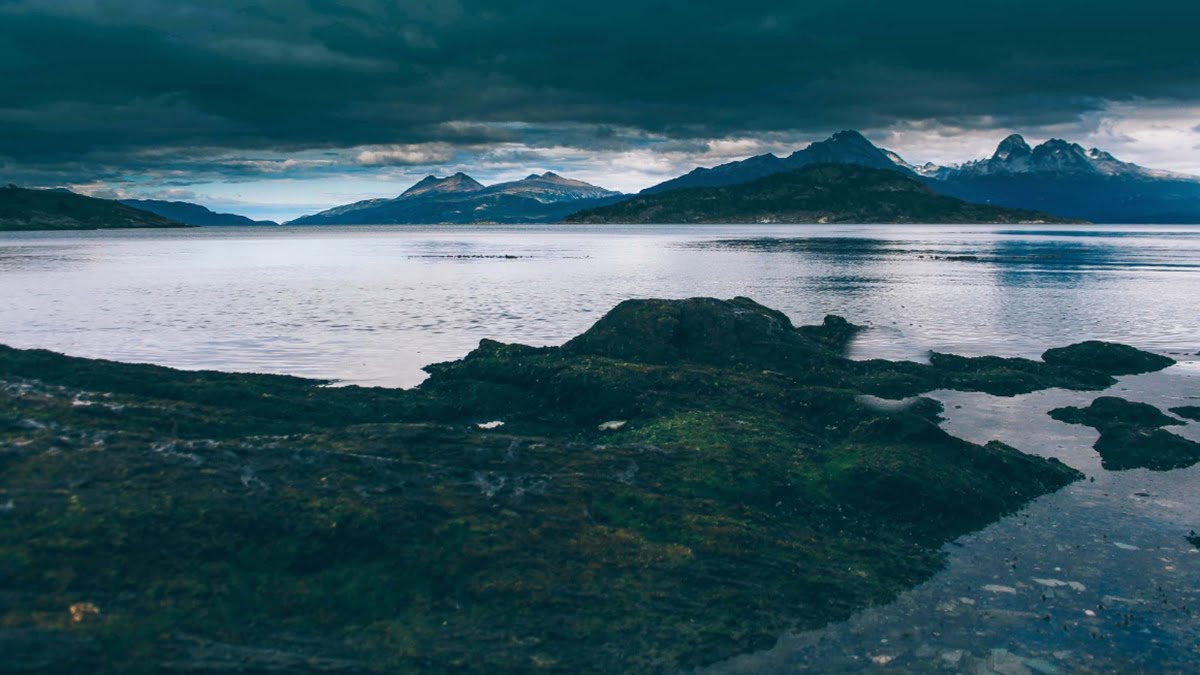 The area has been inhabited by indigenous peoples, including the Yámana and Selk'nam, for thousands of years. Some of them survived into the 20th century. Singer and ethnographer Christina Calderon, the last remaining Yaghan woman, lived on the island of Navarino off the coast of Ushuaia. Thanks to her, we have a written record of songs sung in her native language. She died on February 16, 2022, at age 93. Check out some of the unique recordings of Christina Calderon on Youtube. Few Selk'nam mestizos remain on the island of Fangano near Ushuaia. The rest of the natives were killed during a genocide against indigenous peoples in the 19th century.
The first European to visit the area was the Dutch explorer Willem Schouten in 1616, who named it Ushuaia after the Yámana word for "bay" or "cove." In the late 19th, Ushuaia became an important center for the exploration of Antarctica. It was also used as a penal colony for Argentine and Chilean prisoners. Today, Ushuaia is a major tourist destination in South America.
Is Ushuaia Worth Visiting?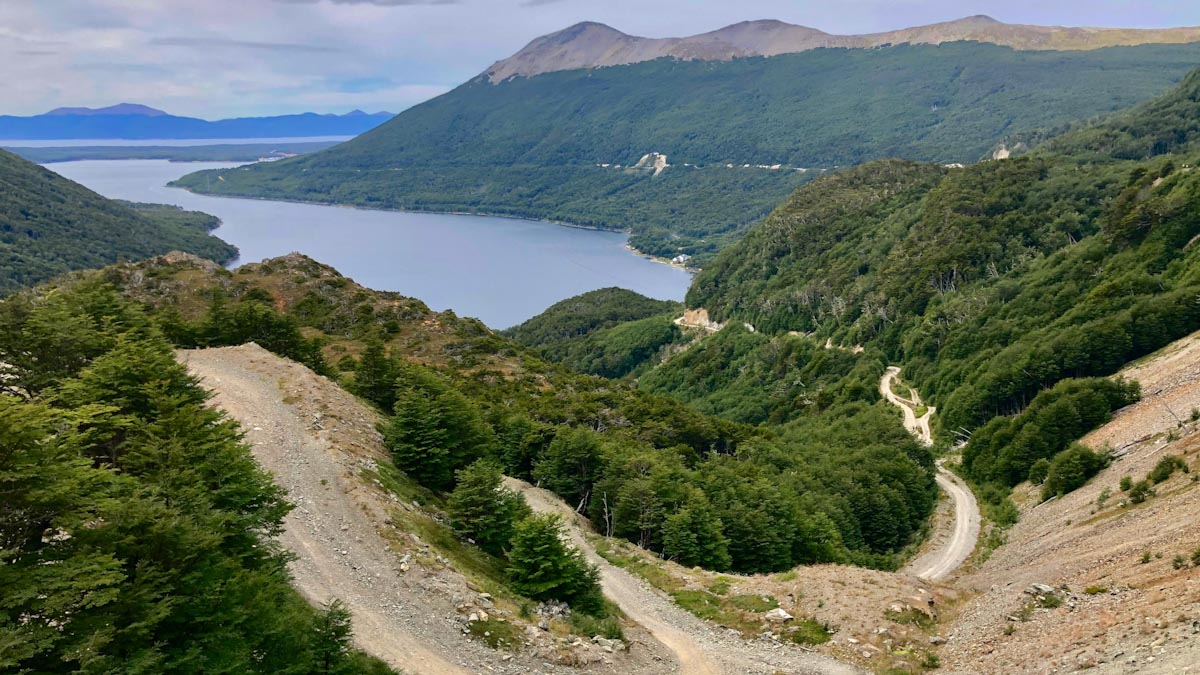 Ushuaia marks the end of many people's journeys, whether it be by cycling, driving a van or motorcycle, hitchhiking, or even walking all the way from Alaska! Despite their different goals, travelers meet in this small town by the Beagle Channel. In Ushuaia, you'll hear stories that will astonish you. That alone makes it worth spending time in the city, ideally at one of the most popular hostels. Ushuaia has a sense of completion similar to Santiago de Compostela in Spain, where the lengthy walking pilgrimage of the Camino de Santiago comes to an end.
If you're an avid hiker, Ushuaia offers a lot of fantastic options. You can explore the breathtaking Antarctic nature for free on an easy one-day hike or take on a challenging multi-day trail. If you have some extra money to spare, consider a unique experience, such as an Antarctic cruise or a shorter Beagle Channel trip.