Cappadocia is the most famous place in the world to experience a hot air balloon ride. You will be floating through the sky, above the unique desert landscapes of Cappadocia. In this post, I will share tips for finding the best deal, and getting the most out of your adventure.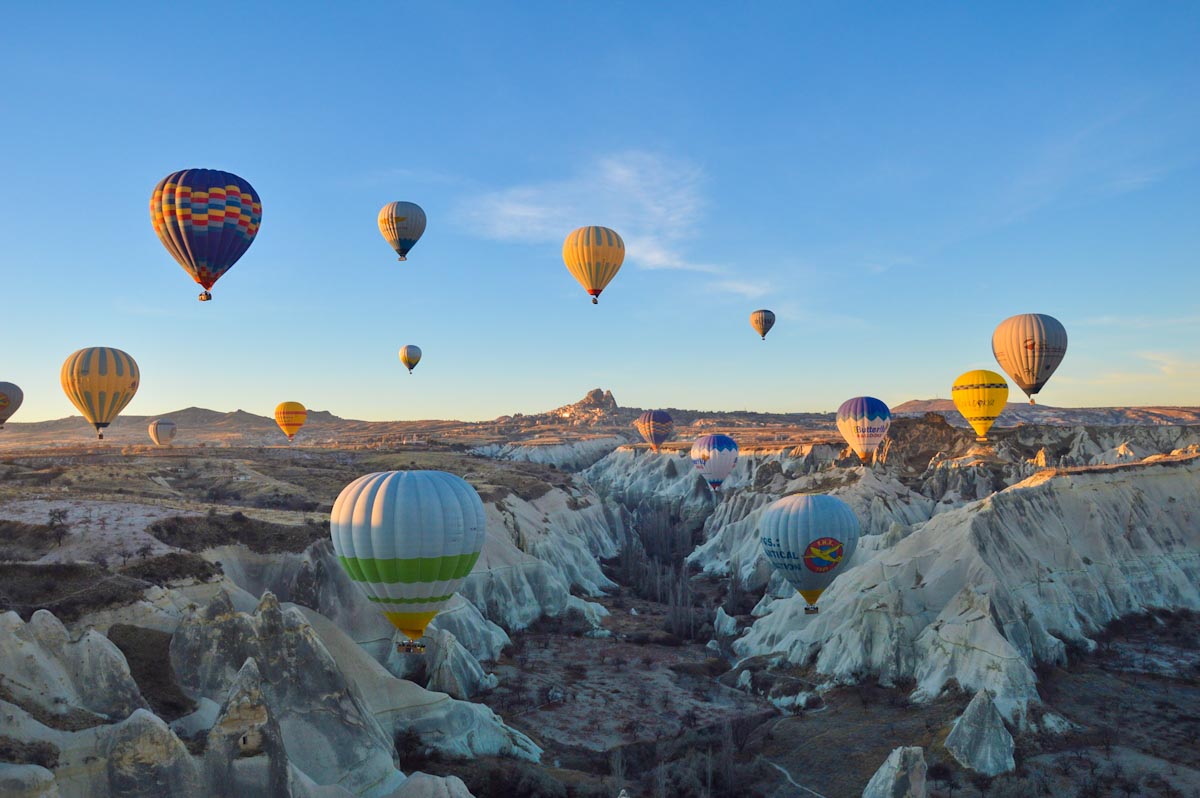 Where Is Cappadocia
Cappadocia is a region located in central Turkey. It is situated in the eastern part of the Anatolian plateau. The region is located within the province of Nevşehir and is approximately 250 miles (400 kilometers) southeast of Istanbul. It is bordered by the provinces of Kayseri to the west and Niğde to the south.
What Is Cappadocia Famous For?
Cappadocia has a long and rich history. The region was once home to many ancient civilizations, including the Hittites, Persians, and Romans. During the Roman period, Cappadocia was an important center of trade and culture. Many rock-cut churches and underground cities were built during this time.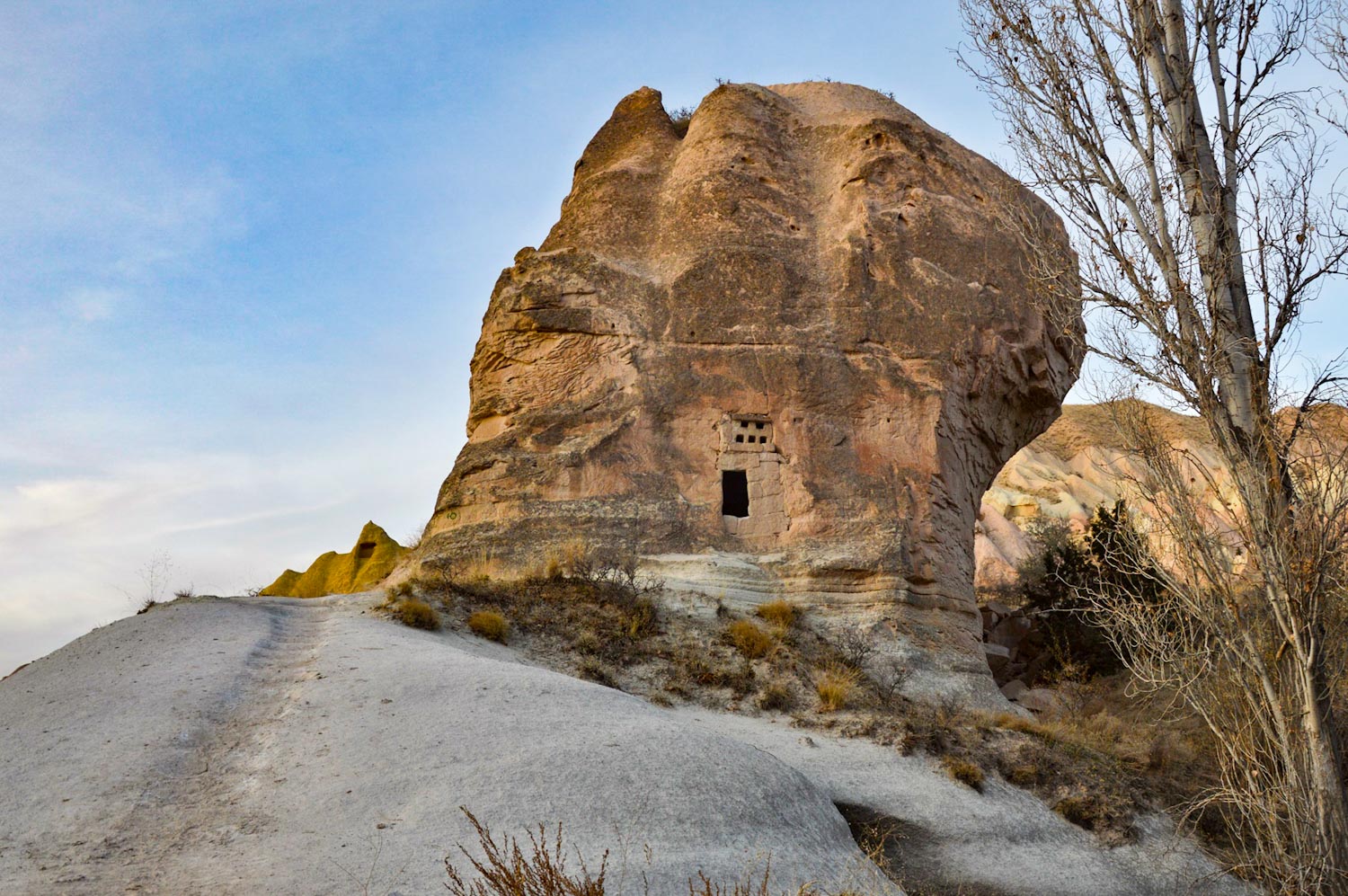 Christianity was present in Cappadocia from an early date. Christian communities were influenced by the teachings of Paul the Apostle, who traveled through Cappadocia on his missionary journeys and preached in the region. In the 7th century CE, Cappadocia was conquered by the Arabs and later became part of the Seljuk Empire. In the 13th century, the region was conquered by the Ottoman Empire. It ruled Cappadocia until the early 20th century.
Today, Cappadocia is a popular travel destination. Tourists come to see its mysterious underground cities, and unique geological formations, and experience unforgettable hot air balloon rides. 
How To Get To Cappadocia
If you are flying, the nearest major airport is Kayseri Erkilet Airport (ASR). It is located about an hour's drive from the center of Cappadocia. Pegasus airline offers very affordable prices on domestic flights. From the airport in Kayseri, you can take a shuttle to the center, and then a Kamil Koc bus. There are also very affordable tourist transfers from Kayseri to the hotel in Cappadocia, and also from Nevsehir airport.
Most tourists stay in Goreme, the closest village to the main attractions in Cappadocia. There are plenty of lodging options, ranging from budget hostels to unique cave hotels.
Alternatively, you can take a bus from Istanbul to Cappadocia. The journey takes about 12-14 hours. There is also a train from Istanbul and Ankara. You can check the schedule on the Rome2Rio website. 
The region is easily accessible by car via the E80/D800 and D550 highways.
It is also possible to take a tour from other cities to Cappadocia. For example, this tour from Istanbul is highly rated. A hot air balloon ride in Cappadocia is included in the price!
The Best Time For Hot Air Ballooning In Cappadocia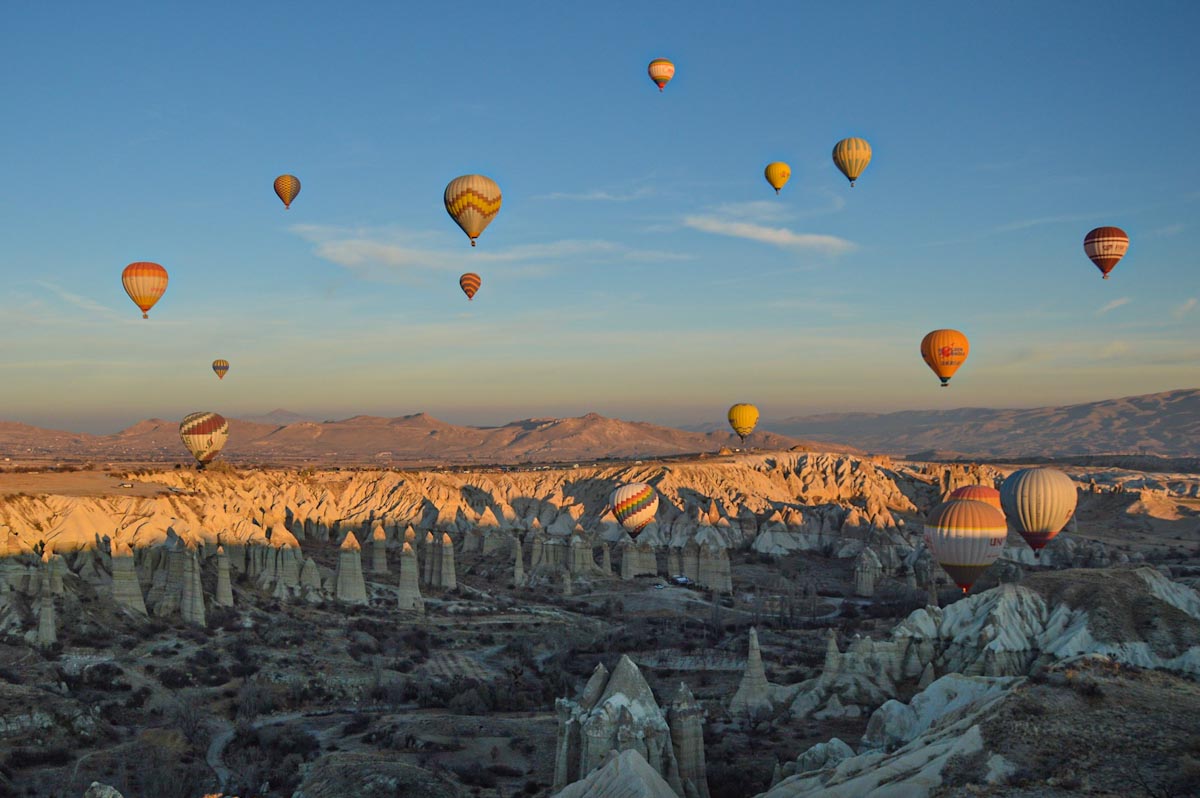 Hot air balloons can't fly if the winds are over 10 kilometers per hour. If there is rain or snow, your flight also will get canceled. Most companies will reschedule your flight for the next day, or return the money.
The most popular time to visit Cappadocia is from April to October when the weather is warm and dry, with the temperatures from 60 to 80 Fahrenheit (around 20-30°C). The wind is not strong in those months, so hot air balloons take off almost every morning.
If you prefer cooler temperatures and fewer crowds, visit Cappadocia in the winter months. While the weather can be chilly—temperatures range from 30 to 50 Fahrenheit (around 0-15°C)—the region is still a beautiful place to visit during this time of year. Hot air balloons are still operating, but the tour can be canceled due to rain or strong wind. If you want to ride a hot air balloon in Cappadocia in winter, I suggest staying there for at least 3 days.
How To Find A Cheap Hot Air Balloon Ride In Cappadocia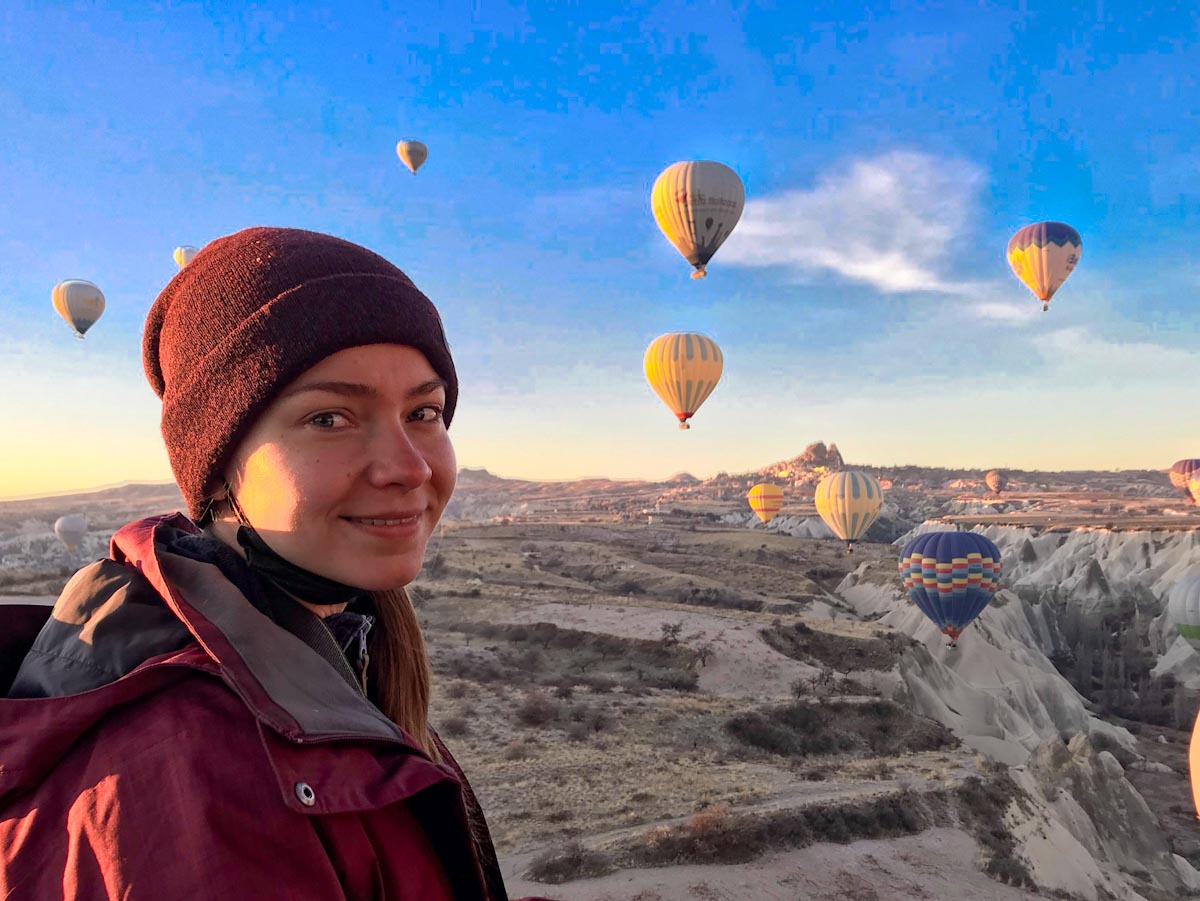 Cappadocia hot air balloon prices typically range from 120$ to 250$. It is a price per person for a 60 min ride with a large group. However, it is possible to score a cheap hot air balloon ride for just 80$ to 100$. We got a deal for 50$ each but it was during the pandemic.
Many companies offer hot air balloon rides in Cappadocia. The prices vary depending on the following factors. 
The season. If you want to find a cheap hot air balloon ride in Cappadocia, consider visiting in December, January (except Christmas and New Year's Eve), early March, and the month of Ramadan. Ramadan in 2023 begins on March 22 and ends on April 20. The most expensive months to fly are usually May through October.
Weather can affect the price of hot air balloon ride in Cappadocia. If the weather is bad a few days before your arrival in Cappadocia, the price could be higher due to demand. If you book in advance, you should be able to lock in a low price. If it's nice weather and you're traveling during the off-season, you should be able to get a good deal. Make sure to book your tour on the first morning of your trip. This way you can rebook for another day if weather conditions are bad.
The number of people who will go on a ride with you. You can go on a hot air balloon ride with as few as 6 people or as many as 28 people.
The length of the flight. There are 45 min and 90 min rides. 
Extra services. Some tours offer a light breakfast, champagne after landing, and other additional services. This raises the price of the tour, so consider bringing your own champagne 😊.
Avoid third-party intermediaries (travel agents, hotels, independent sellers), because they take a cut up to 25%. Book the tour online or directly at the hot air balloon company office. 
Where to book an affordable hot air balloon ride online?
My Experience Flying A Hot Air Balloon In Cappadocia In Winter
Hot air balloon rides in Cappadocia typically take place in the morning. We were picked up from our accommodation around 5:30 am. If you are visiting in the summer, the pickup is earlier, around 4:30 am.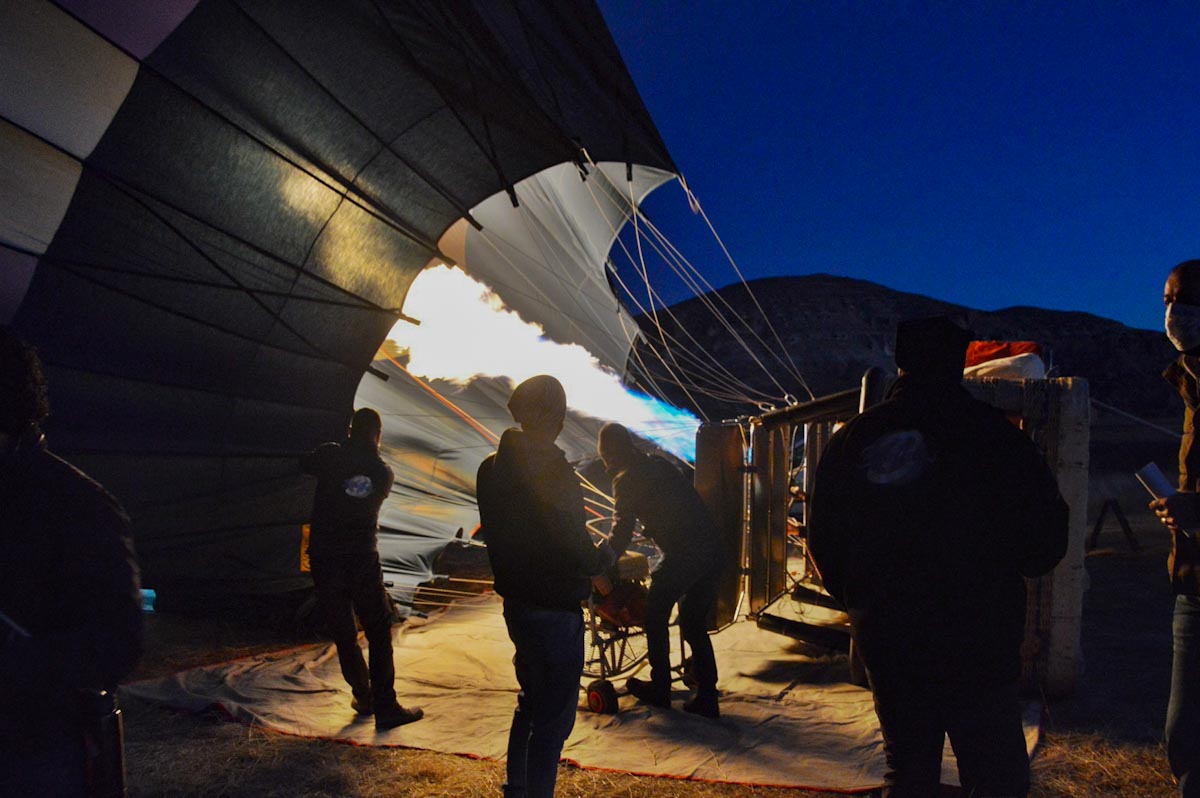 As the sun began to peek over the horizon, excitement and a bit of nerve filled the air. Suddenly, a man appeared out of the darkness. He called our names and directed us toward our balloon. We hopped on the basket with 20 other tourists. It seemed crowded but everyone got a good spot. We got a safety briefing on what to expect during the flight, and the adventure began.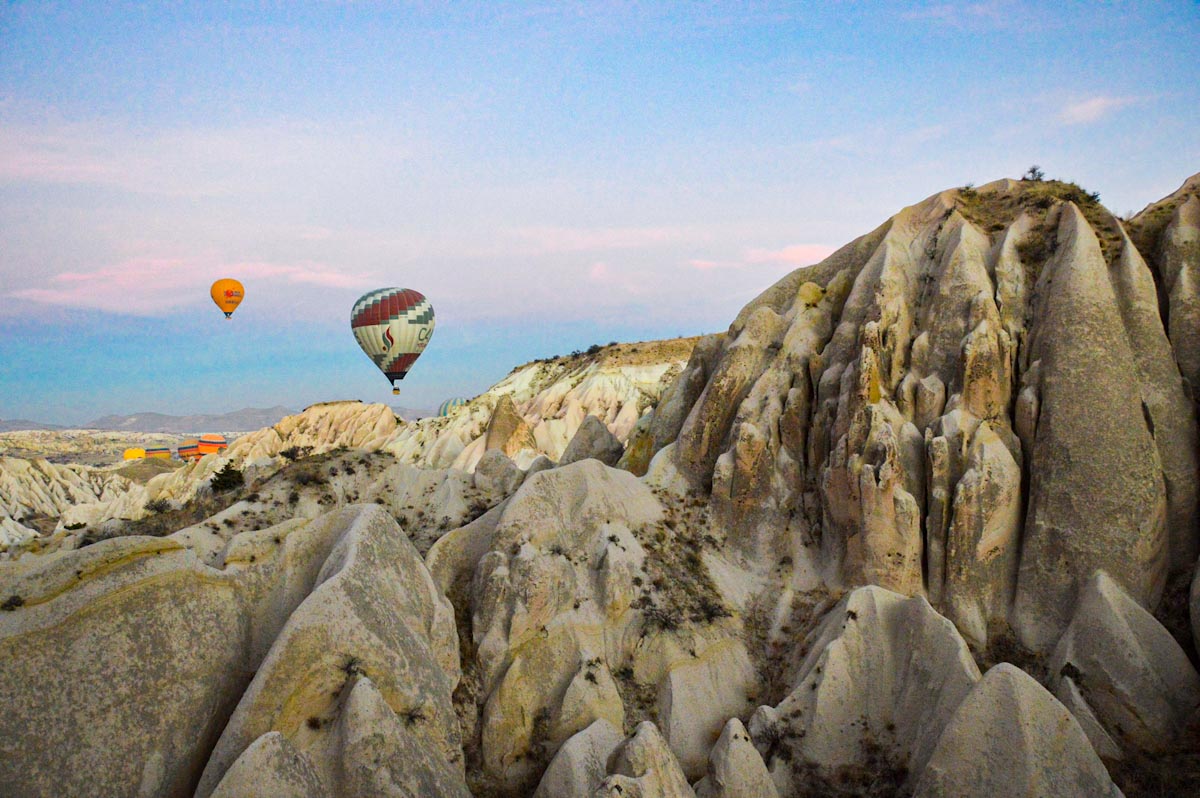 A propane tank heats up the air inside a hot-air balloon. As the air heats up, it expands and becomes less dense than the cooler air outside the balloon. This causes the balloon to rise into the air. Pilots adjust the heat using a burner to control the altitude of the flight.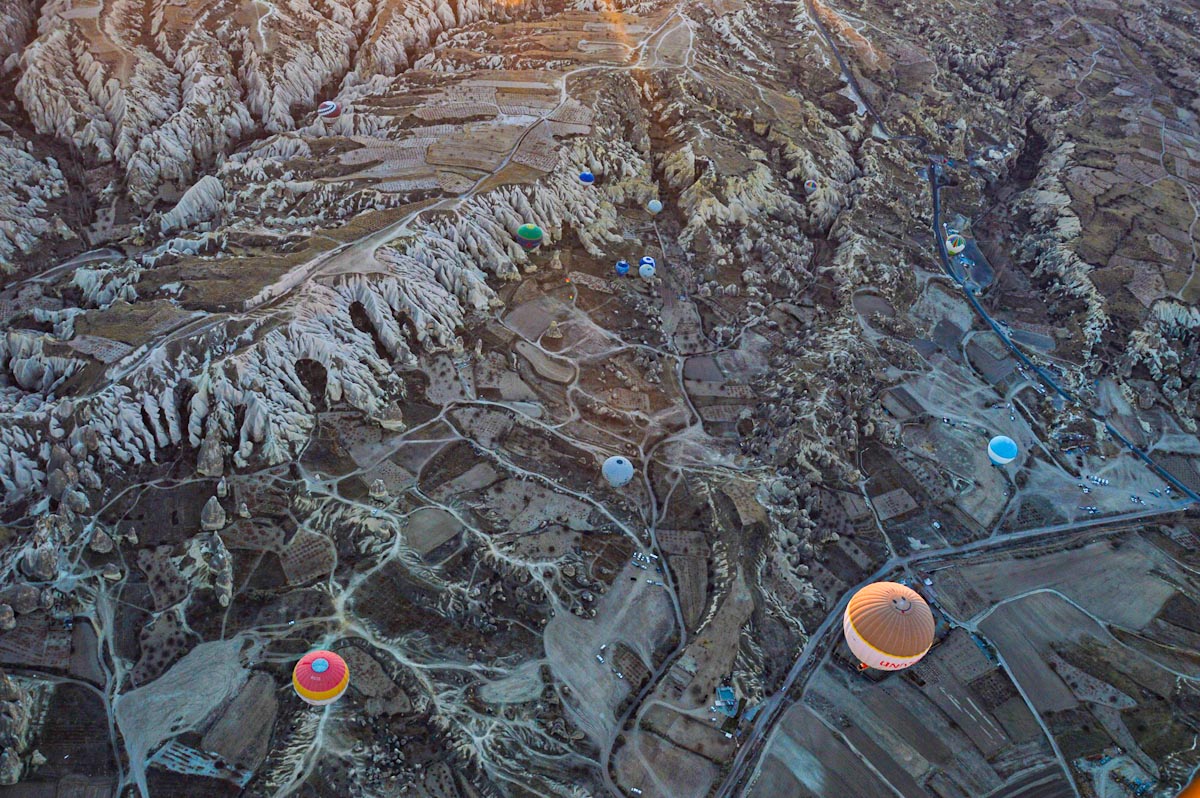 As we soared higher and higher, the breathtaking views of Cappadocia unfolded beneath us. Balloons fly to a maximum altitude of 1800 meters (6000 feet). I could feel the altitude with my eardrums. I got a little anxious, but only for a minute. At one point, we were hanging at the same level as the mountain peaks, surrounded by other hot air balloons. The sun slowly rose behind the mountains, painting the landscape in red and yellow hues.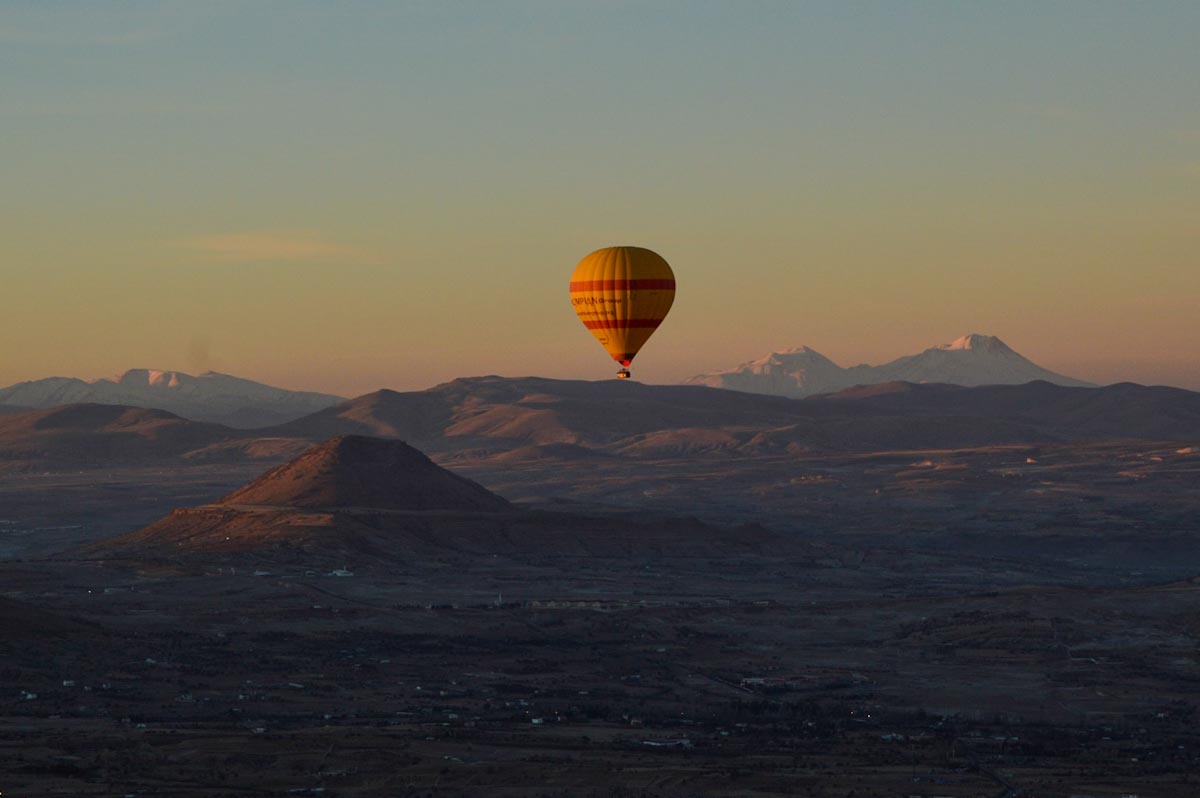 Despite a small accident during the landing, where our balloon briefly kissed another one, we safely touched down on the ground. The staff handed out hot air balloon certificates and made a champagne fountain. We didn't get to drink any of the champagne, unfortunately.
We got back to the hotel by 9 am and grabbed a quick breakfast before heading off for another adventure—hiking in the Cappadocian valleys.
Is Hot Air Ballooning in Cappadocia Worth The Price?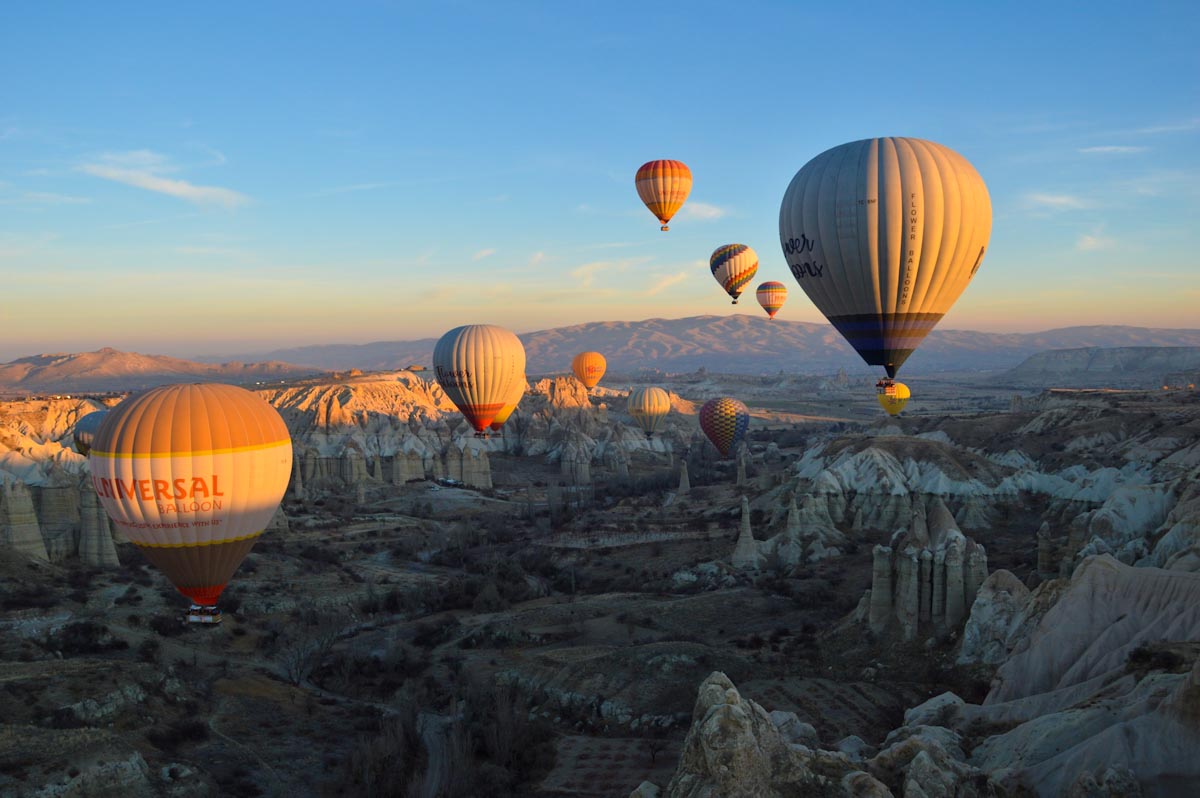 Hot air balloon rides in Cappadocia can be a bit pricey. However, they are definitely worth it for the once-in-a-lifetime experience. Seeing the epic rock formations of this UNESCO World Heritage Site from above is magical. You'll feel like you're in a fairytale, with over 100 balloons floating in the sky at once.
What Else To Do In Cappadocia?
Visit the underground cities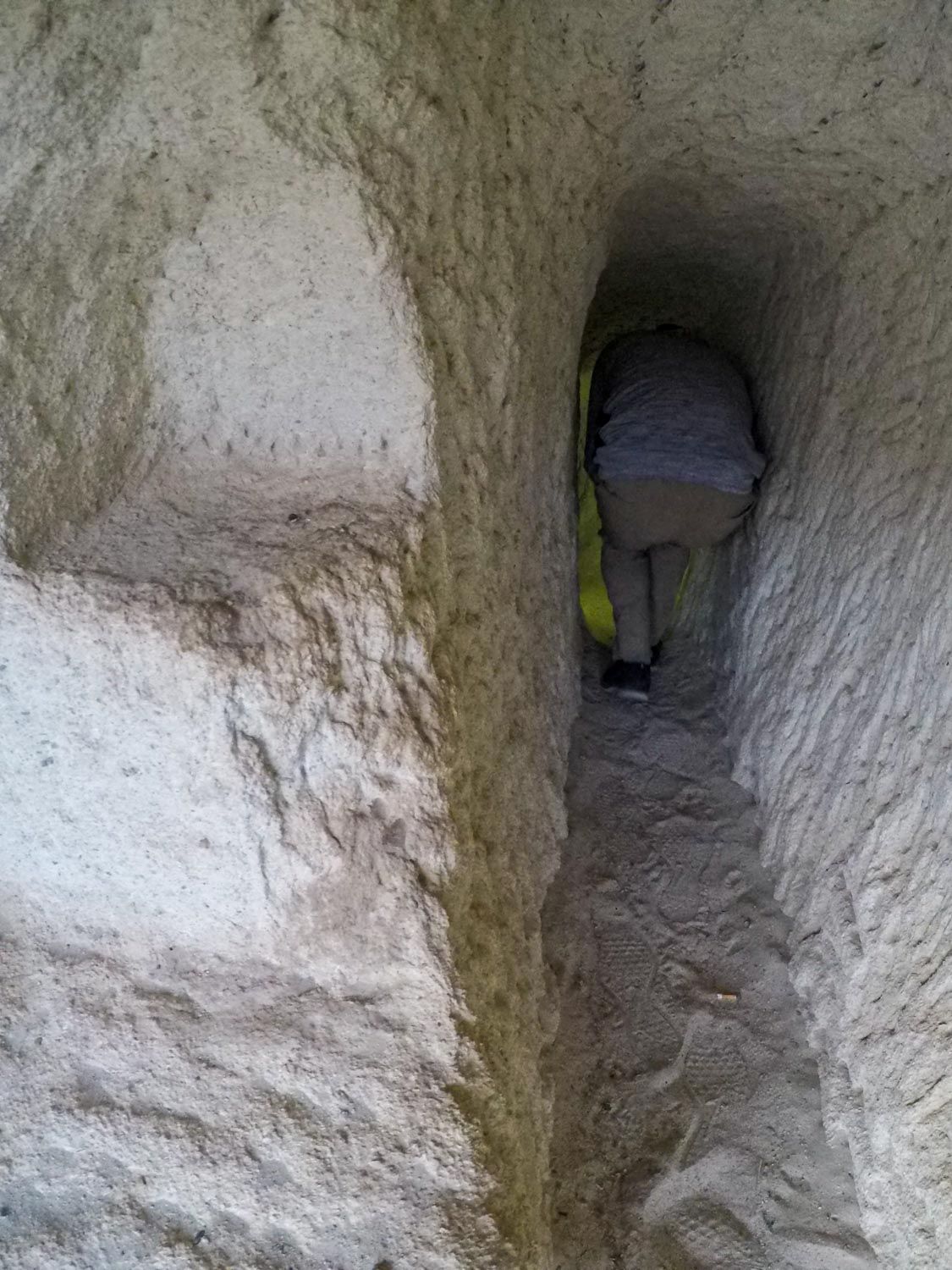 Cappadocia is home to several underground cities, which were used as places of refuge during times of war. They were built in the 8th-7th centuries BC. It is a network of tunnels and rooms carved out of the soft rock. They are large enough to hold up to 20,000 people. The underground city of Derinkuyu is one of the largest and well-preserved underground cities in Turkey. It has been designated as a UNESCO World Heritage site.
Explore the rock-cut churches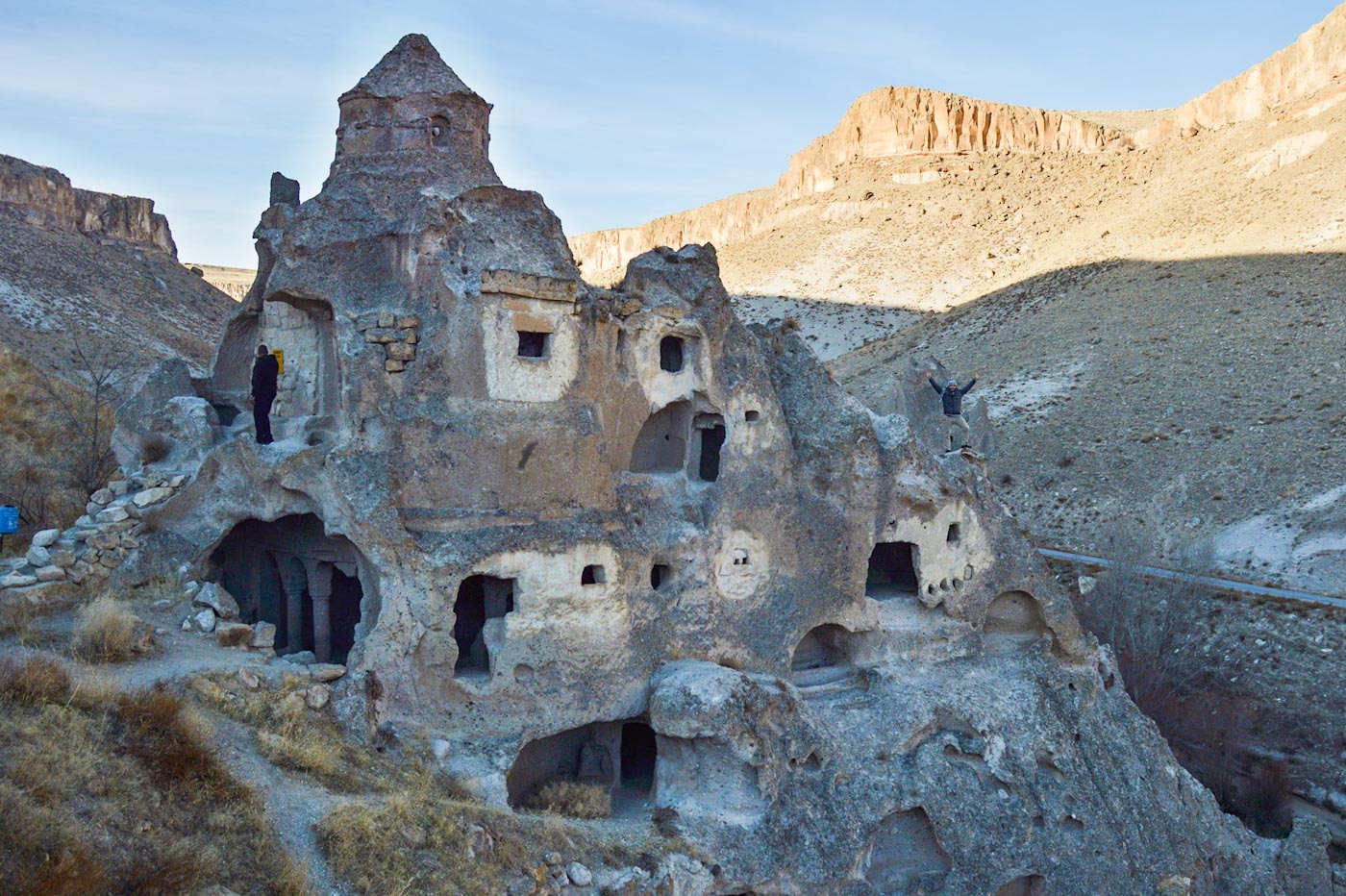 Cappadocia is home to many rock-cut churches, including the Göreme Open Air Museum and the Çavuşin Church. They were built between the 4th and 13th centuries AD by early Christians.
Go hiking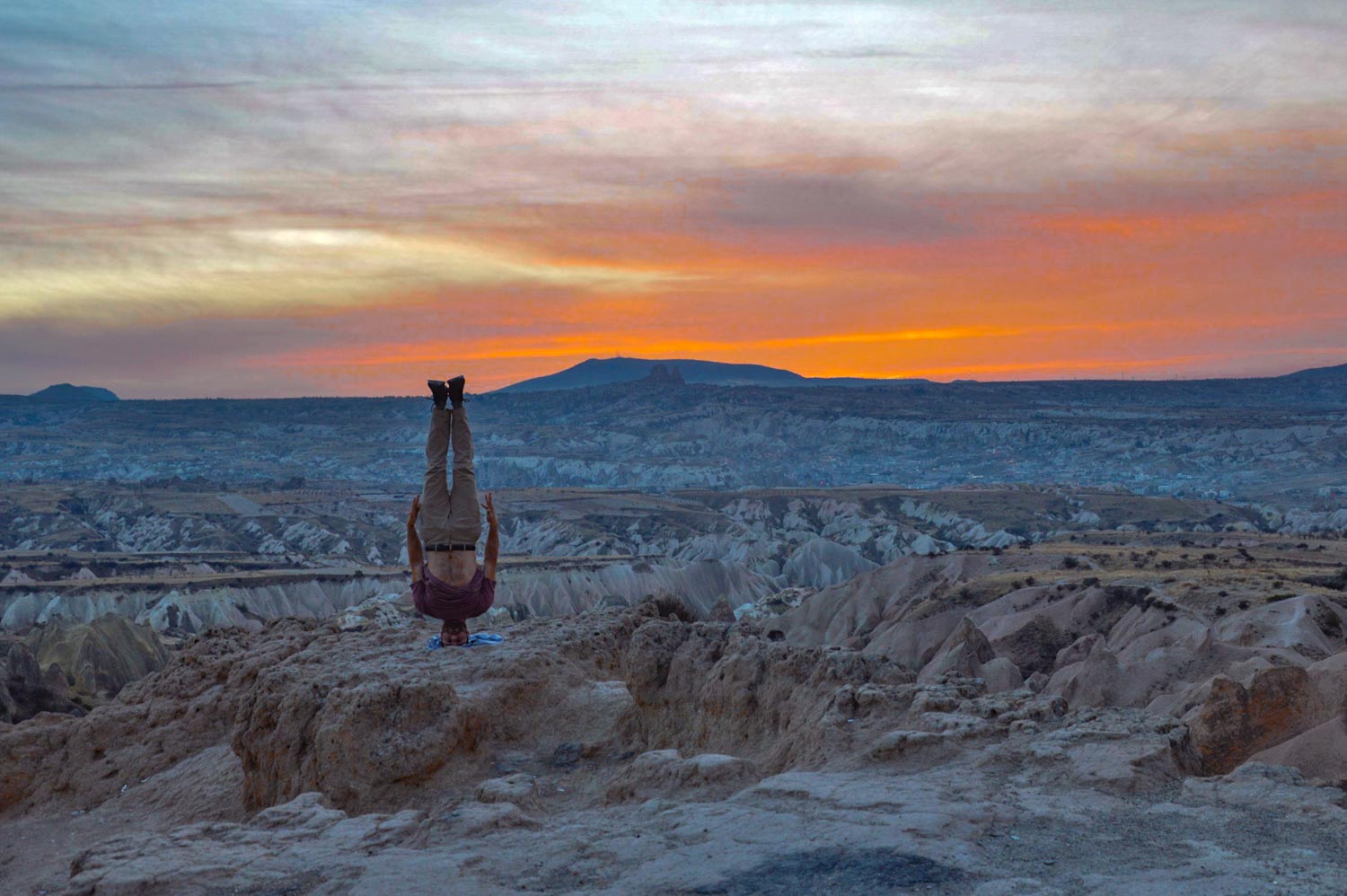 Cappadocia is a beautiful region with a wide variety of hiking trails. Some of the best places to go hiking in Cappadocia include:
Love Valley is known for its unique rock formations that resemble big phalluses. 
Rose Valley is known for its rock-cut churches. 
Red Valley is known for its red rock mountain and beautiful sunsets. It makes a great combination with Rose valley for a hiking day. 
Pigeon Valley is located near the town of Uçhisar. It is named after the thousands of pigeon houses carved into the rock by the ancient Cappadocians. 
Visit the Göreme National Park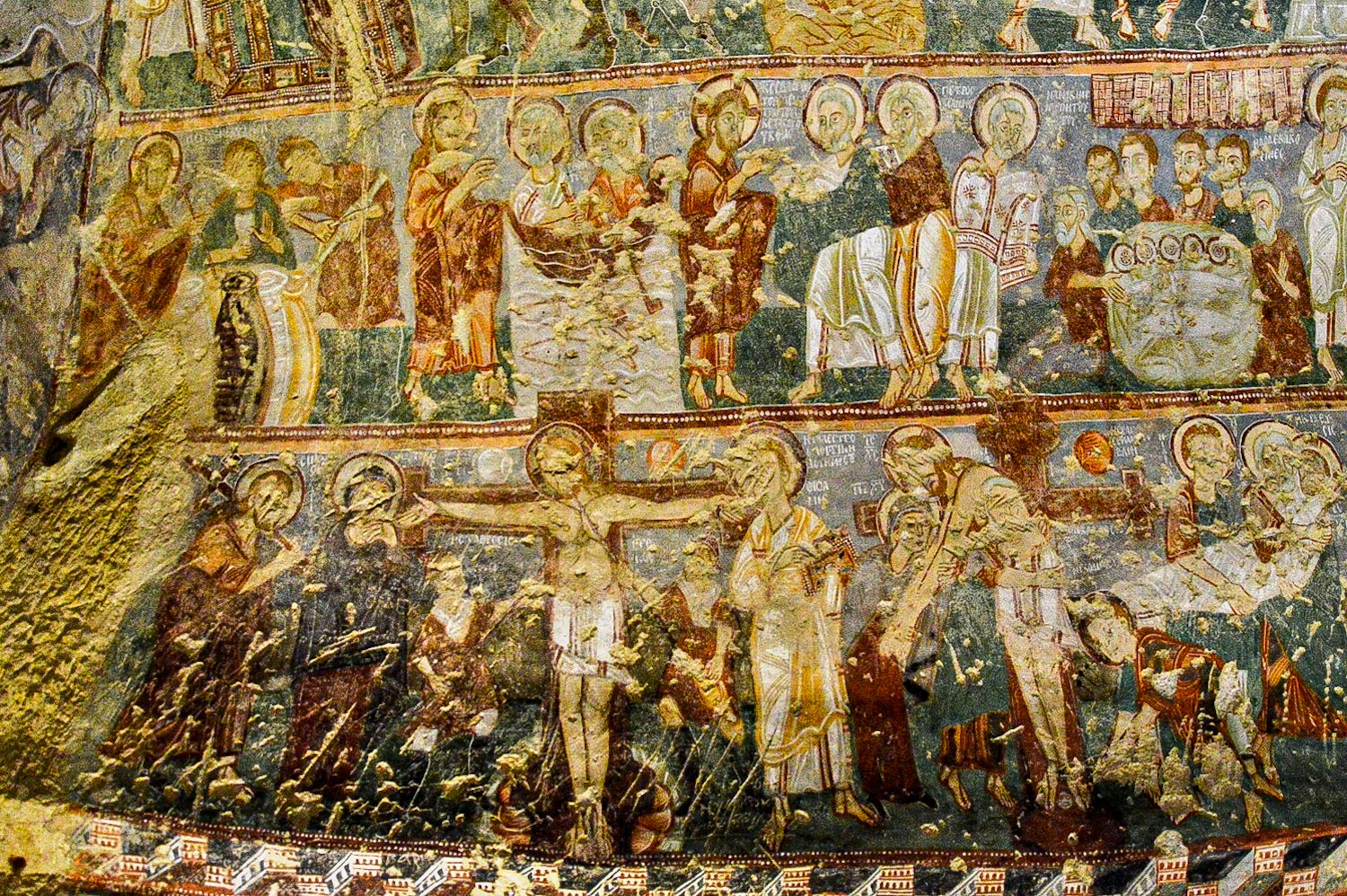 The Göreme National Park is a UNESCO World Heritage Site. You will encounter there many famous rock formations, including the "fairy chimneys" and ancient churches with beautiful paintings.