Welcome to the majestic world of Patagonia! This breathtaking region, located in the southernmost reaches of South America, has captured my heart and kept me coming back for more. From the towering peaks of the Andes to the icy fjords of the Pacific coast, Patagonia is an outdoor paradise. In this article, I'll give you all the tips to plan your own amazing adventure. 
Where is Patagonia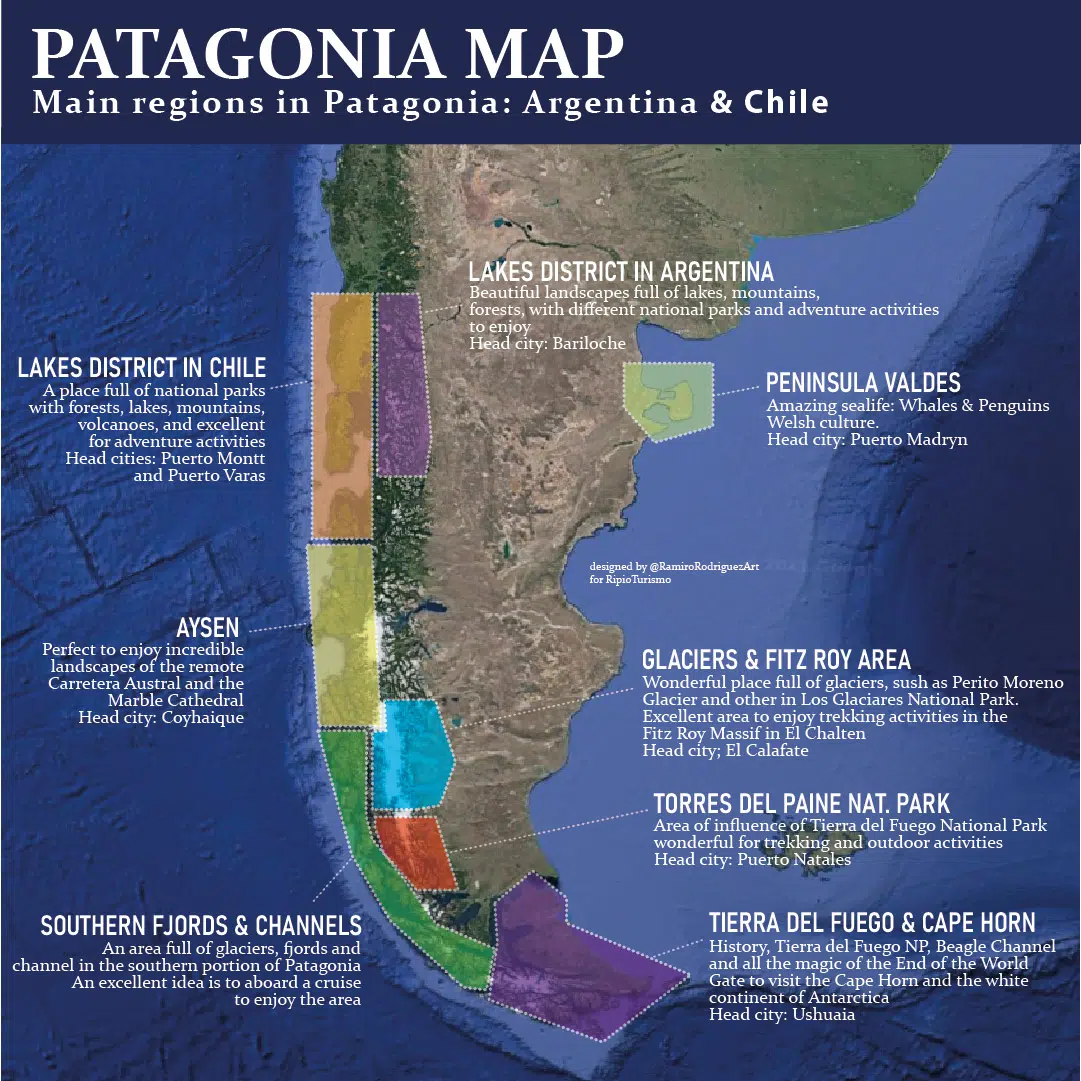 Patagonia is located in the southern part of South America and is divided between Argentina and Chile. It covers approximately 1 million square miles, stretching from the Andes Mountains in the west to the Atlantic Ocean in the east and south of the Colorado River in Argentina and Bio Bio River in Chile. Patagonia is known for its rugged terrain and stunning natural beauty, including mountains, glaciers, fjords, and forests. 
Patagonia vacation dilemma: Argentina or Chile?
In Argentina, you'll find must-see attractions like the Perito Moreno Glacier and Mount Fitz Roy, as well as the beautiful city of Bariloche, often referred to as Argentina's Switzerland. However, keep in mind that distances between attractions are quite long. The trip between Bariloche and the Perito Moreno glacier takes 26 hours by bus! Therefore, I recommend flying or combining your trip with Chile.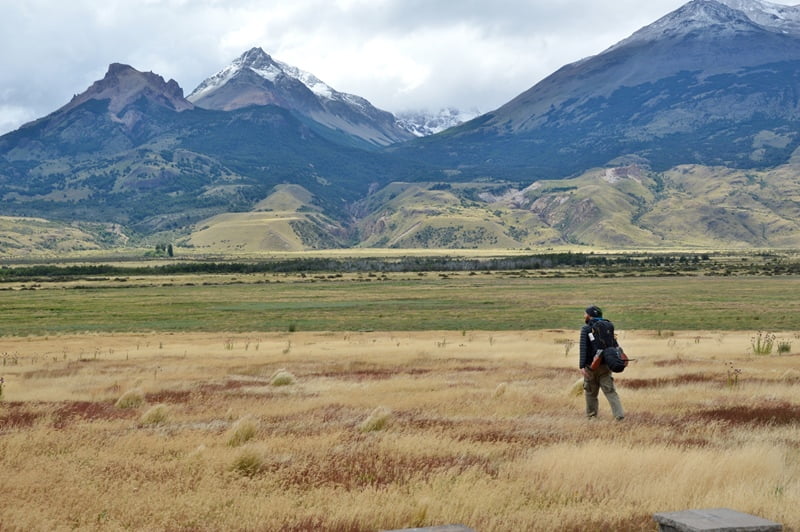 The Lake District is a must-see destination for anyone visiting Patagonia. It is a region of Mapuche Indians, active volcanoes, and little-known national parks. Be sure to visit the island of Chiloe, known for its unique architecture protected by UNESCO.
On the Chilean side of Patagonia, you'll find the harsh yet beautiful region of Magallanes and the Chilean Antarctica. It is home to stunning fjords and the famous Torres del Paine National Park. If you're looking to explore this region, consider taking a public ferry rather than a more expensive cruise with a travel agency.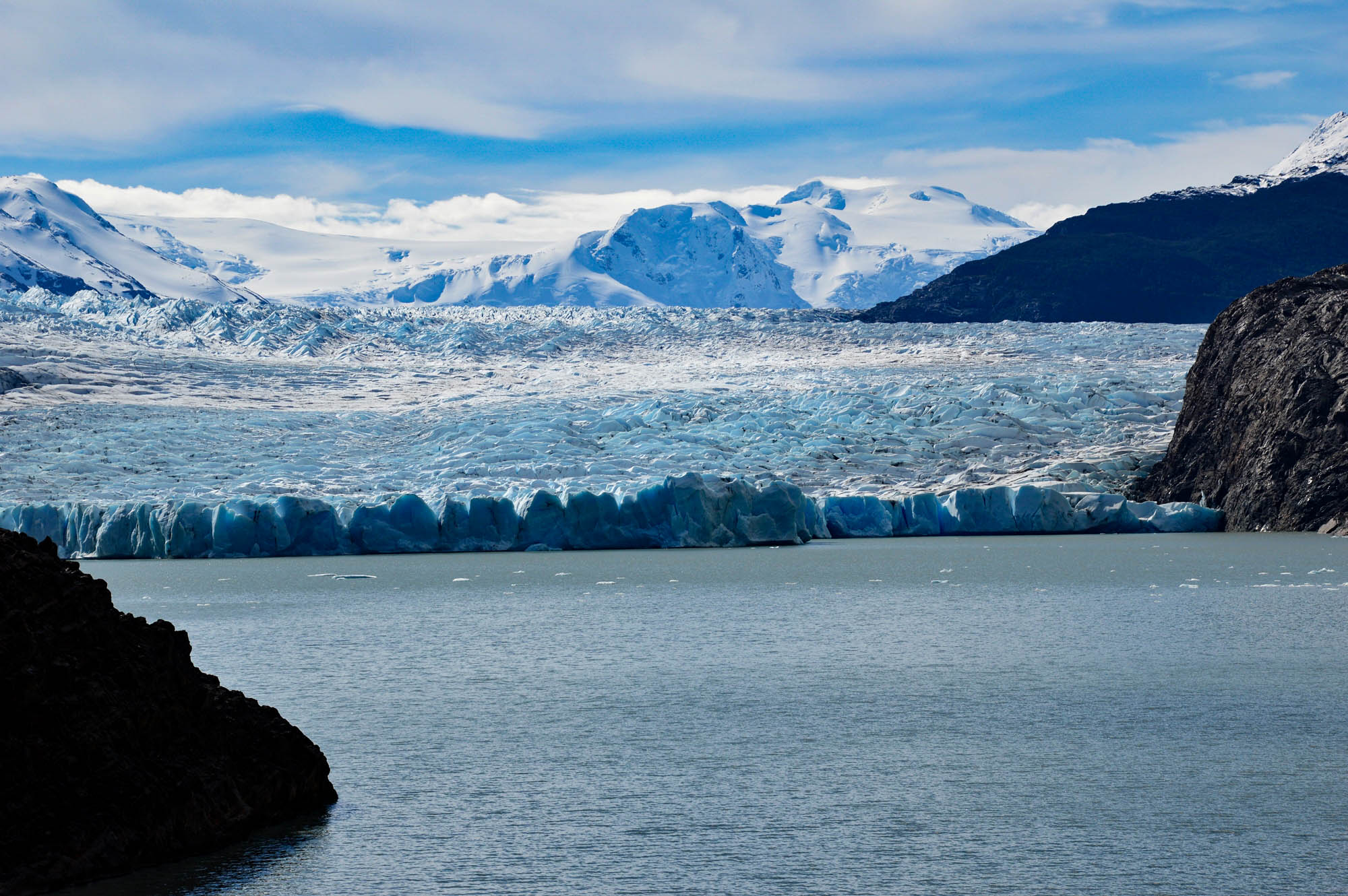 And don't forget about the island of Tierra del Fuego, crowned by the popular tourist destination of Ushuaia. It is a great place to embark on a cruise to Antarctica or take a short excursion to see penguin colonies. 
No matter where you choose to go in Patagonia, you'll be treated to breathtaking landscapes and unforgettable experiences.
What documents do you need to travel to Argentina in 2023?
If you're a USA or European citizen, you'll need only a valid passport to enter the country. No vaccinations or tests are required, and you won't need to present a return ticket. Once you arrive in Argentina, you can stay for up to 90 days within 180 days. You can enter and exit the country as many times as you like during this time. The border guards will keep track of your remaining days each time you cross the border.
What documents do you need to travel to Chile in 2023?
Good news for travelers planning a trip to Chile: the country has lifted many COVID-related restrictions. You can now enter the country with a passport and stay for up to 90 days. Keep in mind that you'll need to present a certificate of vaccination or a negative PCR test upon arrival.
Chile has strict rules regarding the import of unprocessed animal and vegetable products. While you can bring spices, coffee, bread, and rice, it's strictly forbidden to bring raw food such as fruits, vegetables, honey, nuts, and raw meat. The border guards are skilled at detecting even a tiny clove of garlic in a large backpack!
Borders between Chile and Argentina in Patagonia
Did you know that Argentina and Chile share the longest international border in South America and the third longest in the world? At over 5,000 kilometers, this border stretches from the Andes Mountains to the island of Tierra del Fuego. There are approximately 45 border crossings, known as "Pasos," along the way. However, not all of these Pasos are open year-round. Some may even require a multi-day hike through remote, mountainous terrain. So if you're planning a trip that involves crossing the border between Argentina and Chile, be sure to research which Pasos are accessible before you go.
Helpful websites:
The 12 most popular crossings in Patagonia include:
🚗 Los Libertadores. Important and crowded crossing between Santiago de Chile and Mendoza, located near Mount Aconcagua.
🚗 Mallín de Icalma connects Temuco, Chile to the Lake District of Argentina.
🚗 Tromen or Paso Mamuil Malal is located on the road between San Martin de Los Andes and Pucon in the Lake District.
🛳 Huahum is a pass between San Martin de Los Andes, Argentina, and the Huilo Huilo Nature Reserve, Chile. It requires a ferry reservation as there are no roads.
🛳 Cruce Andino is only accessible by ferry from Bariloche to Puerto Varas via three mountain lakes. Tickets must be booked in advance. The full package costs $295, and the option for cyclists (only three boat rides without land transportation) costs $120.
🚗 Cardenal Samore is the closest border crossing to Bariloche. It leads to the Chilean city of Osorno.
🚶 El Leon is a small border crossing that requires a multi-day trek from the Cochamo Valley to Bariloche.
🚗 Rio Futaleufú crossing is rarely used by tourists. It leads from Alerces Park, Argentina to Chaiten in Chile via the magnificent Futaleufu River.
🚗 Chile Chico (Paso Río Jeinemeni) is the last car crossing on the Carretera Austral in Chile. Further south, you can only move by boat through the fjords. On the Argentinian side, you can find ancient cave paintings, but the main sights of Aggentinian Patagonia are still far away.
🛳 🚶 Candelario Mancilla. Difficult crossing that includes traveling by ferry, hitchhiking, and a 25 km trek. It connects Villa O'Higgins, Chile to El Chalten, Argentina. This pass is famous among cyclists and backpackers for its beauty.
🚗 Don Guillermo Cancha Carrera. Popular crossing between Torres del Paine Park and the Perito Moreno Glacier in El Calafate.
🚗 Border crossings on Tierra del Fuego (Paso Integracion Austral, Paso San Sebastian) are inevitable if you want to get to Ushuaia by land from both Chile and Argentina.
Getting around in Patagonia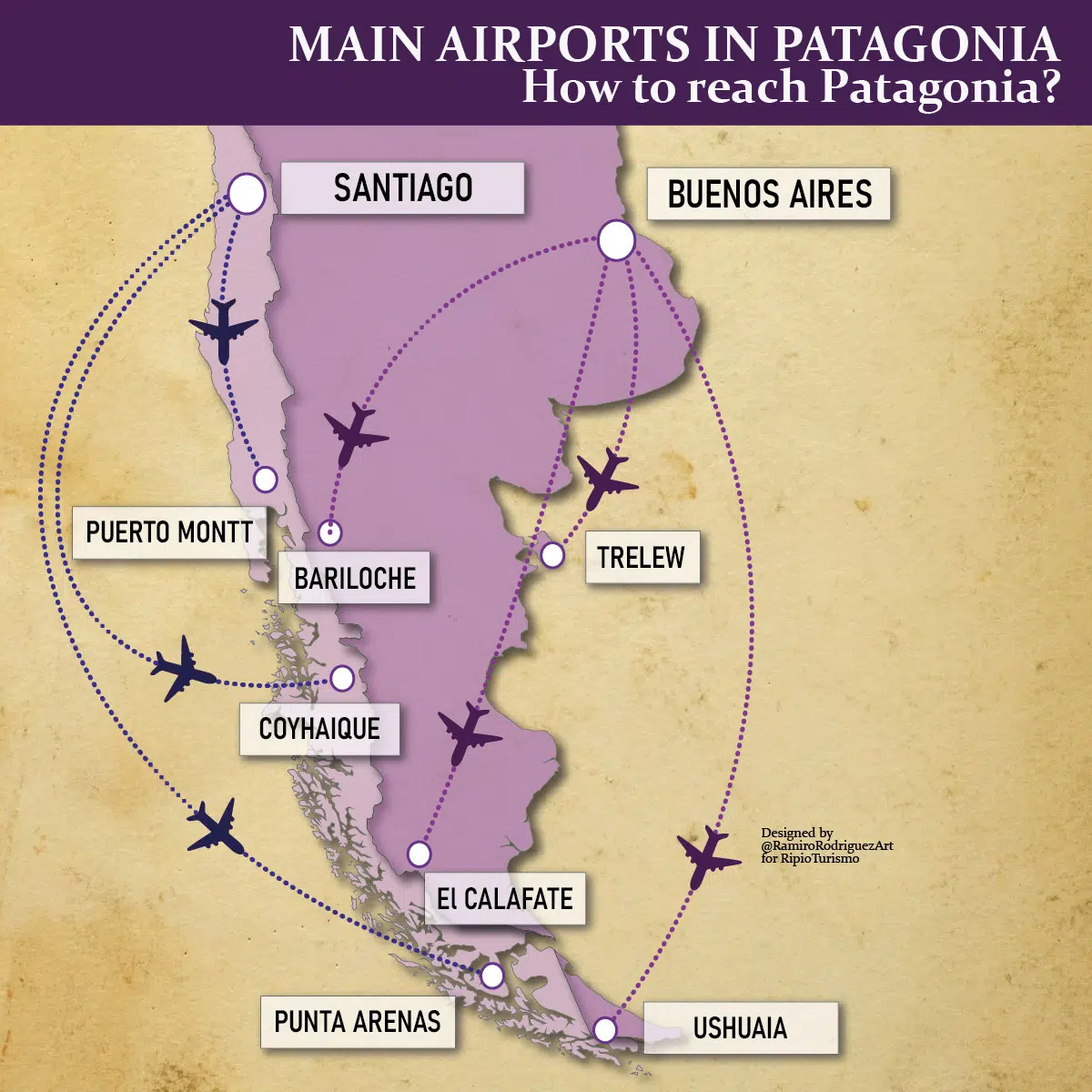 Transportation in Argentina
Airplane 🛬
If you need to travel long distances within the country, flying is often the most convenient and cheap option. Several airlines operate flights within Argentina, including Aerolineas Argentinas, Fly Bondi, and Jet Smart. Prices for the ticket can range from $20 to $120.
There are three main airports in Patagonia: Bariloche, El Calafate, and Ushuaia. All of them have flights available from Buenos Aires. There is also an airport in Puerto Madryn if you're planning to visit the marine national park.
Backpackers and hikers! You can transport certain items like tent pegs, frames, and knives only in the luggage compartment. Also, propane cylinders are not allowed on airplanes at all. However, some airlines like Fly Bondi offer very reasonable luggage fees (about 10$).
How to buy domestic flights in Argentina?
Argentina is currently experiencing an economic crisis. It has resulted in two exchange rates in the country: the official rate and the unofficial (or blue) rate. These rates differ by approximately two times. As a traveler, it can be confusing to handle the situation. One option is to bring cash in dollars or euros and change them at special exchangers. Some places also allow you to exchange cryptocurrency for pesos at the blue rate. Another option is to send yourself dollars by Western Union because it also uses a blue rate.
One of the main challenges in Argentina is making online payments with a foreign card. Most foreign cards will use the official rate. However, the Argentine government has recently begun working on this issue. Some foreign cards are now receiving an exchange rate closer to the blue rate. Unfortunately, this does not yet apply to US cards (based on my experience). Note, that non-resident can't open a local bank card in Argentina.
So what are your options if you need to buy plane tickets online?
Ask a local to pay for the tickets and give them the cash.
Select the "cash payment" option on the Fly Bondi website and pay at a Rapipago or Pagofacil office. Unfortunately, other airlines don't offer this option.
Buy a ticket through street travel agencies (but they will charge you a service fee).
Use a crypto payment app like Lemon Cash, which converts USDT at the blue rate. Although it's not possible to open an account with a US passport, other countries seem to work fine. The Travala website allows you to buy tickets with crypto. However, prices there are listed in dollars, so you won't save any money.
Bus 🚌
I use websites like Busbud, CheckMyBus, and Rome2Rio to check timetable and pricing information. Keep in mind that traveling by bus in Argentina can be tiring. The distances between attractions are long and the landscape can be quite monotonous. In my opinion, it's a good idea to add flights to your itinerary or combine your trip with Chile.
Here's a breakdown of the current costs and travel times:
Buenos Aires to Bariloche: 22 hours, 15000 ARS, which is 80$ at the official rate or 40$ at the blue rate.
Bariloche to El Chalten: 24 hours, $170 (34,000 ARS).
El Chalten to El Calafate: 2 hours, $10 (4,000 ARS).
El Calafate to Ushuaia: 17 hours with a change in Rio Gallegos, $70 (13,000 ARS).
These prices may change within a week because the currency in Argentina keeps losing its value. However, the dollar equivalent should stay the same.
Train 🚂
Tren Patagonico is the only passenger train in the country. This railway connects Viedma on the Atlantic coast and Bariloche, and the trip takes around 18.5 hours. The cost of a ticket ranges from $15 to $25. The train leaves Viedma on Fridays at 18:00 and arrives in Bariloche at 12:30. It leaves from Bariloche to Viedma on Sundays.
Tickets for the Tren Patagonico tend to sell out quickly, especially during the summer, so it's a good idea to book as far in advance as possible.
Transportation in Chile
Helpful materials: Transportation in the Aisen region in pdf, a Brief guide to logistics in Patagonia in English, and another good infographic on traveling in Chile.
Airplane 🛬
The following airlines fly domestically in Chile: 
These airlines offer flights to Temuco, Puerto Montt, Coyhaique (Balmaceda), and Punta Arenas. Like in Argentina, the cost of a flight may be lower than the price of a bus ticket.
Bus 🚌
If you're planning to travel by bus in Chile, check out websites like Busbud, CheckMyBus, and Rome2Rio for timetable and pricing information. The bus trip from Santiago de Chile to Pucon takes around 10 hours, and costs from $40 to $60.
Ferry 🛳
There are three companies that operate in the Aisen region:
Hitchhiking in Patagonia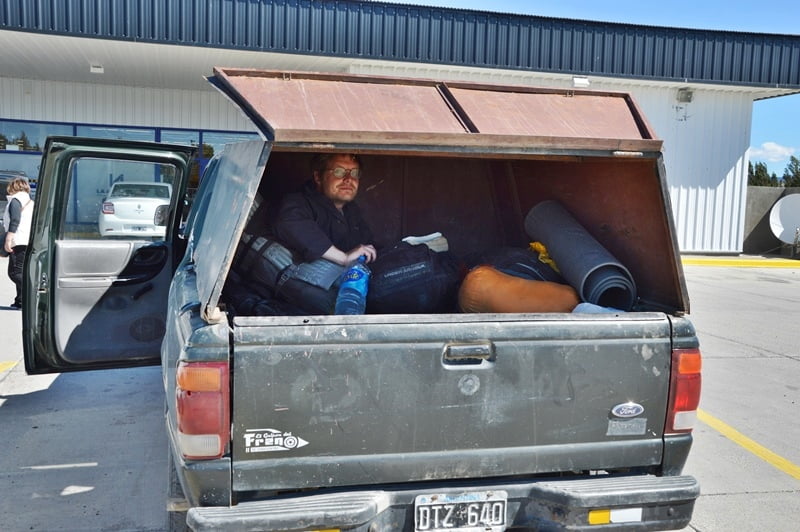 I have a lot of experience hitchhiking in Patagonia, having traveled all over the region in 2017 and 2018. While hitchhiking in Argentina can be a bit of a challenge, in Chile it's a completely different story. I found hitchhiking in Chile to be some of the best in the world, with waiting times rarely exceeding 10 minutes. 
Hitchhiking in Patagonia is pretty safe, even for a single woman. I always ended up meeting kind people along the way. 
Best time to visit Patagonia
🌼 Summer in Patagonia lasts from December to March (the seasons are opposite in the southern hemisphere compared to the northern hemisphere). During this time, the temperature in the Chilean lake district can reach 20-25°C, while in Ushuaia, it doesn't get above 20°C. However, due to the strong winds that blow throughout Patagonia during the summer, you will need a jacket most of the time.
The peak tourist season in Patagonia is in January and February. During this period, accommodation prices rise significantly. It is better to book hotels and tours in advance.
🌱 The best time to visit Patagonia is November and December. The weather is already warm but there are fewer tourists. September can also be a good time to visit, although it tends to rain more often.
🍁 March is a special time to visit Patagonia. It marks the start of the region's golden (or rather, fiery red) autumn. This is a short season ideal for hiking. Sometimes the warm weather lasts until April.
🥶 Winter in Patagonia lasts from May to August. During this time, roads can be closed due to snowfall. Most hotels are not operating, and many locals move to the north. However, it is possible to explore this region in June and July. One-day hikes in some national parks are still possible, while overnight in the mountains ciuld be a challenge.
Adventure Awaits in Patagonia: 5 Exciting Itineraries to Follow
Argentinean Patagonia: A Journey to the End of the World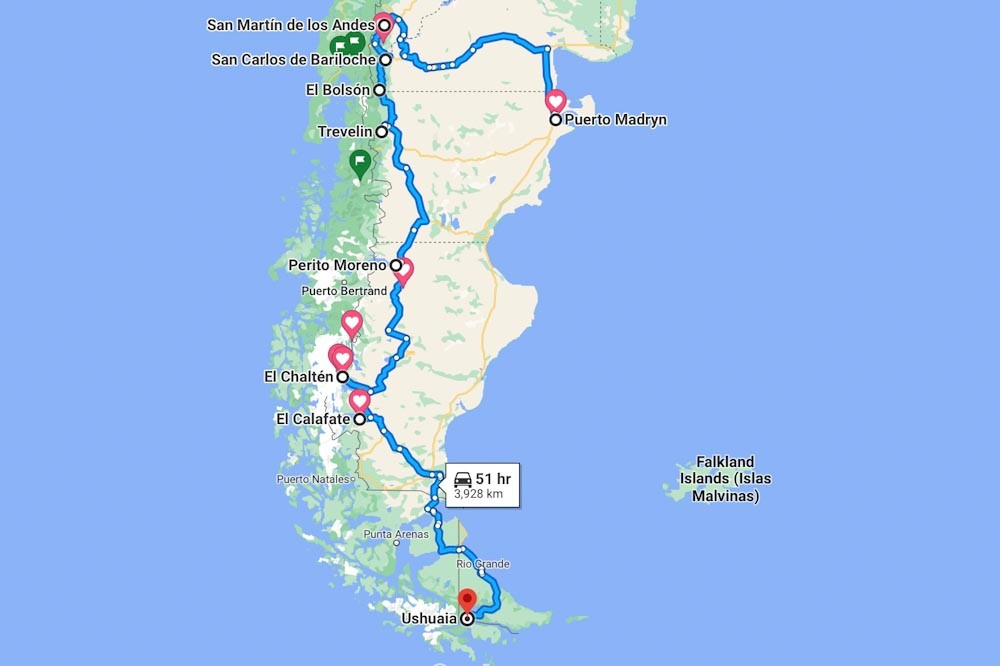 🚩 Puerto Madryn
Puerto Madryn is a must-visit destination because of its marine reserve, which is home to whales, dolphins, seals, and penguins.
Must-do: dive with playful sea lions; watch penguins play in Punta Tombo reserve; take a whale-watching tour from May to December near Valdes Peninsula; meet the curious Commerson's dolphins in Puerto Rawson.
More to explore: bech of Puerto Piramides; Museum of Paleontology in Trelew.
🚩 Bariloche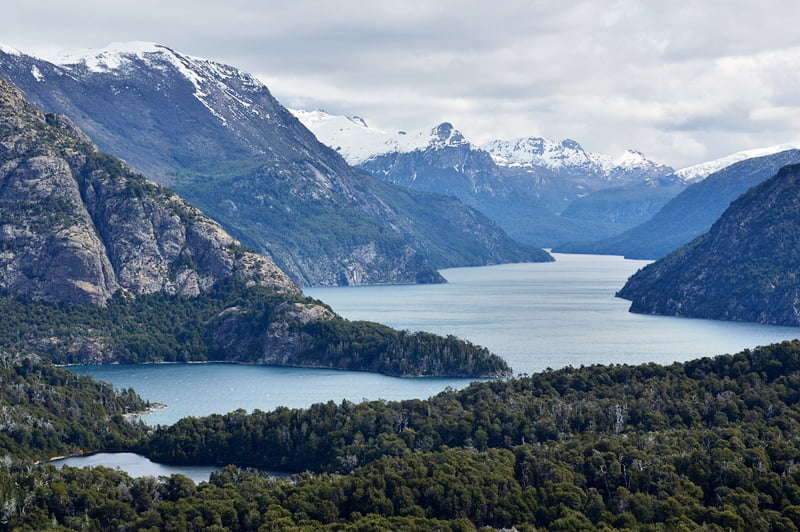 Any traveler should visit Bariloche for its abundance of outdoor activities, and charming alpine-style architecture.
Must-see: beautiful fjords at Llao Llao Park, the enchanting myrtle forest in Los Arrayanes park, and a scenic catamaran trip on Lake Nahuel Huapi.
More to explore: in nearby San Martin de Los Andes you can go kayaking on Lacar lake, relax in the Termas Lago Queñi hot springs nestled in the forest, and explore the Lanin National Park. 
Challenging hike: Nahuel Huapi Park 5-days Traverse (5 days); climb to the top of Lanin volcano.
🚩 El Bolson
El Bolson is known for its hippie commune dating back to the 60s. While it may not be as popular with tourists as nearby Bariloche and El Chalten, El Bolson offers the same beautiful nature at lower accommodation prices.
🚩 Trevelin / Eskel
Travelers often overlook these towns in Chubut province. They were founded as Welsh colonies and continue to celebrate their cultural heritage.
Must-see: Los Alerces National Park, a UNESCO Heritage site; the Túneles de Hielo (ice caves) on Mount La Torta (available late December to mid-February); 
More to explore: the unique geological formation of Piedra Parada; the tulip fields in October and November; a ride on the La Trochita steam locomotive.
🚩Perito Moreno (city)
Perito Moreno is located near the main border of Chile and Argentina in Patagonia. While there may not be many activities within the city, several attractions in the surrounding area are worth visiting.
🚩 El Chalten
El Chalten is known as the capital of mountain tourism. Home to the stunning Mount Fitz Roy and surrounded by the grandeur of Los Glaciares National Park, it is an unmissable destination in Patagonia for outdoor lovers.
Must-see: Fitz Roy trail along the Laguna de Los Tres and Cerro Torre.
More to explore: Loma del Pliegue Tumbado trail; Piedra del Fraile mountain hut; Laguna del Diablo.
Difficult hike: a 5-day trail Los Huemules.
🚩 El Calafate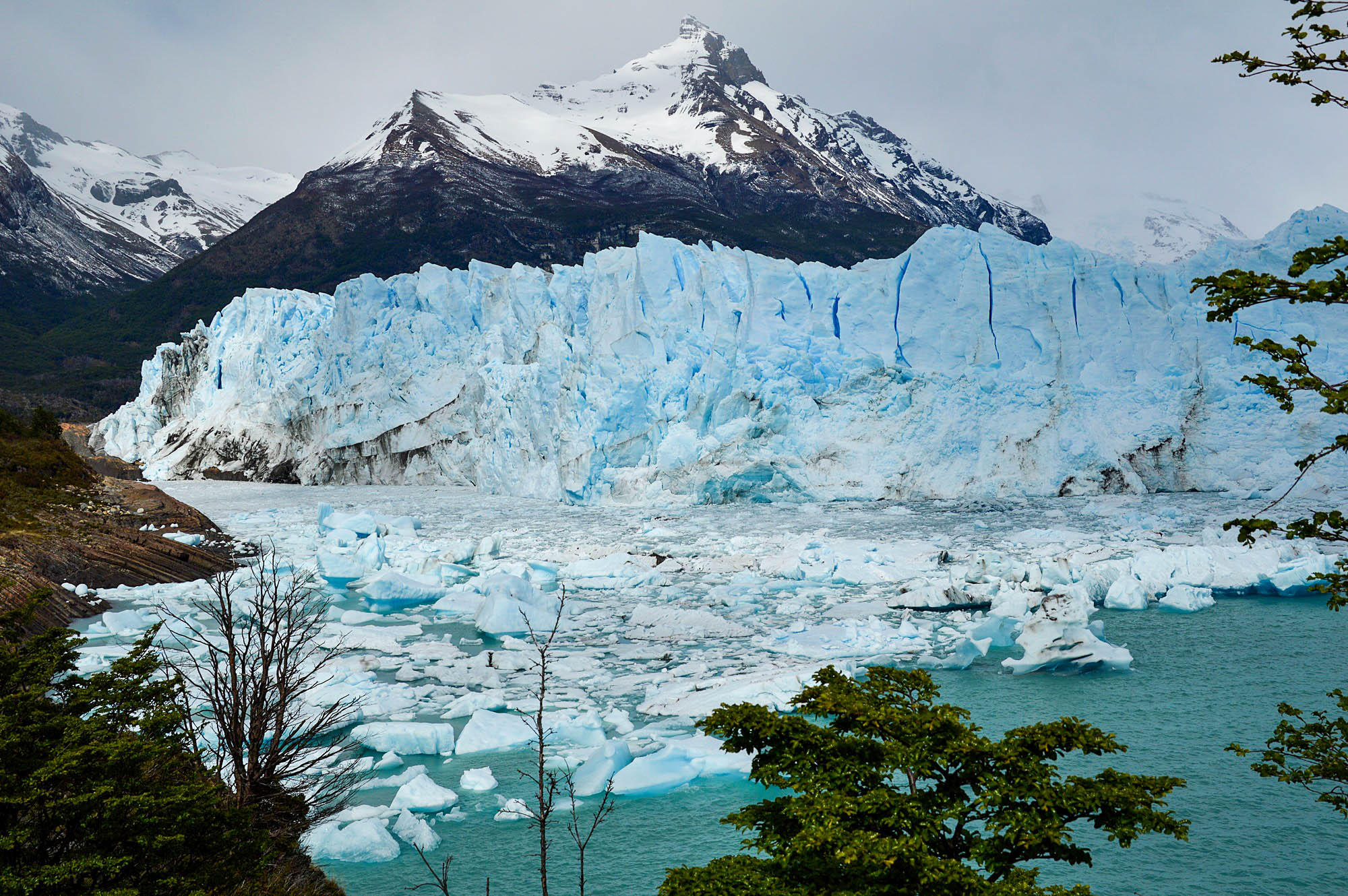 This city is known for its fantastic Perito Moreno Glacier.
Must-see: Perito Moreno Glacier
More to explore: Dinosaur exhibition in Centro de Interpretación Histórica, Glaciarium Museum.
🚩 Ushuaia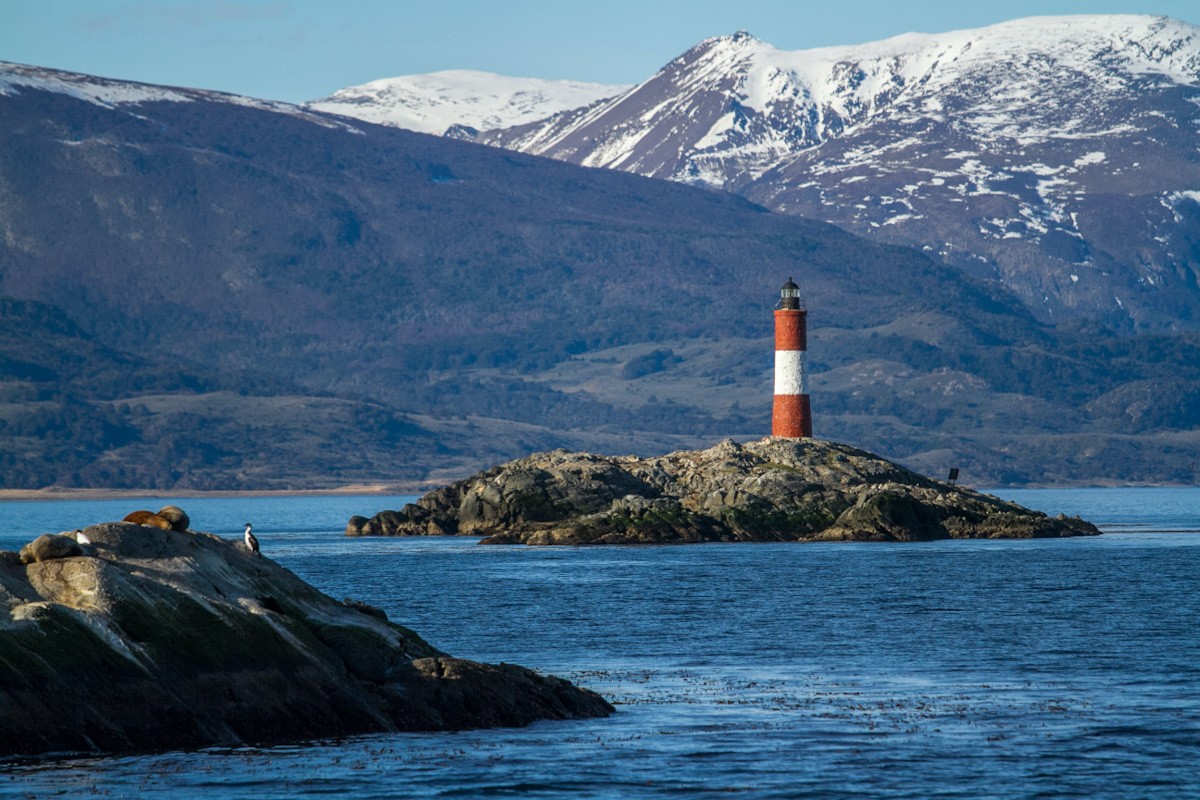 The southernmost city in Argentina, Ushuaia is a gateway to Antarctica and the Southern Islands.
Must-see: Tierra del Fuego National Park
More to explore: Cruise to Antarctica, a once-in-a-lifetime opportunity to see the White Continent, or cruise on the Beagle Channel.
Challenging Hike: Sierra Valdivieso Circuit Route
You can continue this itinerary to Torres del Paine park in Chile instead of Ushuaia.
Don't miss my articles about Argentinean Patagonia
◽Bariloche: The Best Hikes & Trekking Routes
◽El Chalten Trekking Guide: Mt Fitz Roy and More
◽Hiking Iconic Mt Fitz Roy: A Guide to the Laguna de Los Tres and Cerro Torre Route
◽Perito Moreno: A Guide to the Most Epic Glacier in the World
◽El Calafate
Lake District and the island of Chiloe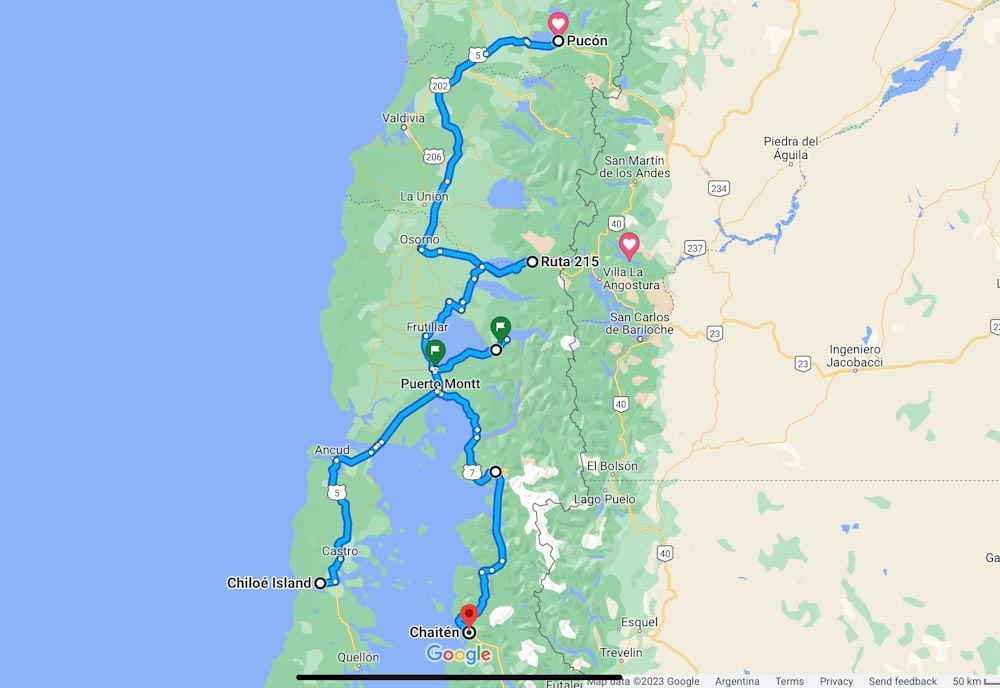 The Lake District is situated between Pucon and Puerto Montt in Chile. There you will find active volcanoes and stunning Araucaria forests. It is home for the indigenous Mapuche culture. The best way to explore the Lake District is by car because this region is all about panoramic views. 
🚩 Pucon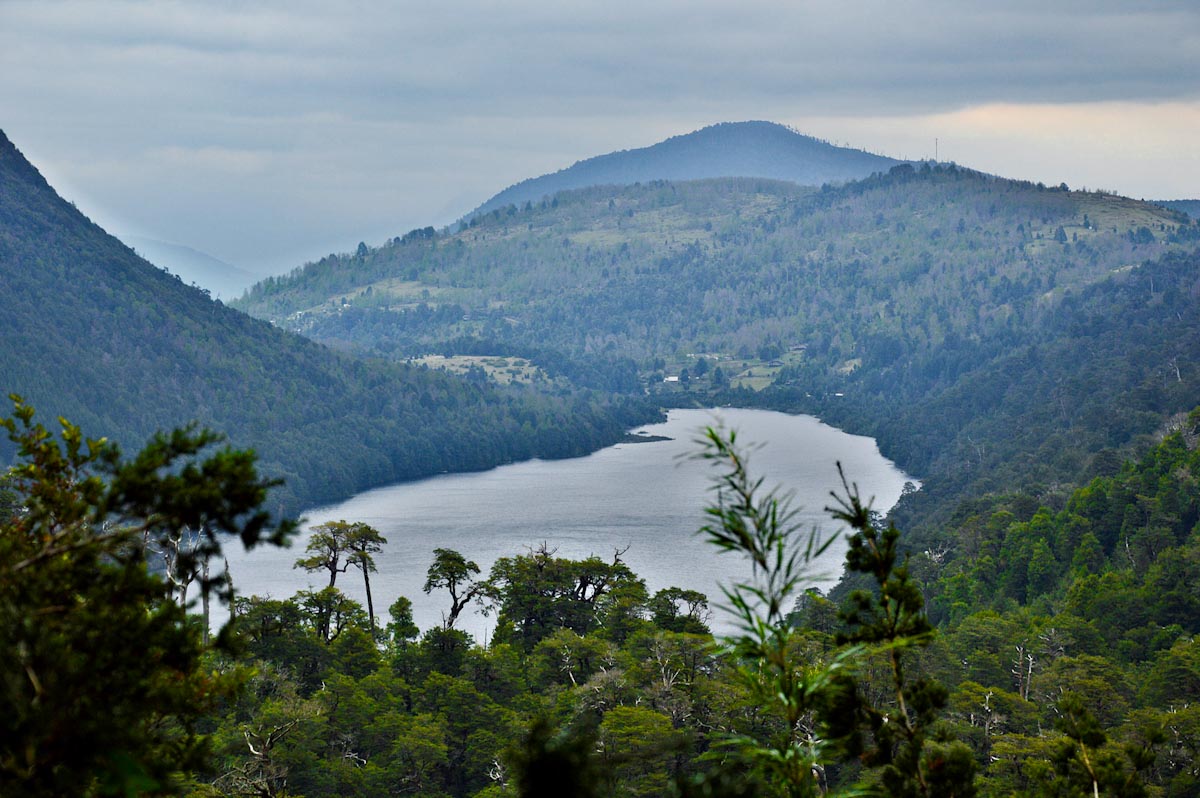 Pucon is a city in the heart of the Lake District, one of the most popular tourist destinations in the country. Visitors enjoy rafting and mountain biking as well as hiking and rock climbing.
Must-see: trekking in Huerquehue and Conguillio National parks; various hot springs.
More to explore: skydive over the crater of an active volcano, and learn about the culture of the Mapuche Indians.
Challenging hike: climb to the top of the active volcano Villarrica; 5-day traverse of Villarrica National Park.
🚩 Valdivia
Although Valdivia isn't a must-see place, I recommend stopping by if you are traveling through Chile at a leisurely pace. Its European architecture and well-groomed streets will take you to Copenhagen or Stockholm.
Must-see: the historic fortifications at Niebla, feed sea lions at the port, and try German draft beer. On the third Saturday of February, the city hosts a fireworks festival.
🚩Osorno / Entre Lagos
These towns were founded by German immigrants at the foot of the Osorno volcano.
Must-see: Puyehue National Park, where you can climb the volcano of the same name; bathe in hot springs; and see the Raihuen crater. Click here to see the map of all park hiking trails.
More to explore: Frutillar is a beautiful German city on the shores of Lake Llanquihue. You can enjoy the views of the volcanoes (it is never enough of them); ride a bike around the lake. At the end of January, a big music festival takes place.
🚩 Puerto Varas
Puerto Varas is one of the most beautiful cities in the region. If you are short on time, you can go straight from Pucon to Puerto Varas.
Must-see: trekking in the Vicente Pérez Rosales park along the Paso Desolación trail; waterfalls in Petrohue.
More to explore: Trekking in the Cochamo Valley and Lake Tagua Tagua; see an ancient forest in Alerce Andino Park.
Challenging hike: 4-day traverse of the Vicente Perez Rosales Park (see description on this website), climbing the Osorno Volcano with a guide.
🚩 Chiloe Island
Chiloe is an island in the Pacific Ocean, surrounded by fjords and nature reserves. It is famous for its 18th-century Jesuit wooden churches, which are listed as a UNESCO heritage site. Local residents are mainly engaged in fishing.
Must-see: the wooden architecture of the island, the traditional Mapuche dish – curanto, penguin, and whale watching in the fjords.
More to explore: Tantauco Park; the oldest church in the region on Quinchao island; a fortress in Ancud.
🚩 Chaiten
The city, hit by the eruption of the Chaiten volcano in 2008, is slowly recovering. It is famous for its dense forests, hot springs, and magnificent nature.
Must-see: hiking in Pumalin Park; kayaking in the nearby fjords.
More to explore: Hornopiren National Park.
Challenging hike: climb to the top of the Hornopiren volcano.
---
You can start the Lake District itinerary in Bariloche (Argentina).
🚩 Bariloche
See the sights of Bariloche in the first itinerary.
🚩 San Martin de los Andes
Surrounded by mountains, dense forests, and deep glacial lakes, San Martin de Los Andes is one of the most beautiful places in the Neuquen province. However, tourists visit it much less frequently than neighboring Bariloche.
The most convenient way to get to the Lake District of Chile from Argentina is by the Mamuil Malal border. Near the border is a $40 hotel with its own thermal springs.
Don't miss my articles about the Lake District
◽ Pucon, Chile: The Ultimate Hiking & Trekking Guide
Journey Through Aisen Region in Chile by Carretera Austral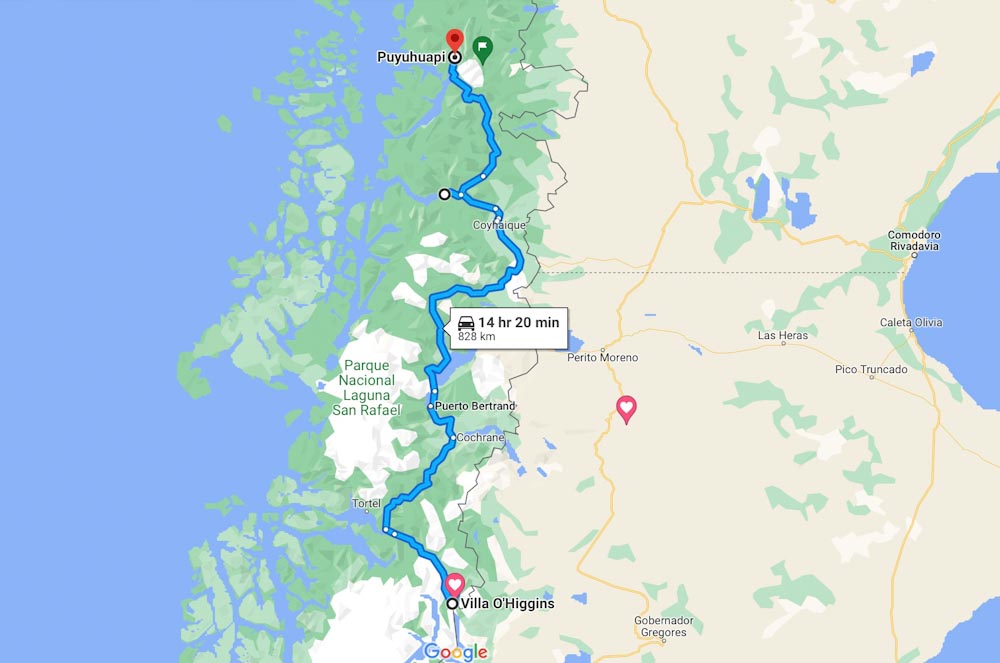 The Aisen region of Chile boasts a diverse landscape, with half of its territory consisting of national parks and reserves. Imagine crystal-clear turquoise lakes and giant glaciers as far as the eye can see!
🚩 Puyuhuapi
The fishing town of Puyuhuapi is located next to the wonderful fjords. Its inhabitants live a simple life, following the traditions of the first settlers.
Must-see: hike to the Hanging Glacier in Queulat park.
More to explore: go kayaking or join a boat trip in Puerto Cisnes; climb Cerro Gilberto; watch dolphins and penguins in the Puyuhuapi channel.
🚩 Puerto Aisen
Puerto Aisen is surrounded by fjords, channels, and snowy peaks. The main attraction of this place is the Laguna San Rafael National Park.
🚩 Villa Cerro Castillo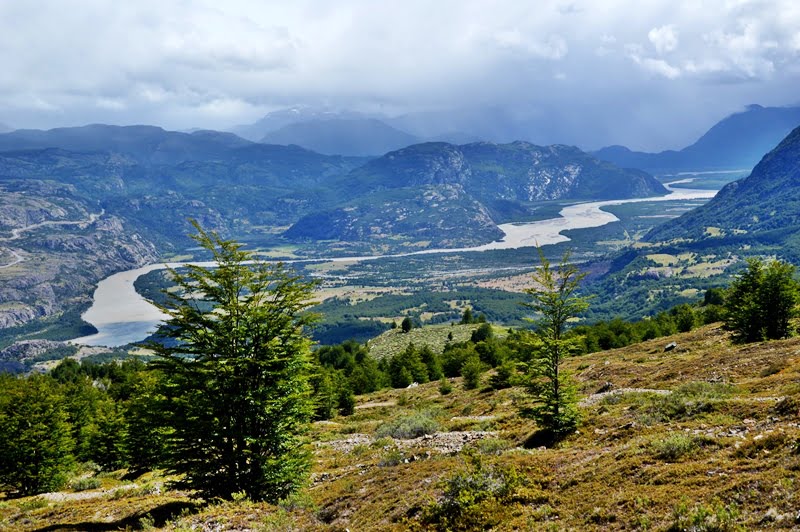 The charming village of Cerro Castillo gets its name from the majestic mountain that towers nearby. This picturesque region is home to the miniature Andean deer, called huemul. You can experience the gaucho culture at the traditional fiestas that are held during the summer.
Must-see: multi-day or one-day hike at Cerro Castillo National park; see ancient cave paintings at Paredón de Manos.
🚩 Puerto Rio Tranquilo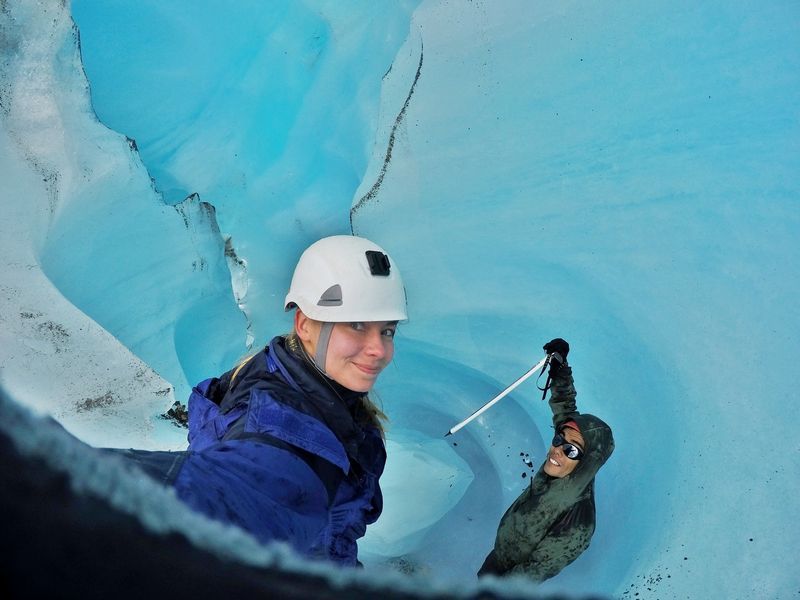 Puerto Rio Tranquilo is a small town located on the shores of Lake General Carrera, the second-largest lake in South America.
Must-see: kayak to the Marble caves; and ice trekking on the Exploradores glacier.
More to explore: excursion to the San Rafael Glacier; bike along the Ruta X-728 road to Mount San Valentin.
🚩 Cochrane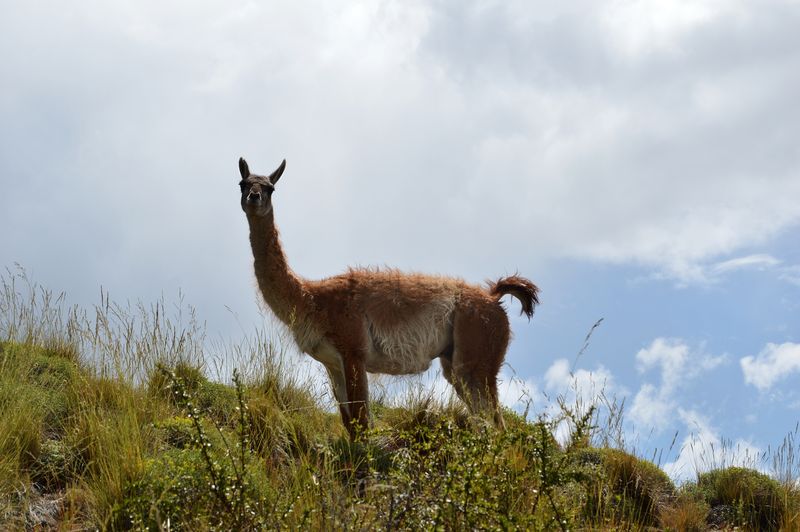 This small town in Chilean Patagonia is surrounded by turquoise rivers and glaciers. The Tamango National Park is home to the miniature Andean deer, which you may spot on the road during early morning hours. Cochrane offers a chance to indulge in traditional Patagonian cuisine and witness the rodeo competitions.
Must-see: trekking in the Tamango Reserve, General Carrera lake in Puerto Guadal, rafting on the Baker River.
More to explore: ice trekking on the Calluqueo glacier; Lagunas Altas trail in Chacabuco Valley; hike in a new Patagonia Park.
Challenging hike: 5-day Jeinimeni trail; or 10-day Aysen Glacier Trail (AGT) with the guide.
🚩 Caleta Tortel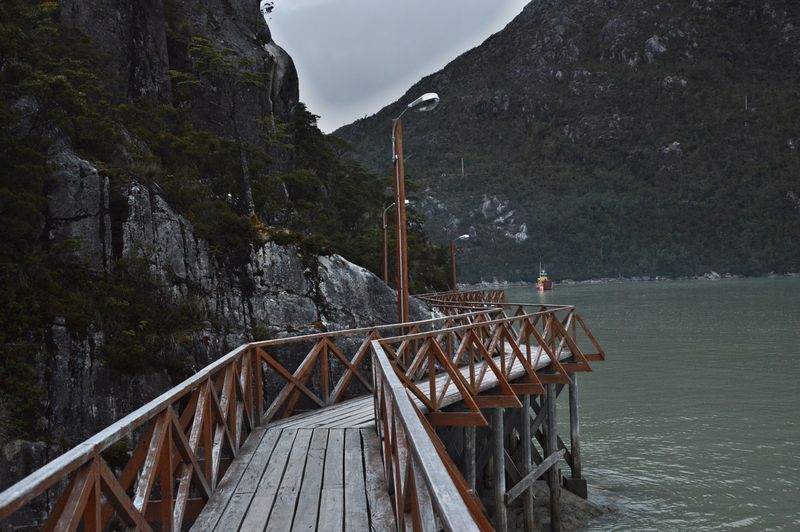 Tortel is built on stilts and wooden walkways. It is one of the few car-free towns in Chile and a unique place to visit. It also has a unique culture, with a mix of Chilean and indigenous influences.
Must-see: walking along the wooden platforms; Cerro la Bandera hiking trail.
More to explore: island of the Dead; excursion to the Steffan glacier; Katalalixar nature reserve.
🚩 Villa O'Higgins
Villa O'Higgins is situated at the end of Carretera Austral, the only road that goes through Patagonia. It is a remote and isolated place.
Must-see: day trips to Cerro Submarino or Cerro Altavista
Challenging hike: border crossing to El Chalten, which includes a 3-hour boat trip among the glaciers, and a 25-km hike.
Take a look at my articles about the Aisen region in Patagonia
◽A Guide to Tortel: Chile's Wooden Walkway Town
◽Cochrane, Chile: An Adventure-Seeker's Paradise
◽Calluqueo Glacier: A Hiking Adventure in Patagonia's Frozen Wilderness
◽Chilean Patagonia's Hiking Gems: A Guide to Tamango Park and Chacabuco Valley
◽Patagonian Marvels: A guide to the Marble Caves of Puerto Rio Tranquilo
◽Ice Trekking on the Exploradores Glacier: A Patagonian Adventure Not to be Missed
◽Cerro Castillo: My First Solo Hike in Patagonia on a New Year's Eve
Magallanes and Chilean Antarctica: An Exotic Adventure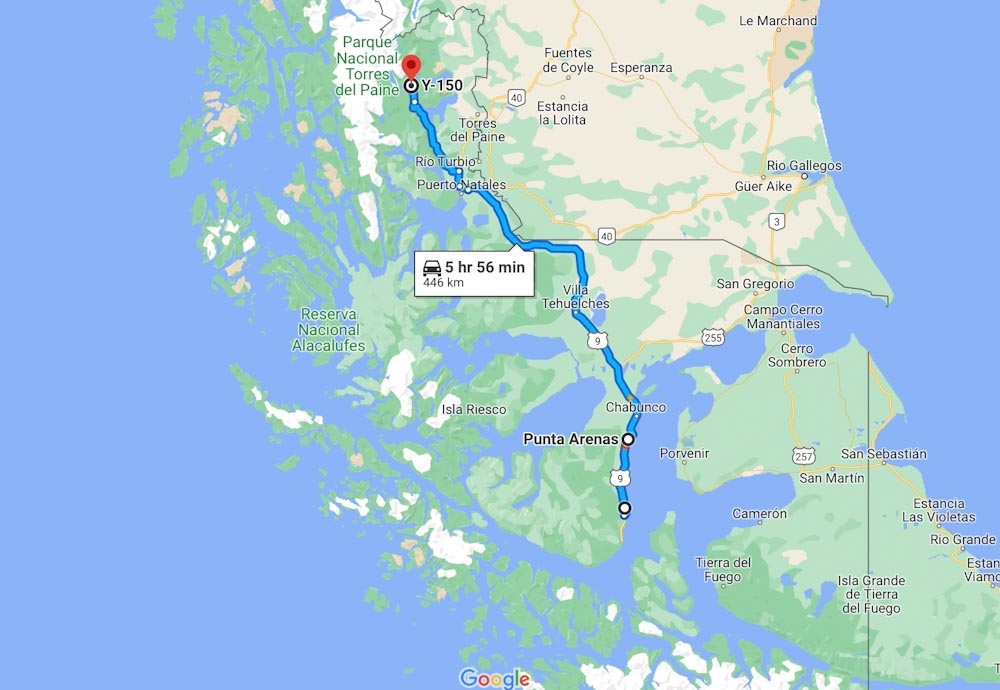 This southernmost region of Chile is famous for the Torres del Paine park, one of the world's most stunning trekking destinations. There are only a few roads in the Chilean Antarctic, and the main mode of transport there is ferries. You can navigate through the fjords among glaciers and icebergs, spotting dolphins and whales along the way. A public ferry ride is a budget-friendly option to experience this region.
🚩 Puerto Natales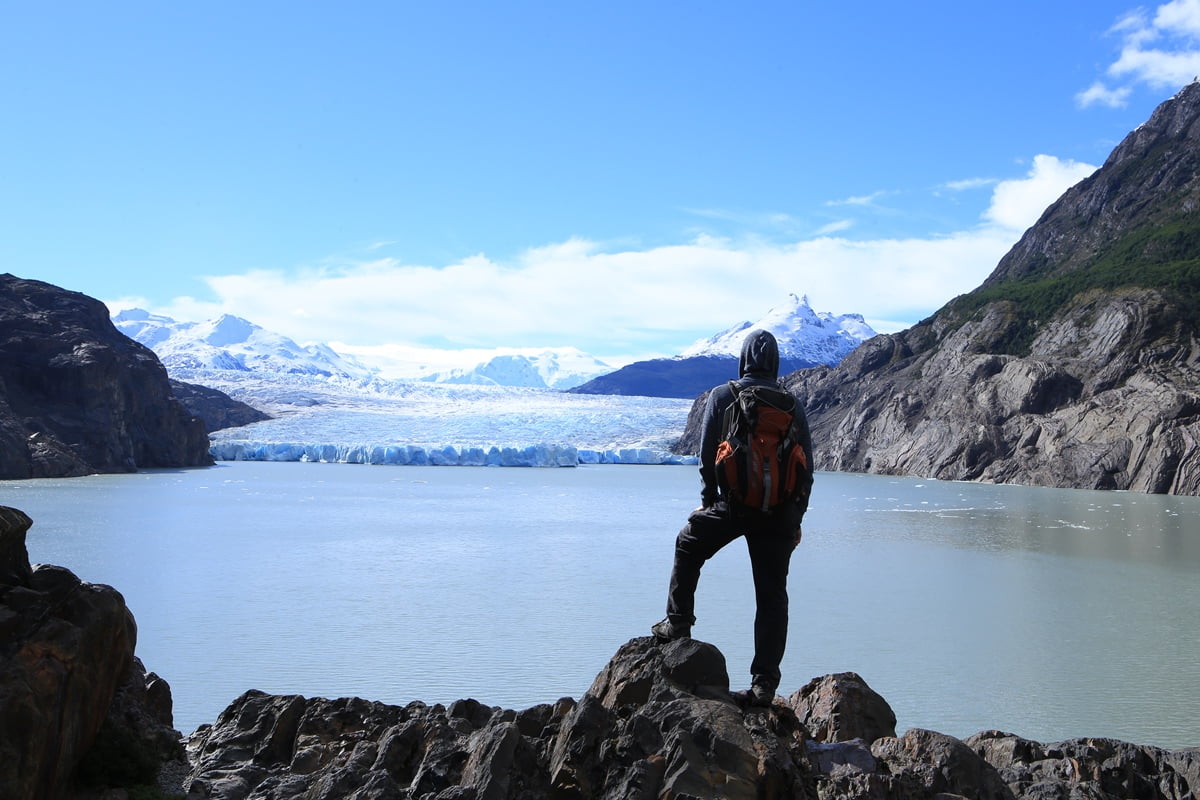 The charming city of Puerto Natales is the gateway to Torres del Paine National Park. It is also a main port of the province of Ultima Esperanza, situated on the banks of the Señoret Canal. The local economy is primarily based on sheep farming.
Must-see: Torres del Paine National Park (Day Trip); Milodon Cave to see the remains of the extinct animal similar to a bear.
More to explore: a trip to Caleta Yungai or Puerto Montt on a public ferry along the fjords of the Bernardo O'Higgins National Park; a hike to Cerro Benitez.
Challenging hike: trekking on the W and O route (you have to book campsites in advance).
🚩 Punta Arenas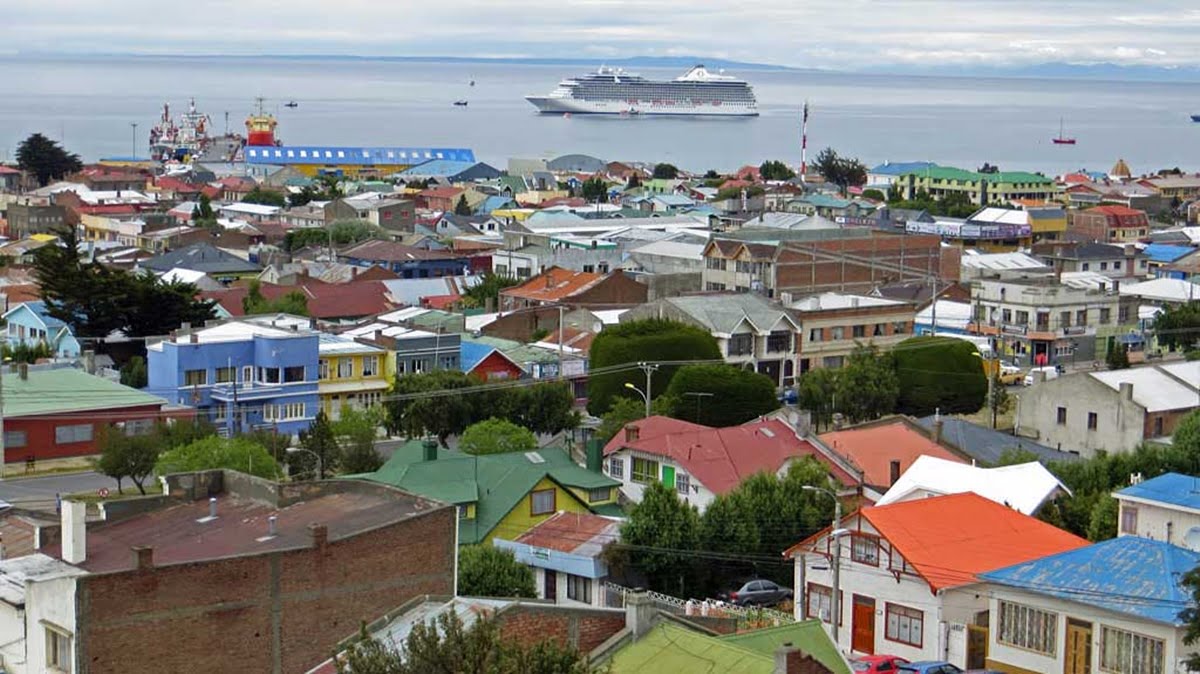 Punta Arenas is a melting pot of cultures and history. It is located on the coast of the Strait of Magellan, which connects the Pacific and Atlantic oceans and separates the island of Tierra del Fuego from the mainland. The population of the city was formed by immigrants from Croatia, Italy, and Spane. This cultural blend is reflected in the architecture, particularly in the grand palaces of the former aristocratic families.
Must-see: a penguin colony on Magdalena Island, a replica of Magellan's ship; historical sights of Fort Bulnes and the Port of Hunger; various museums in Punta Arenas.
More to explore: Chilean Antarctic Fjord Cruise; Whale Watching.
Challenging hike: Cape Froward, the southernmost point of the continent (4 days).
Check out my other articles on Chilean Antarctica and the Magallanes region
◽Penguin Paradise: A Trip to the Magdalena Island Reserve in Chile
◽Punta Arenas: A city on the edge of the continent
◽Cape Forward: Swimming Across a River in Chilean Antarctica
◽Nao Victoria Museum in Punta Arenas: A glimpse into the Strait of Magellan's past
◽The W-Route of Torres del Paine: A Guide to Trekking Patagonia's Iconic Park
Discovering the Wilds of Tierra del Fuego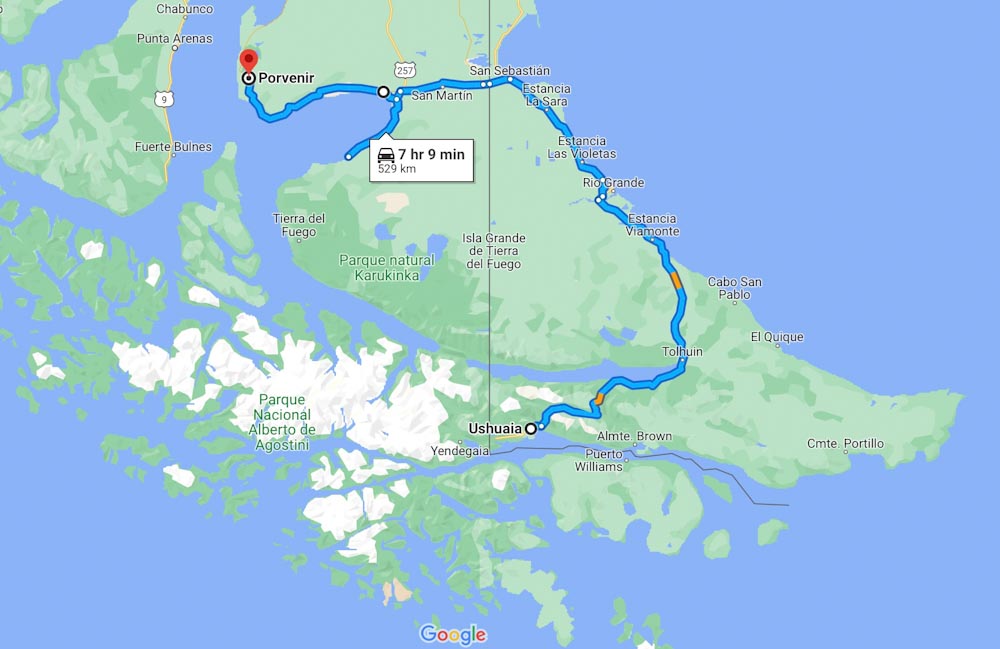 🚩 Porvenir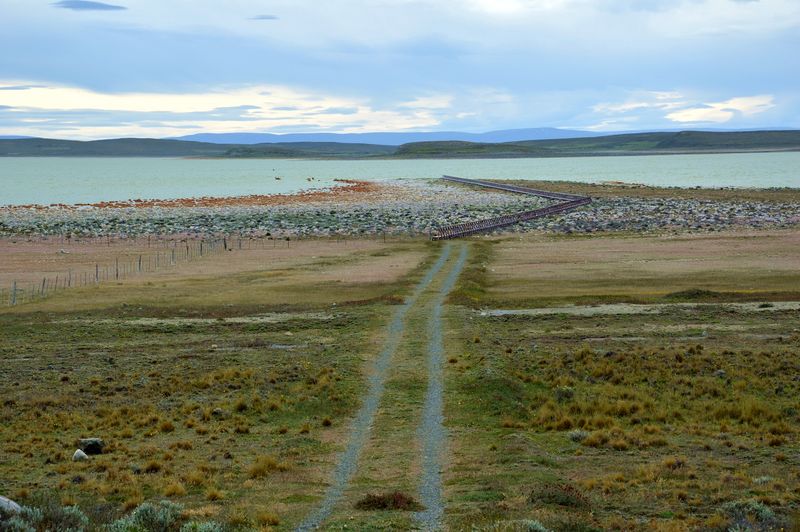 Porvenir is a city on the Chilean side of Tierra del Fuego, founded by Croatian immigrants. It offers a curious blend of cultures and history.
Must-see: visit the colony of king penguins in Bahia Inutil – the only one in South America, the oldest living organisms on the planet stromatolites in the Parque de Los Estromatolitos.
More to explore: the local history museum of Porvenir with a mummy; eat in the old Croatian restaurant.
🚩 Karukinka National Park
This park on the Chilean side of Tierra del Fuego is little known to tourists. It is a great place for wildlife watching.
Karukinka Park, located on the Chilean side of Tierra del Fuego, is a hidden gem for nature lovers. This lesser-known park offers an opportunity for wildlife watching.
🚩 Lake Fagnano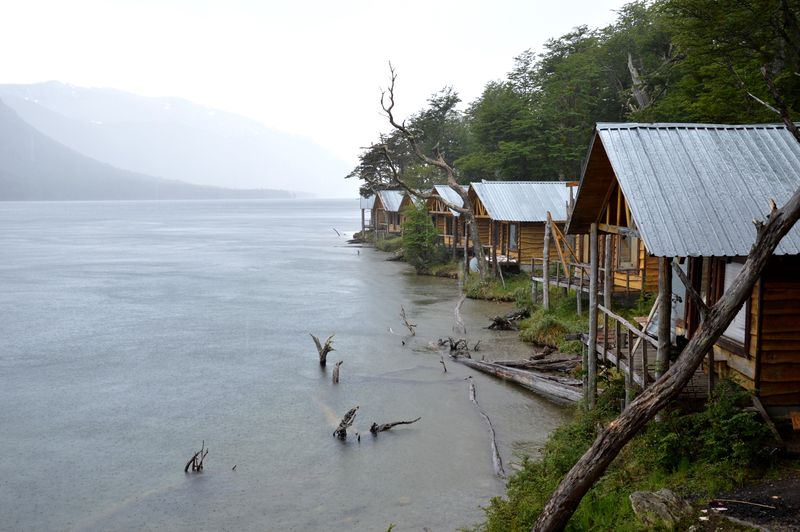 Lake Fagnano is located near the city of Tolhuin on Tierra del Fuego. It is a must-visit destination for those seeking to relax in nature while learning about the culture of the island. Despite being overshadowed by Ushuaia, this area offers an authentic experience to visitors.
Must-see: bird watching; camping or chilling in a lakeside cabin.
🚩 Ushuaia
This southernmost city of Argentina is the starting point for many Antarctic expeditions. It is known as the End of the World.
Must-see: trekking in the Tierra del Fuego National Park; try king crabs and another local cuisine.
More to explore: cruise to Antarctica or to the Beagle Channel; whale and dolphin watching.
Challenging hike: Sierra Valdivieso Circuit Route.
🚩 Navarino Island
Contrary to popular belief, the title of the southernmost city on the planet does not belong to Ushuaia, but to the small town of Puerto Williams on Navarino Island in Chile. This remote town is heaven for hikers, as it is home to the renowned Dientes de Navarino trekking route.
Must-see: the town itself and the neighboring village of Puerto Toro, the southernmost settlement in the world; a short hike to Mount Cerro Bandera.
Challenging hike: 5-day Dientes de Navarino trail.
Check out my articles about Tierra del Fuego
◽How To Visit Ushuaia on a Budget: The Ultimate Guide
◽Porvenir: A city of Croatian heritage in Tierra del Fuego
◽King Penguins on Tierra del Fuego: Observing the Majestic Birds in their Natural Habitat
Useful links and apps for planning your trip to Patagonia