Bariloche is a city in the Argentine Patagonia region, on the shores of Nahuel Huapi Lake. Its scenic beauty and outdoor activities have made it a hotspot for tourists. In this article, you will find out about my favourite hikes and trekking routes in the area. Time to hit the road and see some of the most beautiful places on earth!
Where Is Bariloche?
Bariloche is a city in the Argentine Patagonia region. It's located on the shores of Lake Nahuel Huapi, surrounded by majestic Andean mountains.
A Brief History Of Bariloche In Argentina
The town of Bariloche was founded in 1902 by a group of Swiss and German immigrants. In the 1940s, 5,000 Nazi officers fled to Argentina looking for a quiet life after the fall of the Third Reich. Argentine President Juan Perón, with the help of the Vatican, organized escape routes known as Rat Trails that led to Argentina through Spain, France, and Italy. Among these settlers were Dr. Josef Mengele—known as the "Angel of Death" for his medical experiments on prisoners at Auschwitz, Nazi police captain Klaus Barbie (the Butcher of Lyon), and Erich Priebke. At the same time Bariloche became an important center of scientific research, and many world-renowned scientists, including the Nobel laureate Luis Alvarez, worked there.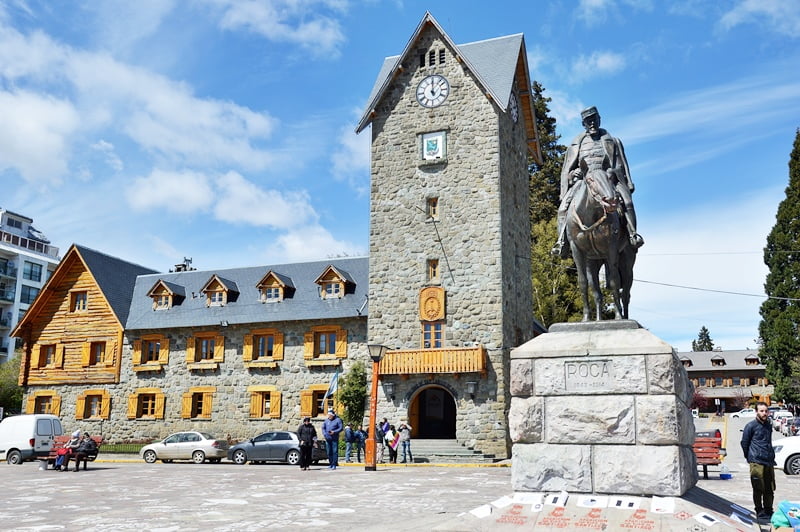 Today, Bariloche is a thriving city that is visited by thousands of tourists every year. It is often called "Argentine Switzerland." People from all over the world flock to this resort town in the foothills of the Andes Mountains. In winter, it is a popular ski destination; in summer, it is a heaven for hikers.
How To Get To Bariloche
The easiest way to get to Bariloche is by plane. One way flight from Buenos Aires costs around 20 000 ARS. Check out the following airlines: Aerolineas Argentinas, Fly Bondi, and Jet Smart.
Alternatively, you can take a bus to Bariloche from the major cities in Argentina. A bus ride from Buenos Aires costs around 20 000 ARS; the journey takes 22 hours. The trip from Mendoza is slightly shorter — 18 hours, and San Martin de Los Andes is "only" 4 hours away. Check the bus schedule here: https://www.busbud.com/, https://www.checkmybus.cl/, https://www.rome2rio.com
Best Time To Visit Bariloche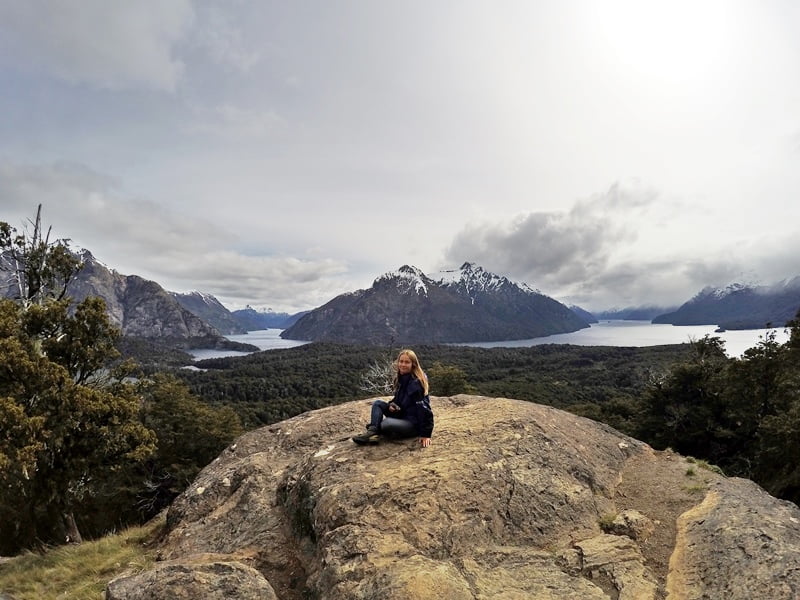 🎿 For skiing the best time to visit is during the winter months from June to September. The most well known ski resort in Bariloche is Cerro Catedral.
⛺ If you're planning a trip to Bariloche for hiking and camping, the best time to visit is during the summer months of December through February. During this time, you'll enjoy mild, sunny weather as well as a variety of festivals and events taking place in the city. Mountain passes are clear from the snow.
The shoulder season can also be a great time to explore the outdoors in Bariloche. While it may rain more frequently in October and November, you can still experience sunny days and beautiful scenery. And during the autumn months of March and April, you'll be treated to stunning views of the forests with their colorful leaves. No matter when you visit, Bariloche has plenty to offer for outdoor enthusiasts.
6 Hikes In Bariloche That Will Blow Your Mind 
Llao Llao reserve — an easy and picturesque hike
Distance: 10 km (6 miles)
Duration: 4-5 hours
Difficulty level: easy
Cost: free
GPS trek: https://es.wikiloc.com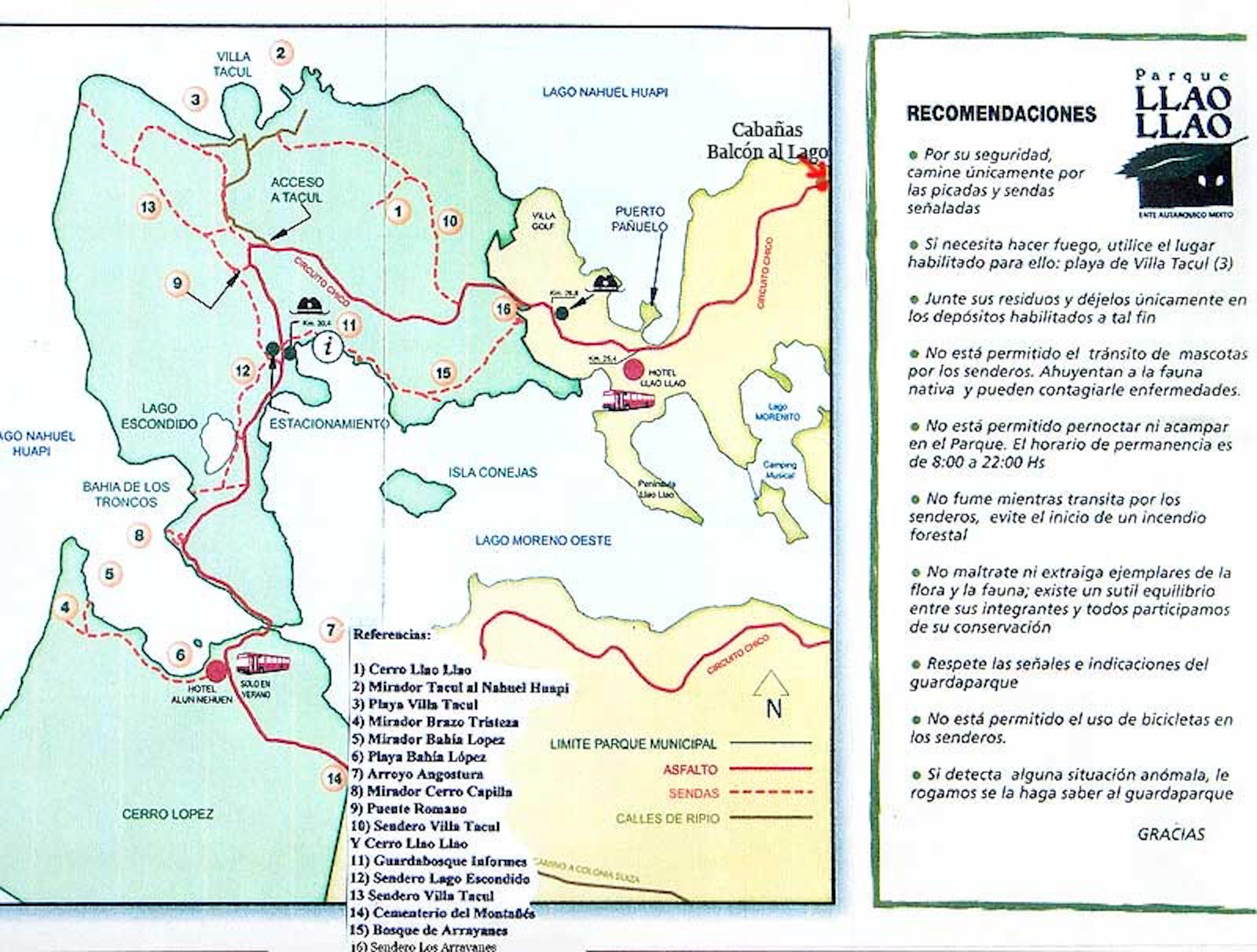 How to get to Llao Llao reserve?
You can get to Llao Llao reserve by bus #20 from the center of Bariloche. At the last bus stop in Llao Llao you will see the hotel on one side and the ferry terminal on the other. Follow signs for "Circuito Chico" by the main road, leaving the hotel on your left.
Please note that the buses do not accept cash. You will need a SUBE card, which you can buy at any kiosk in the city. Do not throw away this card — it is valid throughout Argentina.
Description of the hike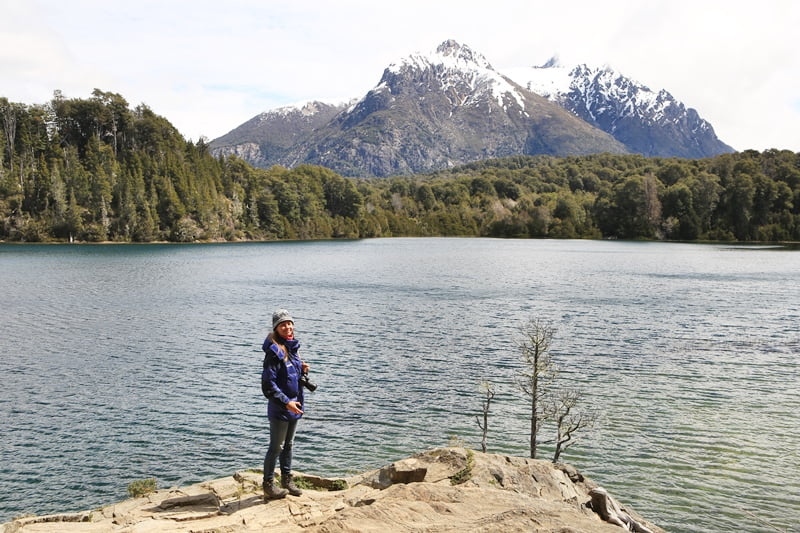 The trail in Llao Llao reserve is a section of the Circuito Chico, a 25 km loop that is popular with mountain bikers and hikers. It goes along the mountain edge, leading you to a stunning lake with breathtaking views of the fjords. This hike is easy and accessible for all fitness levels.
Don't miss a short side trail through the myrtle forest. These clusters of myrtle trees are a rare sight, and the trail through them is truly magical.
Los Arrayanes National Park — home to the rare myrtle forest
Distance: 12 km (7,5 miles) one way
Duration: 4-5 hours
Difficulty level: easy to medium
Cost: entrance ticket to the park costs 5500 ARS and boat trips – from $20.  Check the prices on the official webpage here.
GPS trek: https://es.wikiloc.com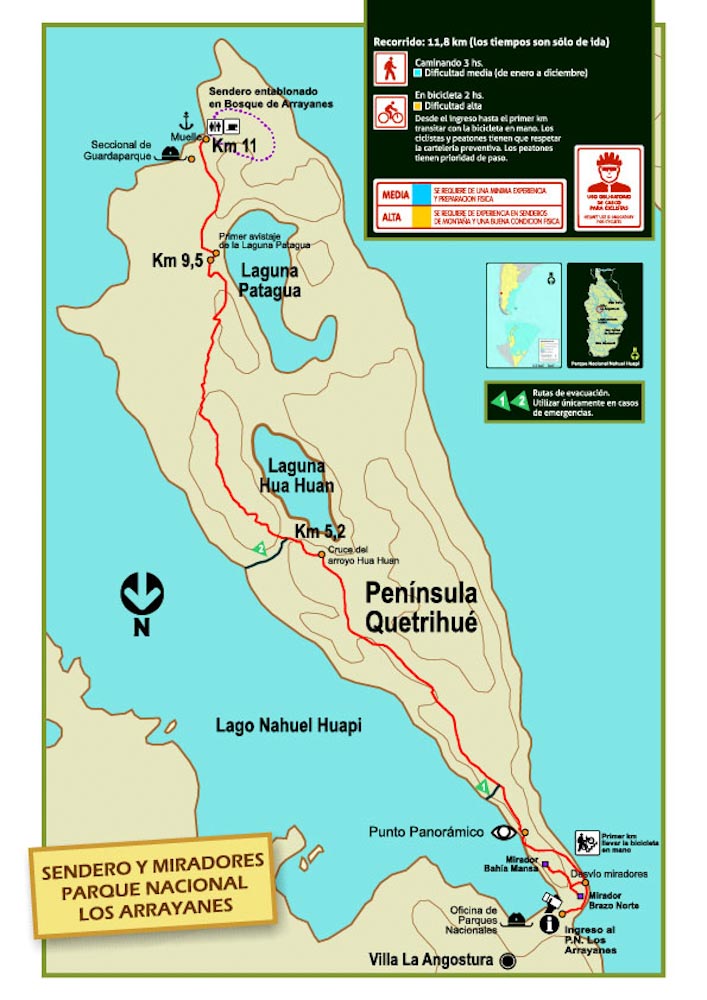 How to get to Los Arrayanes Park?
From the port of Bariloche, where the route to Llao Llao park begins, one can take a ferry to the Quetrihue Peninsula. It will take you directly to the myrtle forest; you can come back by the same ferry — then you will have to walk very little. Roundtrip costs 32 000 ARS, starting from October 1, 2023 and at the port, you will have to pay a 350 ARS boarding fee (cash only). You can check the current prices and timetable on the website of this travel agent.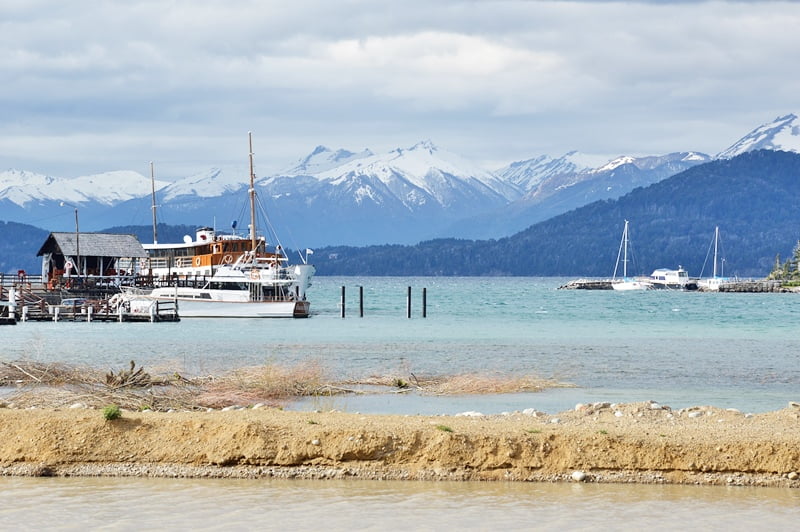 A popular option is to come to Villa Angostura by bus from Bariloche and return the same way. You can choose a 24 km hike, a catamaran trip, or combine both. "Via Bariloche" bus goes from Bariloche to Villa Angostura. The first one departs at 8:00, the second at 9:45. Return bus leaves at 16:30 and 19:00. Then you walk 3 km from the bus stop in Villa Angostura to the entrance to the park or take a bus to Puerto Villa. This bus runs irregularly, but one leaves at 10:00.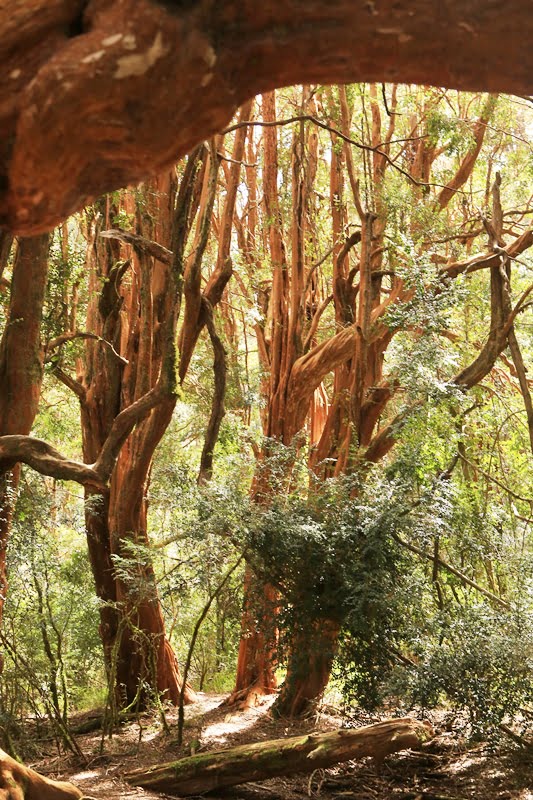 The Futaleufú catamaran company is located in Bahia Mansa. The boat departs at 11:00 and 14:30 and returns at 13:00 and 16:00. It is possible to purchase a one-way ticket and return 12 km on foot. A one-way ticket costs around 8000 ARS, and a roundtrip is 9000 ARS. Another Catamarán Patagonia Argentina departs from Bahia Brava and follows an alternative mountain route. It leaves at 12:00 and 15:15, and returns at 14:15 and 17:30. One-way ticket costs 12 000 ARS, and roundtrip is 14 000 ARS (as of August 2023).
Cerro Campanario — 380 degree view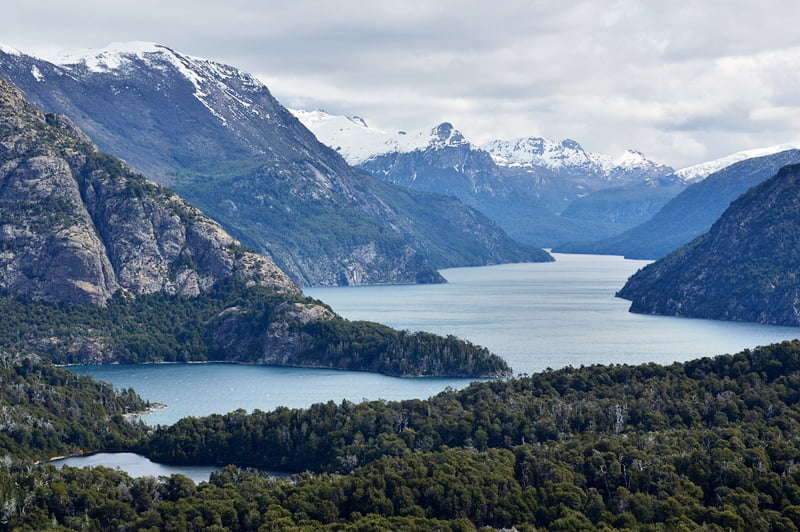 Cerro Campanario trail is one of the easiest hikes in the area, and also one of the most picturesque one. Bus #20 will bring you to the Cerro Campanario ski resort. Then you will walk for 30 min to reach the summit. Don't worry, the elevation gain is not that big. At the top of Cerro Campanario, you will find an indoor cafe with panoramic views.
Nahuel Huapi Traverse — a tough adventure 
Distance: 47 km (29 miles)
Duration: 5 days
Difficulty level: difficult
Cost: free, but you have to pay to sleep in the mountain huts
Trek report in other blogs: https://www.martreya.com/, https://besthike.com/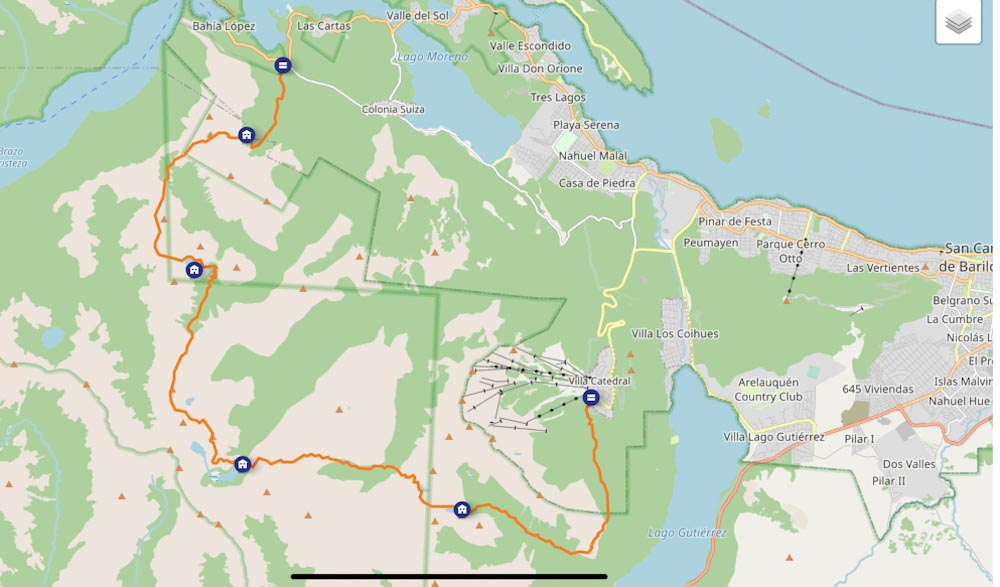 Tourists have to register online before the hike. You also have to book the place in the mountain huts or camping spots in advance — links are provided below. 
Day 1. Villa Catedral – Refugio Frey 4 hours | 12 km | 750 m ascent. Bus#55 brings you from the Bariloche to Villa Catedral. There is a bus every two hours, one along Av. Bustillo (55B) and one along the Av. Pioneros (55P). You only can pay with a SUBE card. You can also take the chair lift from the Cerro Catedral resort to Punta Princesa. The trail goes to the pass with a magnificent view of the Monte Tronador glacier (3484m); then passes through Lake Schmall. Refugio Frey is on the east side of the lake. It is possible to do this route as a day hike. Camping at Frey hut is free; the bed costs 9000 ARS (August 2023); the use of the bathroom is 250 ARS.
Day 2. Refugio Frey to Refugio Jakob 8 hours | 9 km | 600m ascent. Camping cost 1000 ARS (as of January 2023, prices are not updated yet); the night in the room is 8500 ARS. No kitchen, so bring your gas stove or purchase their meal option.
Day 3. Refugio Jakob to Refugio Laguna Negra 10h | 10 km | 700 m ascent. It is a difficult unmarked trail over unstable rocks, covered with snow until February. For experienced hikers only. If the weather conditions are not perfect, descend to Colonia Suiza — a description of this trail can be found here. Due to the terrain, there are no camping options between these huts. Laguna Negra mountain hut is open only from November to April. Camping cost 800 ARS (including bathroom and hot water shower); the night in the hut is 5000 ARS. Prices will be updated in the season 2023/2024.
Day 4. Refugio Laguna Negra to Refugio Lopez 6 hours | 10km | 600m descent. Great views of the Tronador volcano. From the Lopez hut, you can hike to Pico Turista (2060 m). This walk takes 3 extra hours.
Day 5. Refugio Lopez to Arroyo Lopez 2h | 6 km | 1200 m descent. Then you can take bus #20 or #10 which goes from Colonia Suiza to Bariloche.
Colonia Suiza to Pampa Linda trek — a spectacular multi-day hike in Bariloche 
Distance: 50 km (31 mile)
Duration: 5 days
Difficulty level: very hard
Cost: 5500 ARS – Nahuel Huapi park entrance fee (at the end of the trek).
GPS track: https://es.wikiloc.com
The route is open only from January to February. The trail is covered with snow at other times of the year.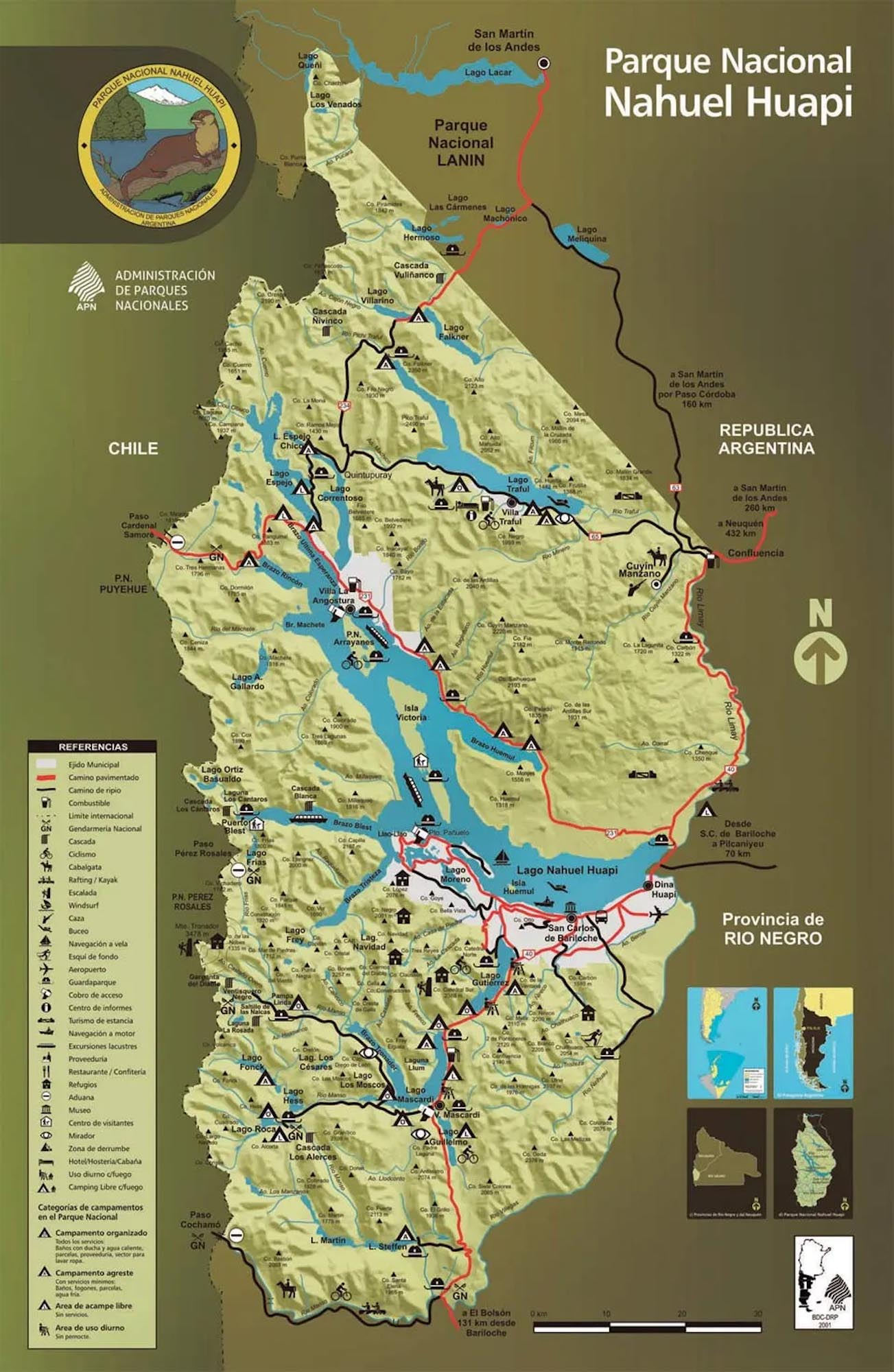 Day 1: Colonia Suiza – Laguna Negra. 5 hours | 11 km | 800 m ascent. Camping at Laguna Negra mountain hut cost 800 ARS (including bathroom and hot water shower); the night in the hut is 4000 ARS.
Day 2: Laguna Negra – Laguna CAB. 7 hours | 8 km | 600 m ascent. Very difficult trail. Wild camping at Lluvu lagoon. 
Day 3: Laguna CAB – Cretón Lagoon. 10 hours | 9 km | 460 m ascent. The terrain has very loose rocks and is very steep. This route is very difficult, with a lot of snow in January, and it is recommended only for experienced hikers. Wild camping at the lake. 
Day 4: Creton Lagoon – Ilón Lagoon (Refugio Ilon). 5 hours | 9 km | 650 m ascent. You also can climb to the Mirada del Doctor viewpoint, a round trip is another 8 km. From Ilón lagoon you can connect with Agostino Rocca Hut via the La Marca pass. Camping at the mountain hut costs 7000 ARS, camping 2500 ARS. 
Day 5. Ilón Lagoon – Pampa Linda. 4 hours | 12 km | 600 m descent. Come back to Bariloche by Travel Light or Refugio Meiling minibus (reservation required).
Paso de las Nubes — hiking in the clouds
Distance: 26 km (16 miles)
Duration: 2 days
Difficulty level: medium to high
Cost: 5500 ARS – Nahuel Huapi park entrance fee
GPS track: https://es.wikiloc.com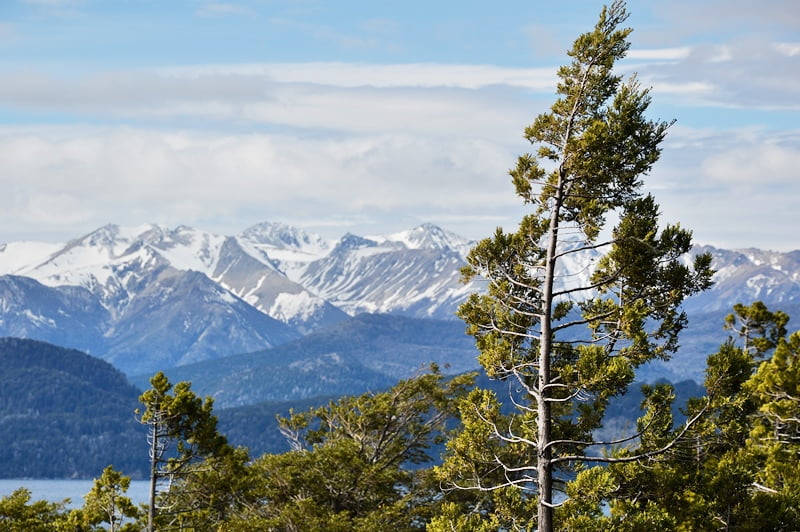 Paso de las Nubes is a famous trail in Nahuel Huapi park. It passes through the forest from Pampa Linda through the Las Nubes pass to Puerto Frias. On the way, you will find two huts: Refugio Otto Meiling and Refugio Agostino Rocca.
Day 1. Pampa Linda to Agostino Rocca hut. 5 hours| 14 km | 600m ascent. You will need to book a transfer from Bariloche to the trailhead. Camping costs 3000 ARS (only 4 tents), and a night in the hut is 8000 ARS. Prices will change in the season 23/24.
Day 2. Agostino Rocca hut to Frias lake. 6 hours | 12 km | 680 m descent. Then the boat across lake Lago Frias. You can book it on the Turisur company website or at the Agostino Rocca hut. The fare is 11800 ARS.
What To Pack For Hiking In Patagonia
Proper packing is crucial when hiking in Patagonia due to the unpredictable and changing weather. It is essential to be prepared for strong winds and rain even during the summer. Additionally, it is important to remember that many of the routes in Patagonia require hikers to be self-sufficient.
Here are some things to consider packing:
Clothing: Pack layers of lightweight, breathable clothing that can be easily added as the temperature changes. Pack a waterproof and windproof outer layer, as well as warm layers for colder temperatures. 
Footwear: Good hiking boots or shoes with good traction are essential for navigating the rugged terrain of Patagonia. The region features a range of landscapes, including swamps, rocky terrain, small streams, and mud following rain. Bring an extra pair of socks in case your feet get wet. Bamboo socks are a good choice as they are durable and can help prevent odor.
Personal hygiene items: Pack a small first aid kit, good deodorant, insect repellent that protects from horseflies, sunscreen, and lip balm.
Sleeping gear: Depending on the type of hike you're planning, you may need to pack a tent, sleeping bag, and sleeping pad. If you'll be staying in huts, you may not need to bring a tent.
Food and water: Pack high-energy snacks like nuts and dried fruit to fuel your hikes. Bring plenty of water, and consider packing a water filter or purification tablets. If you are going on a multi-day hike, pack a stove, a pot, and utensils for cooking meals on the go. 
Navigation: bring GPS device and download an offline map. Bring a paper map and compass for the more difficult and remote routes. 
Other essentials: Pack a flashlight or headlamp, a knife, and other tools that you may need on the trail. It's also a good idea to bring a small repair kit in case of any equipment malfunctions.
What Food To Try In Bariloche
The city is known for its high-quality chocolate. You can find chocolate shops and cafes in the city center, where you can sample some of the delicious treats (for free!) and learn about the history of chocolate making in Bariloche. The most famous store is "Mamushka". The city is also known for its beer, which is brewed using pure mountain water. You can visit microbreweries to sample the local brews.
The curanto is a typical Patagonian dish that originated from the native Indian tribes of Mapuches. The cooking process starts by digging a pit, then arranging hot river stones in it. Then meats and vegetables are stacked in the pit, such as beef, lamb, pork, chicken, chorizos (pork sausages), potatoes, sweet potatoes, apples, and hollowed-out pumpkins stuffed with cheese, cream, and peas. Leaves and damp sheets cover the food to keep the heat inside. Finally, the soil is piled on top of everything to make it resemble a pressure cooker. At Colonia Suiza, you can experience this dish every weekend.
Is Bariloche Worth Visiting?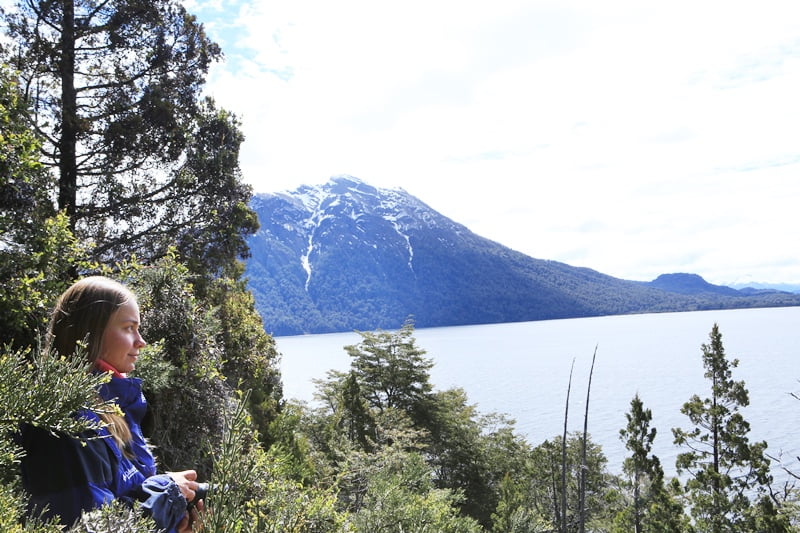 Bariloche is one of my favorite cities in Patagonia. It is an expensive destination, but the beautiful landscapes make it worth visiting. There are hundreds of kilometers of hiking trails that can't be explored in a lifetime. In Bariloche you can hike in the mountains in summer, ski in winter and admire the fiery red autumn leaves in the forest in autumn. It's perfect at any time of the year. If you have only one day to spend in that area, I recommend taking an easy hike in Llao Llao park or taking a boat ride on the Nahuel Huapi lake. 
Where To Go Next?
If you are traveling in Argentinian Patagonia, you likely will go to El Chalten — to see the magnificent Mt Fitz Roy. However, this is a long bus ride that will take almost 24 hours. There are plenty of other attractions on the way that are worth checking out during your journey.
For nature lovers, a visit to Los Alerces national park is a must. Stop at El Bolson, the hippy town known for its vibrant arts scene and laid-back atmosphere. While you're there, check out Cerro Piltriquitrón, one of the earth's "energy centres". In Esquel you can travel on the Old Patagonian Express train that winds through Andean valleys. Another town that shouldn't be missed is Cholila, with its stunning mountain peaks as a backdrop.