Patagonia's Magdalena Island sits at the outer edge of the South American continent. It is separated from Antarctica only by a few small islands inhabited by penguins and sea lions. In this article, you will learn how to visit the colony of Magellanic penguins on Magdalena island on your own.
Where is Magdalena island in Patagonia
Magdalena Island is located in the Strait of Magellan, in southern Chile. It is part of the Tierra del Fuego archipelago, which is located at the southernmost tip of South America.
Penguins on Magdalena island in Patagonia
Magdalena Island is known for its large colony of Magellanic penguins, named after Ferdinand Magellan who first observed them during his voyage around the world in the early 16th century. These penguins are native to the coasts of Argentina and Chile.
These clumsy and harmless birds are considered rare species. In the 18th and 19th centuries, people began to export exotic birds to Europe in great numbers: about 14,000 individuals a year. Locals still secretly collect their eggs. In the middle of the 20th century, the Magellanic penguin population on Magdalena suffered from industrial fishing. Therefore, in 1966 the island of Magdalena was declared a protected area that is called "Monumento Natural Los Pinguinos." Fishing was banned within a radius of 30 km.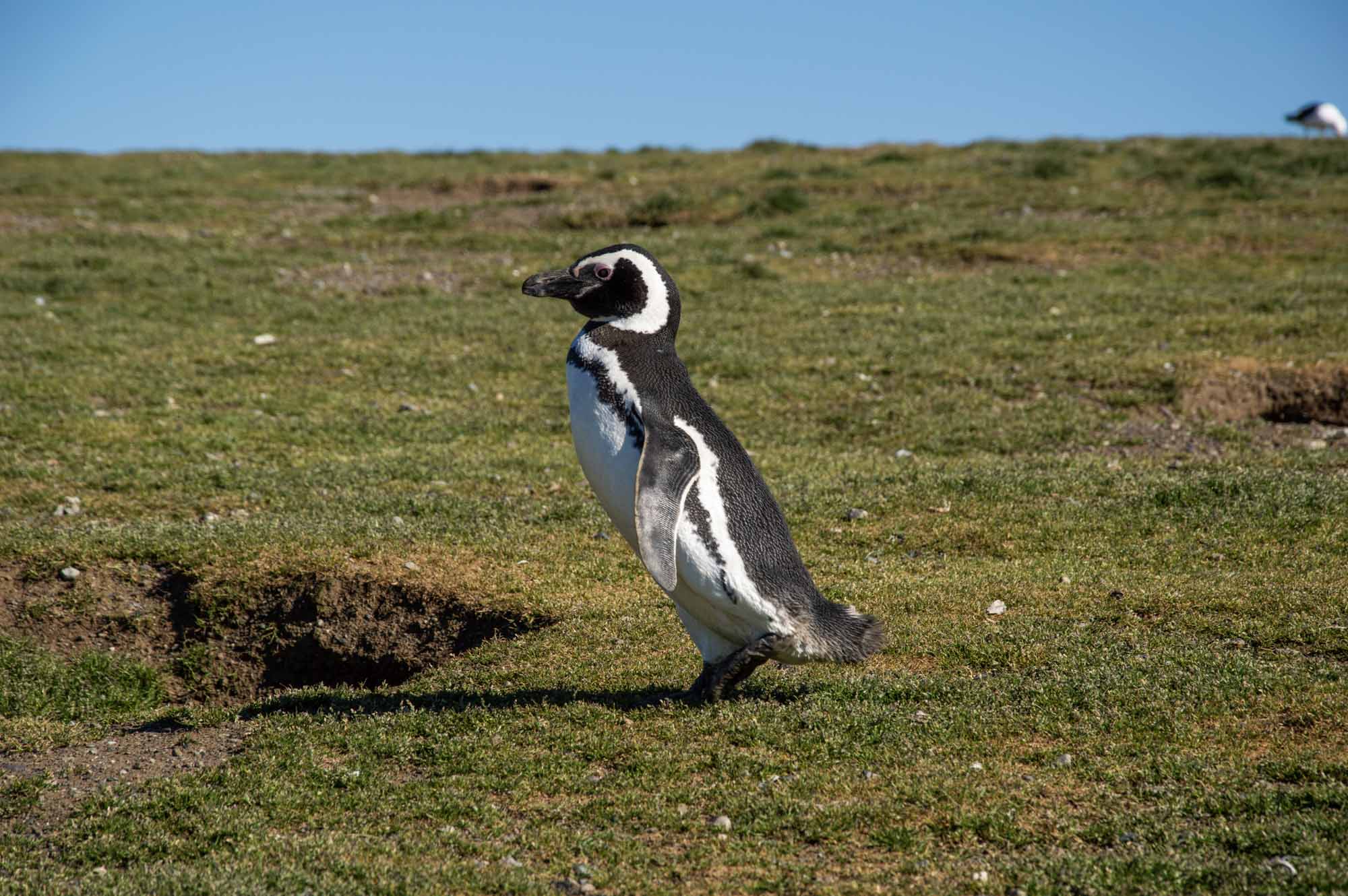 Now, 60,000 Magellanic penguins are living on the island. The birds are threatened only by natural enemies: sea lions, gulls, and skuas. This is one of the largest habitats for these birds. In total, there are 3 million Magellanic penguins on the planet, of which 900 thousand live in Chile.
Visitors guide for Magdalena island in Patagonia [2023]
How to get there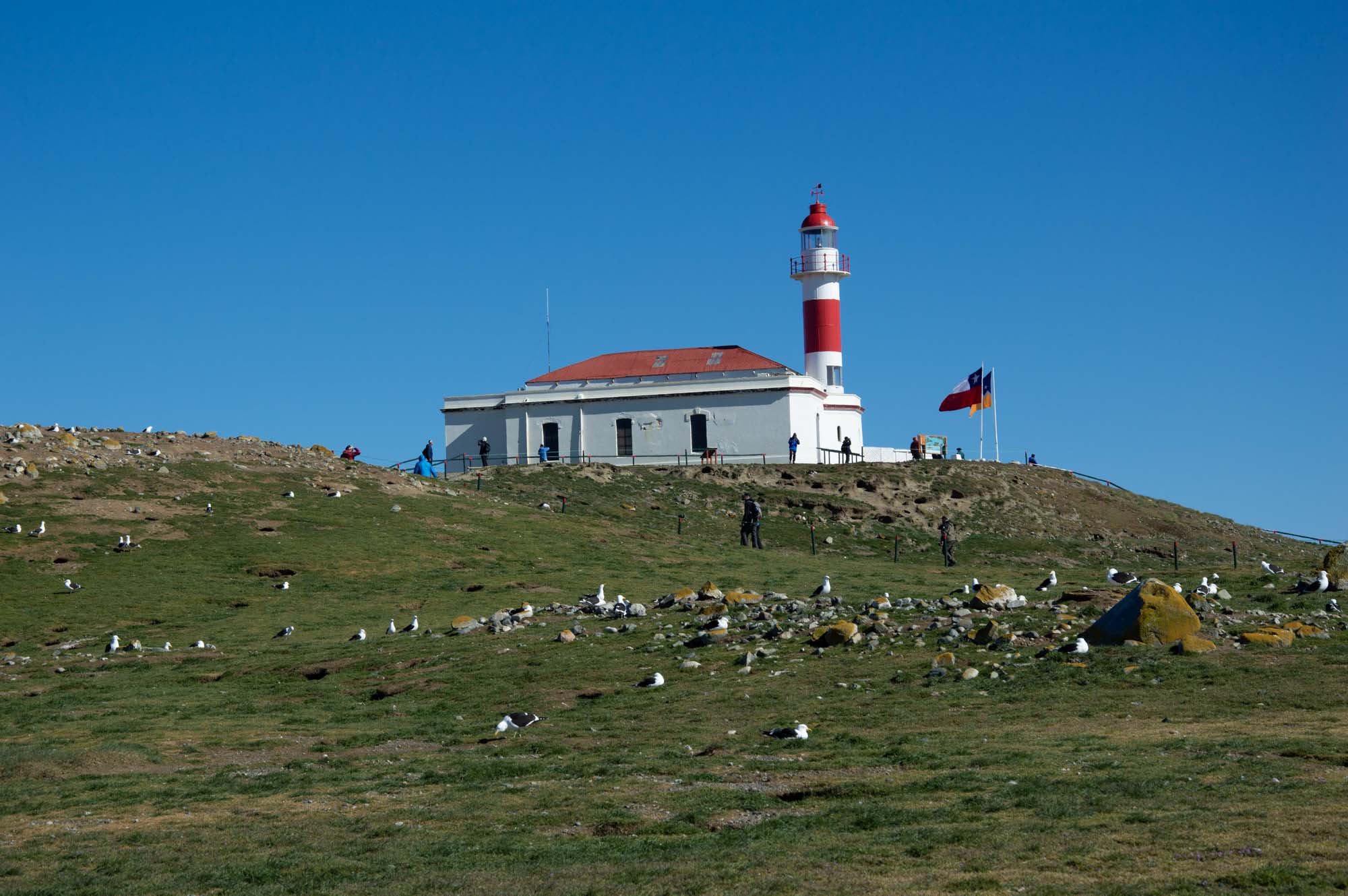 The trip to Magdalena Island departs from the port city of Puerto Arenas in Chile. You can get there by bus from the major cities in Chile, or by plane. LATAM airline has cheap flights from Santiago de Chile for only 60$. The flight takes 3 hours.
To get to Magdalena island, you need to take a ferry. It is cheaper to purchase tickets directly from the ferry company than to travel via a tour agency. However, it is difficult to get to the port in the morning without a car and taxi fares will make up the price difference.
Ferries depart each day except Monday. They leave at 7:00 am and 3:00 pm. If the weather conditions are bad, the tours will be canceled. They often tell you about this when you arrive at the pick-up point.
The ferry ride typically takes about 2 hours. It makes a short stop at the Martha island, where tourists can observe sea lions. You will walk around Magdalena Island in the company of little penguins for an hour. While the birds will be within touching distance—if not closer!, touching and feeding them is strictly forbidden.
How much does it cost?
The tour costs on average 100$, or roughly 85 000 CLP.
The tour includes:
a transfer from the center of Punta Arena to the port,
a ferry ride along Magellan Strait,
a snack and coffee on board,
entrance fees to the the reserve,
an hour-long visit to the islands of Marta and Magdalena.
Where to book a tour to Magdalena island online?
Many online tours to Magdalena island have low ratings. However, if you read the reviews, you'll see that most of the people are complaining about tour cancellations due to bad weather. This is out of control of ANY agency in Punta Arenas. The Chilean authority makes the final decision in the morning whether boats will leave or not according to the weather conditions. If it's canceled, EVERY agency unfortunately will have to cancel their tour. There is no way to secure your trip to Magdalena island except monitoring the forecast and planning carefully.
Best time to see the penguins on Magdalena island
The best time to see the penguins on Magdalena Island is during the breeding season, from September to April. During this time, the penguins return to the island to mate and raise their chicks.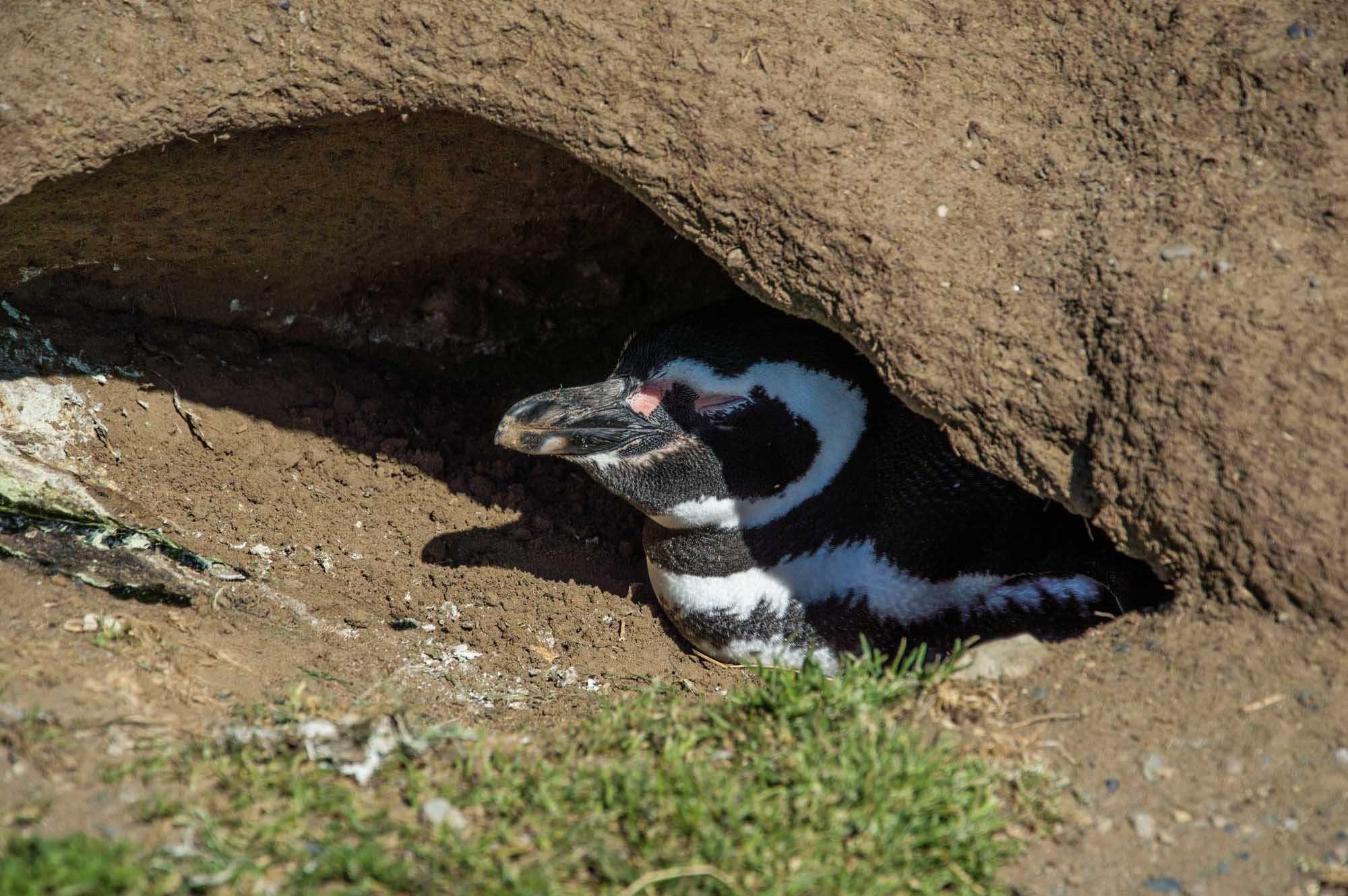 I visited Magdalena island in November, when families were incubating their eggs. From mid-November to mid-December, chicks are born. They grow up quickly, catching up with their parents in size. Sometimes you can distinguish a baby from an adult only by plumage. The best time to see baby penguins is in February when they change fluff to smooth plumage.
You can also see the penguins from May to August, but there will be fewer birds on the island. Most of the colony moves north to the Falkland Islands and to the southern coast of Brazil.
My experience at Magdalena island in November
Magdalena island in Chilean Patagonia was on my must-do list since I arrived to South America. Located just off the coast of Punta Arenas, this remote island is home to a diverse array of wildlife, including Magellanic penguins.
Our tour began at the office in the center of Punta Arenas. We drove to the port, where we set off on a boat to Martha Island. This is where we had our first encounter with the sea lions. These creatures come to the island every September and stay until April. We were not allowed to land on the island, as female sea lions can be aggressive when it comes to protecting their cubs. We were still able to observe a busy sea lion colony pretty closely. The noise there reminded me of a busy day in the Turkish bazaar. They are REALLY loud!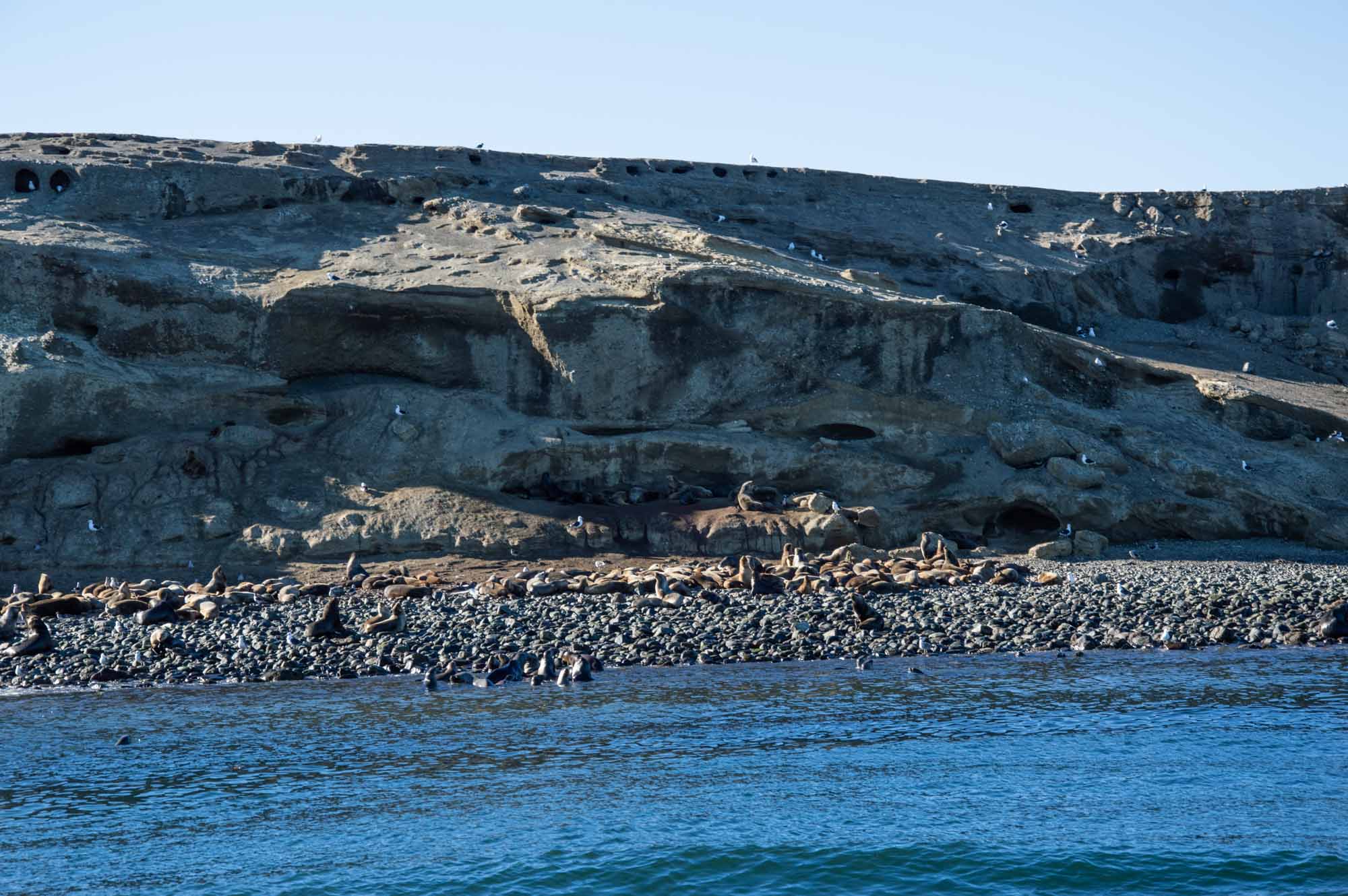 Next up on our tour was a visit to Magdalena Island. It was November when I visited, and the penguins were busy incubating their eggs, waiting for them to hatch. Magellanic penguins are known for their monogamy and long-term bonds with their mates. It was heartwarming to see them working together to care for their eggs and chicks. One partner would stay with the eggs while the other went out to gather grass.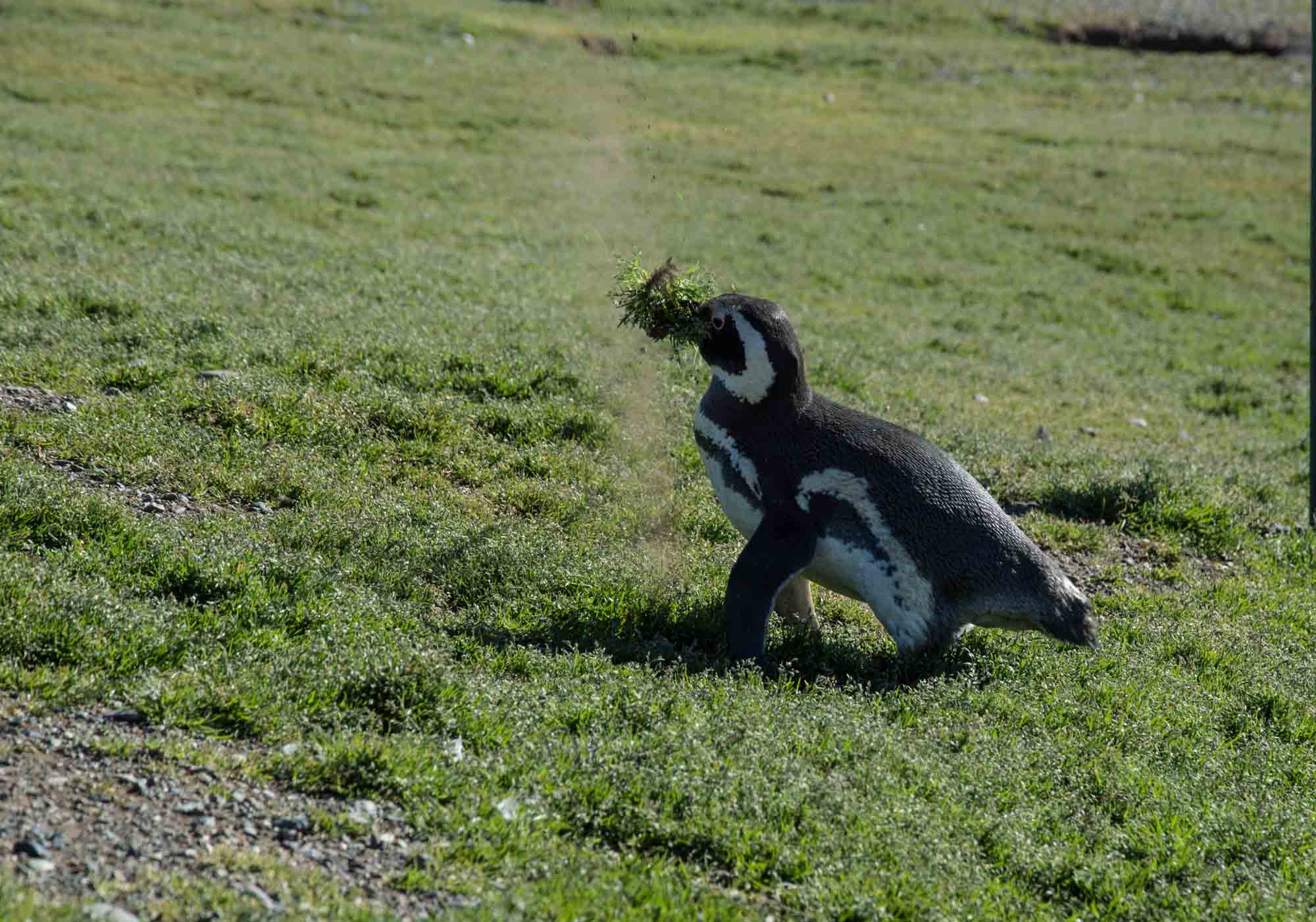 These social animals form large colonies, often containing thousands of individuals. When a penguin wanders onto the path, you must stop and let it pass. If you don't, the bird may lose its way back to its nest. Tourists are not allowed to interact with penguins. However, sometimes a penguin will happily approach a tourist and nuzzle his boot.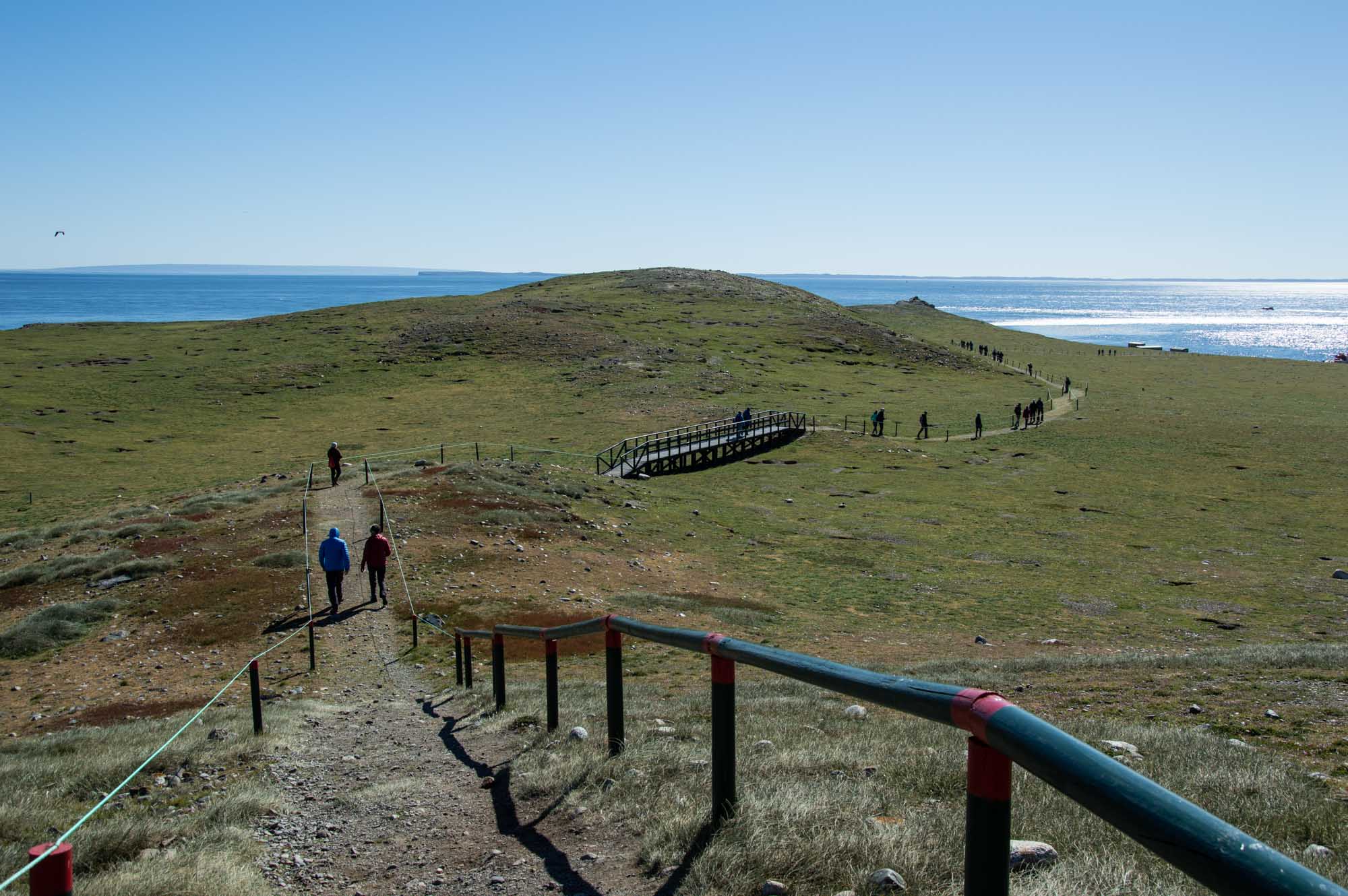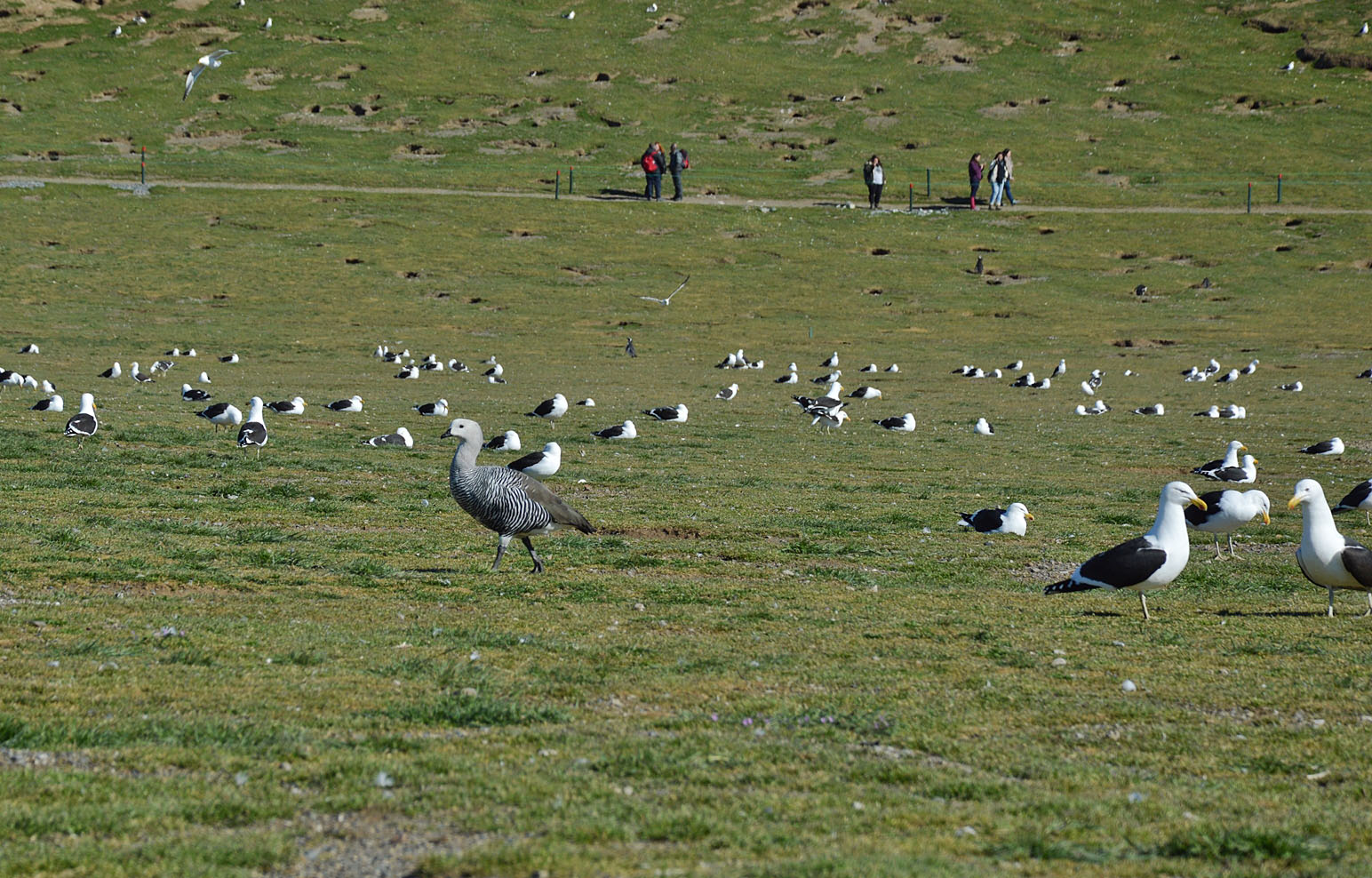 Birds such as the Chilean Skua, Dominican Gull, Magellanic and Ash-headed Goose can also be seen on the island. Whale families and dolphins are sometimes found in the strait.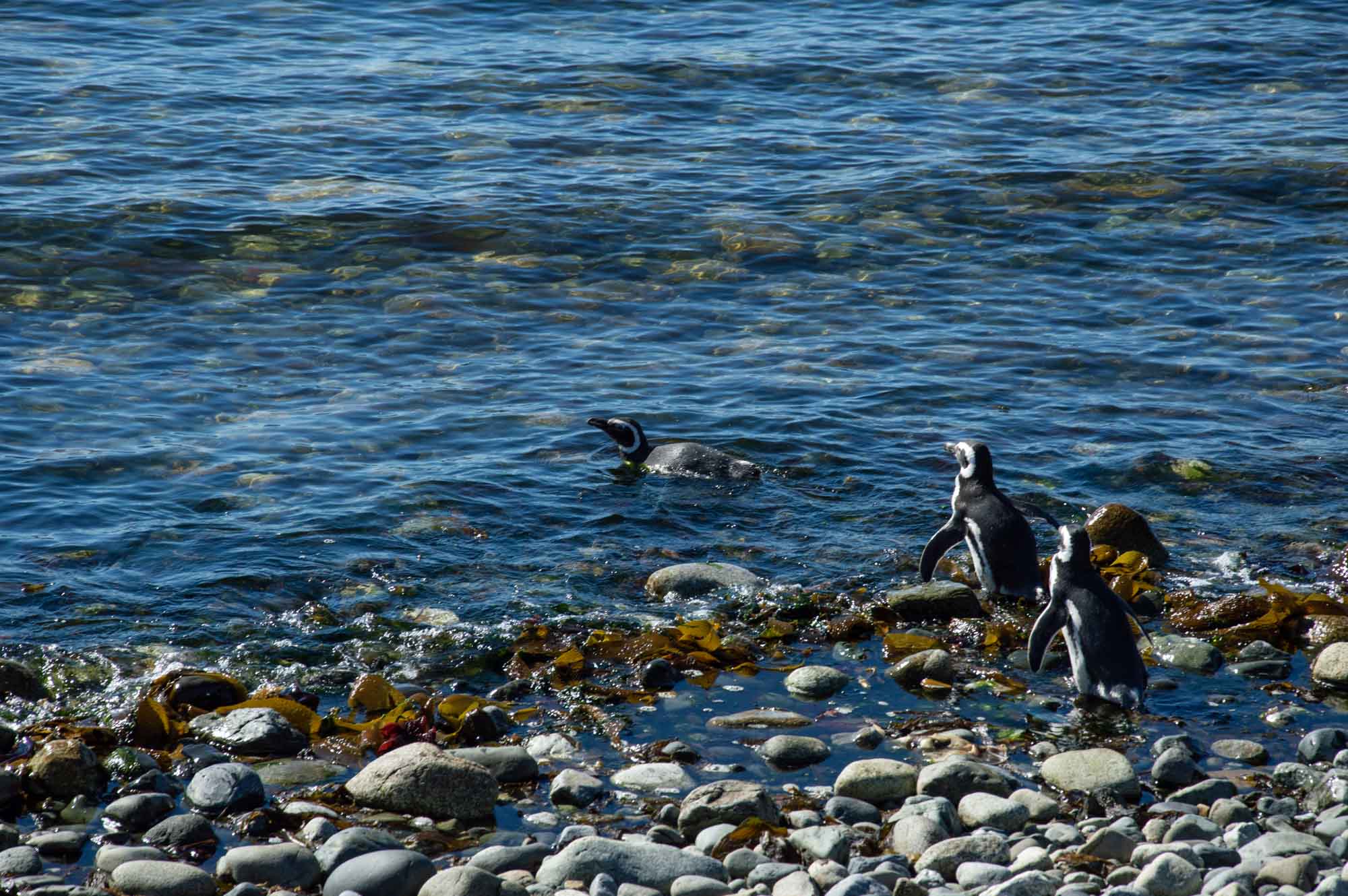 These penguins are migratory. They travel long distances each year to breed and feed. They typically migrate between their breeding grounds in Argentina, Chile, and the Falkland Islands, and their feeding grounds in the Atlantic Ocean.
Where else can I see penguins in South America?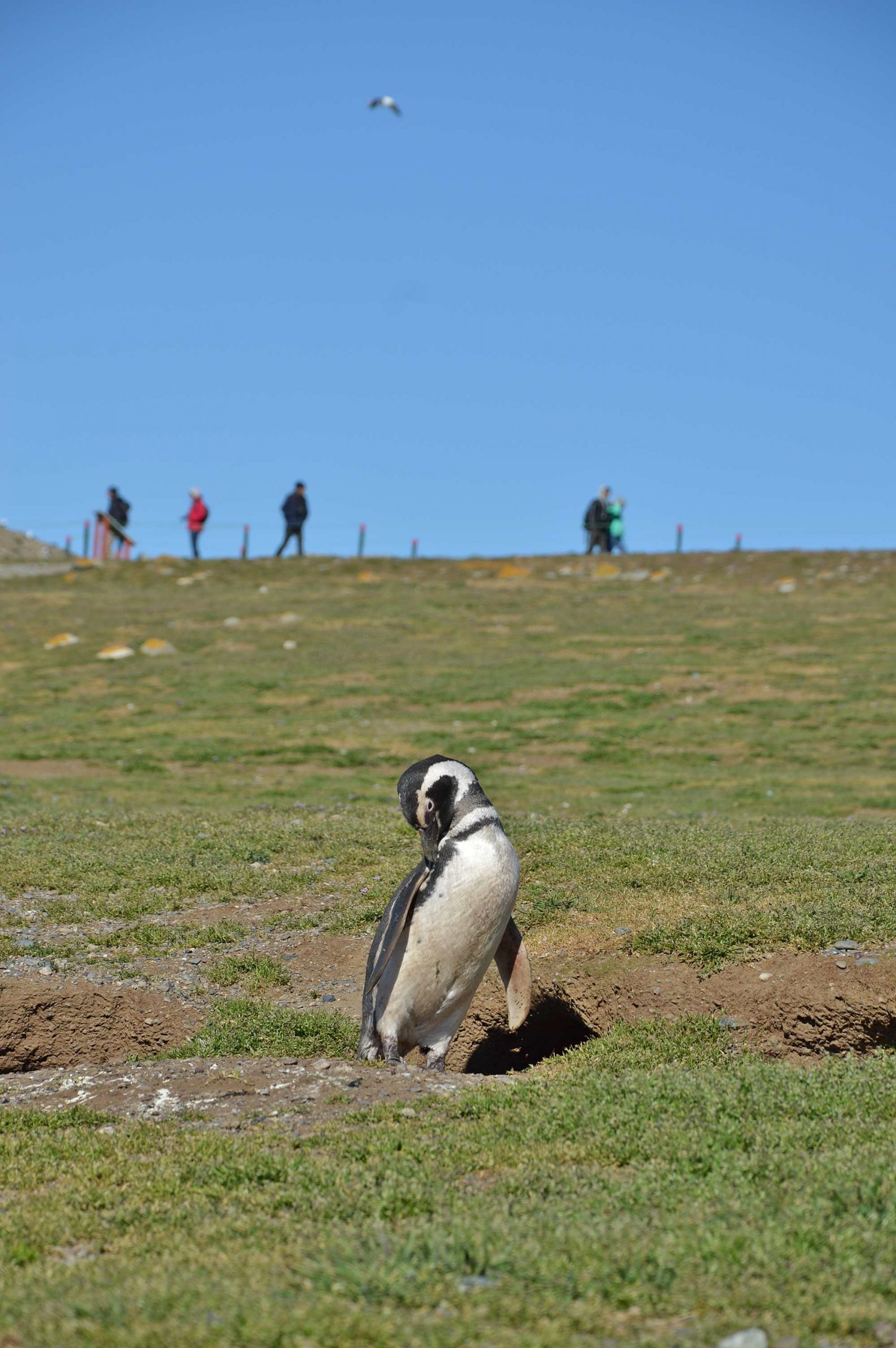 In addition to Magdalena Island, there are several other places in South America where you can see penguins. Some of the best places to see penguins in South America include:
Punta Tombo, Argentina is home to the largest Magellanic penguin colony in South America, with over 1.5 million birds. They can be seen from September to April, during their breeding season.
Bahia Inutil, Tierra del Fuego, Chile: a small colony of Emperor penguins that lives there.
Seno Otway, Chile is home to a large colony of Magellanic penguins. The penguins can be seen from September to April.
The Galapagos Islands, Ecuador are home to the Galapagos penguin, the only penguin species that lives on the equator. These birds can be seen year-round, but the best time to visit is from June to December.
The Falkland Islands (Las Malvinas) are home to the Magellanic penguin, the Gentoo penguin, and the King penguin. The best time to see them is during the breeding season, from October to March.
Is Magdalena Island Worth Visiting?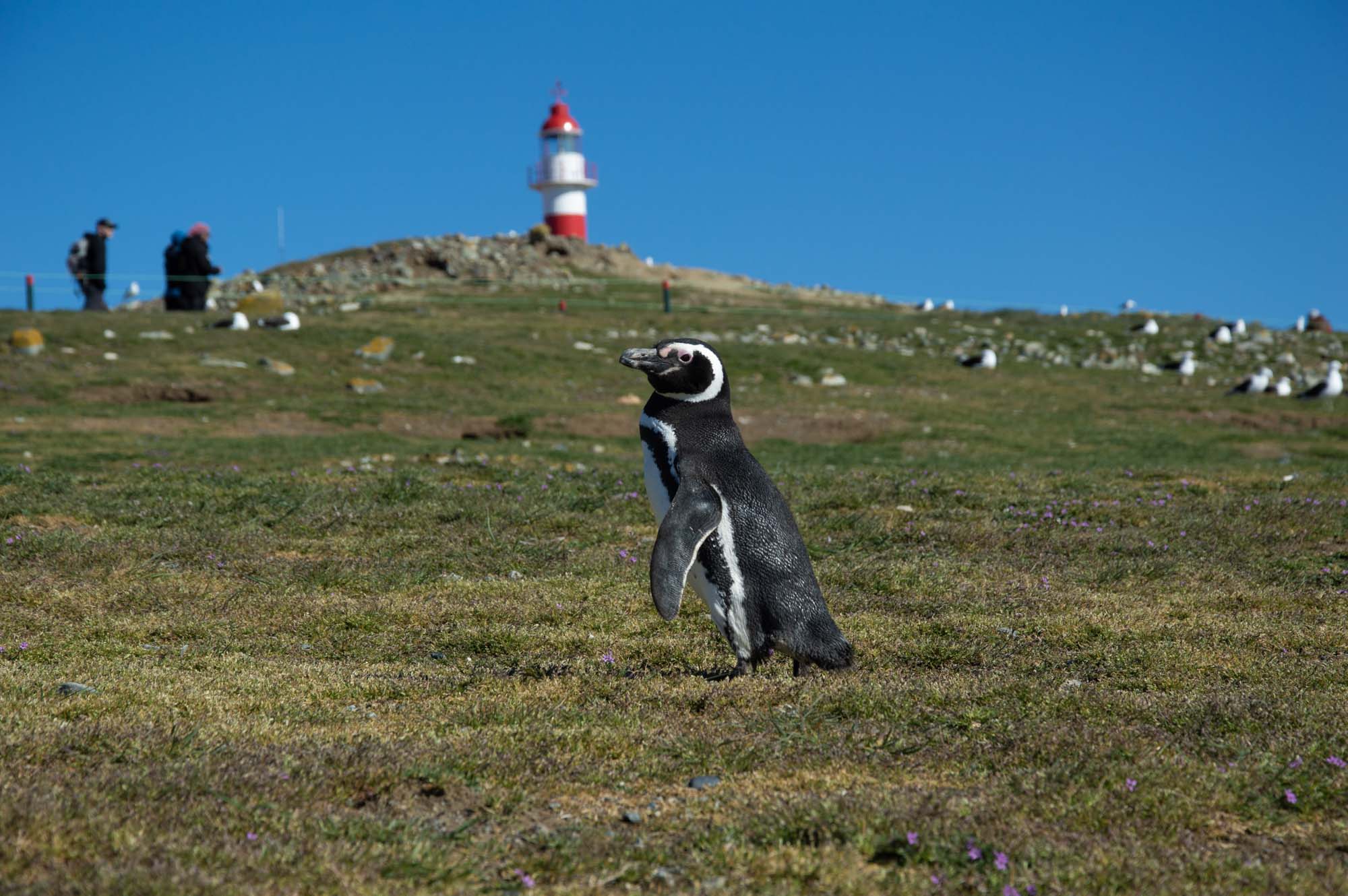 Penguins in Latin America can be seen in many places. However, you rarely see such a large colony of penguins, and so close!
I snorkelled with penguins in the Galapagos islands, spent the night in a tent next to the King Penguins colony in Tierra del Fuego, saw these birds in the natural reserves in Argentina and Chile. And yet I love Magdalena Island with all my heart. Even in my then very limited backpacking budget, I found a hundred bucks for this trip, and I don't regret it at all. The tour to Magdalena Island was an incredible experience that I would highly recommend to anyone visiting Chile. The unique opportunity to see these animals in their natural habitat so close make it a truly unforgettable adventure.