Merida, Mexico, is a standout in Lonely Planet's annual list of "Best cities to visit in 2022"— but is it a worthy visit? I spent four months in the city and can offer a first-hand account.
What is Merida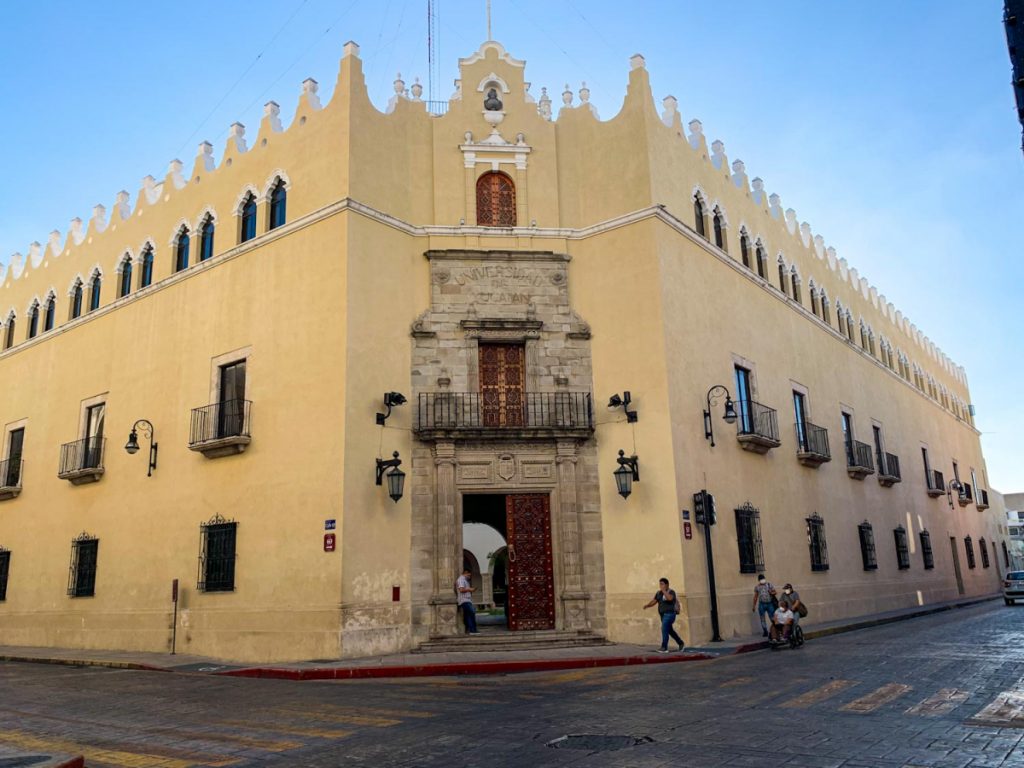 Merida, capital of the Yucatan state in Mexico, was founded in 1542 by the Spanish conquistador Francisco de Montejo. Once a flourishing Hispanic colonial city, the city became rich in the late 1800th due to the production of henequen. The fibers of this plant were used to make durable ropes and simple textiles. Yucatan became the world exporter of these products.
Merida expanded quickly. Even before they came to Mexico City, the city had street lights and electric trams. On the new avenue, plantation owners built their luxurious mansions. Merida once was a home for more millionaires than any other city in the world – but not for long.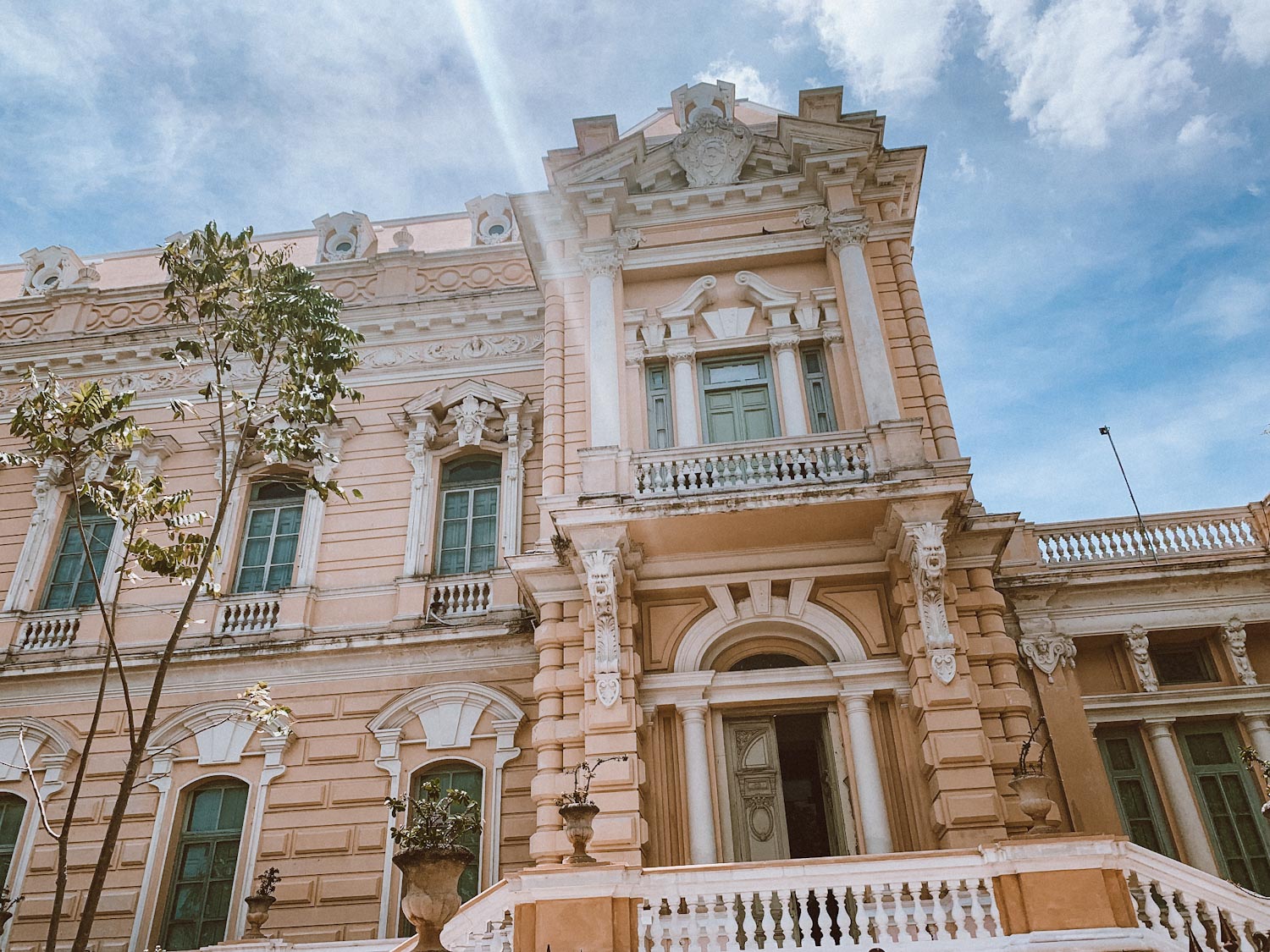 With the invention of synthetic ropes, henequen production began to drop. Haciendas (henequen plantations) slowly turned into ruins. Around the city center, monotonous residential units were built.
The Yucatan Peninsula is Mexico's most popular vacation spot, however, most visitors stay in Cancun or Tulum. A large sum of money has recently been invested in Merida. These investors have hired bloggers to create a charming image of Merida, but it is very far from reality. Yes, there are a few good restaurants, pubs, and boutiques… They aren't, however, a part of Merida's daily life. All of those places seemed to be designed for tourists, with the only purpose to make money.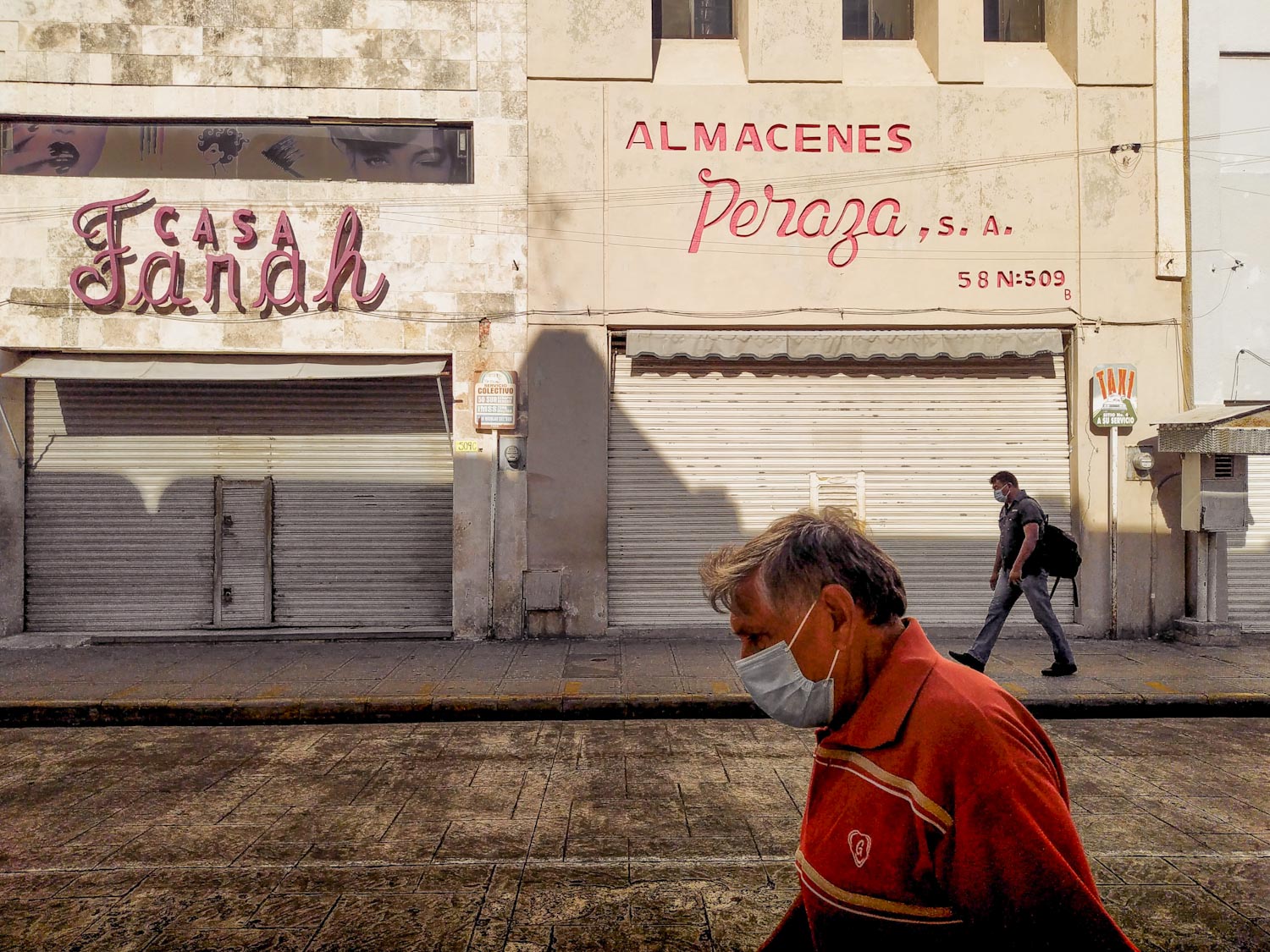 If you leave the tourist area, you will find yourself in a different world. Tiny concrete boxes with hammocks for the entire family to sleep in. Garbage in municipal parks and massive dumps on the outskirts of town. I imagine there are some issues with waste disposal in the Yucatan right now. The streets are indistinguishable from one another, there is the same food everywhere (all of it tastes like tacos to me), and an army of people marching in masks, although the decree on wearing them was lifted long ago.
Merida is doing a good job of selling itself, but not quite to the level that it promises. You can spend a couple of fun days in the historic center, but in large doses, Merida is deeply disappointing.
But let's skip to the fun part. After all, my trip to Merida wasn't a complete disaster. I'll tell you about some of my favorite sites and activities that you won't find on any of the popular blogs.
Cool things to see in Merida
Historic Center of Merida
Mérida's historic center is centered on the Cathedral of San Ildefonso de Yucatan, one of the oldest Catholic cathedrals in the Americas.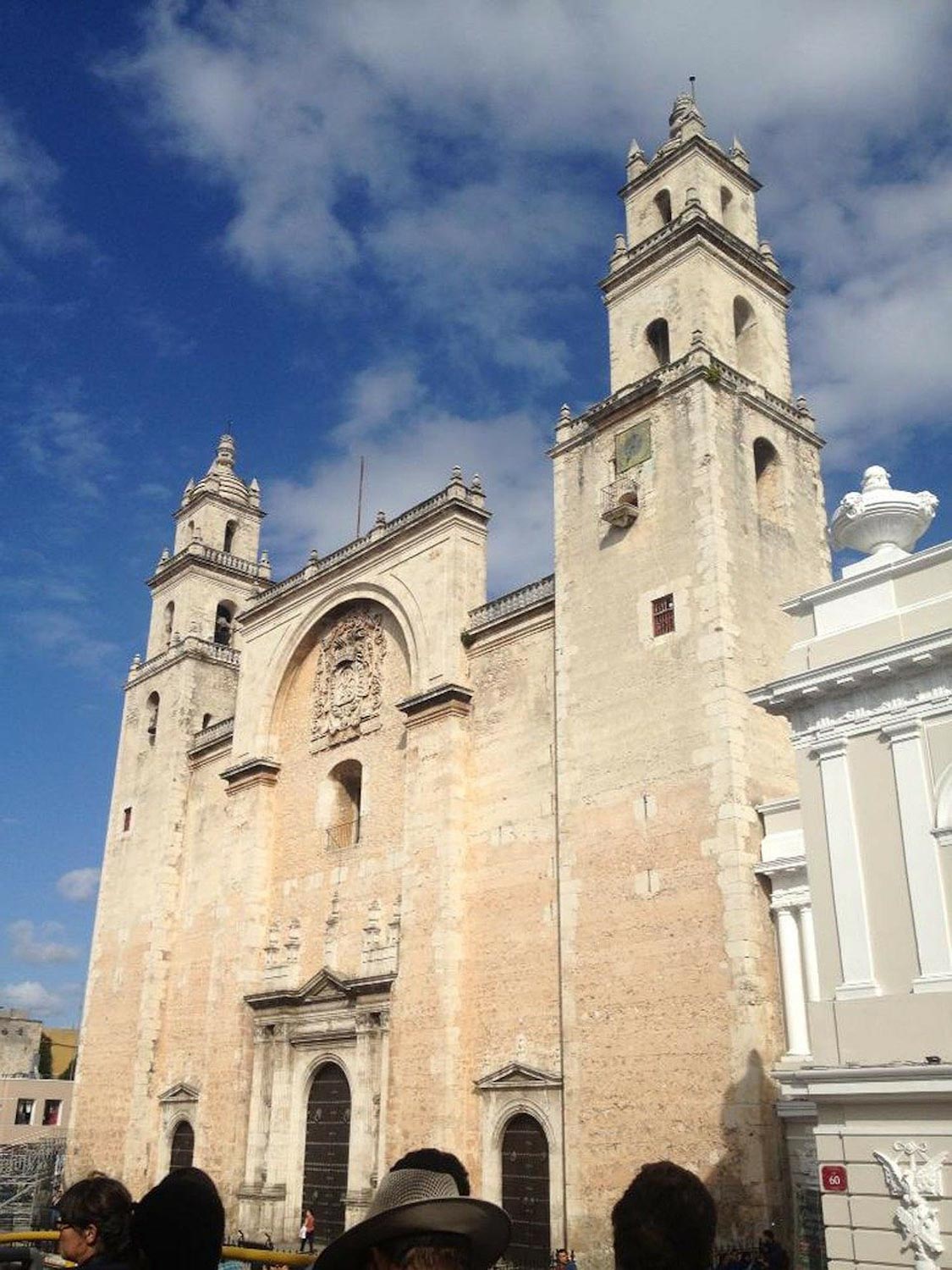 The squares are occupied by street sellers serving wonderful grilled corn and taco stalls. Plaza San Juan has the cheapest tacos we discovered. A local DJ entertained guests with a dancing performance. He tried for a long time to tune in to his old radio station, but it kept failing. When the song eventually began to play, he began to dance so enthusiastically, completely ignoring the rhythm. There are a lot of poor people in Merida. They do what they can to make a living.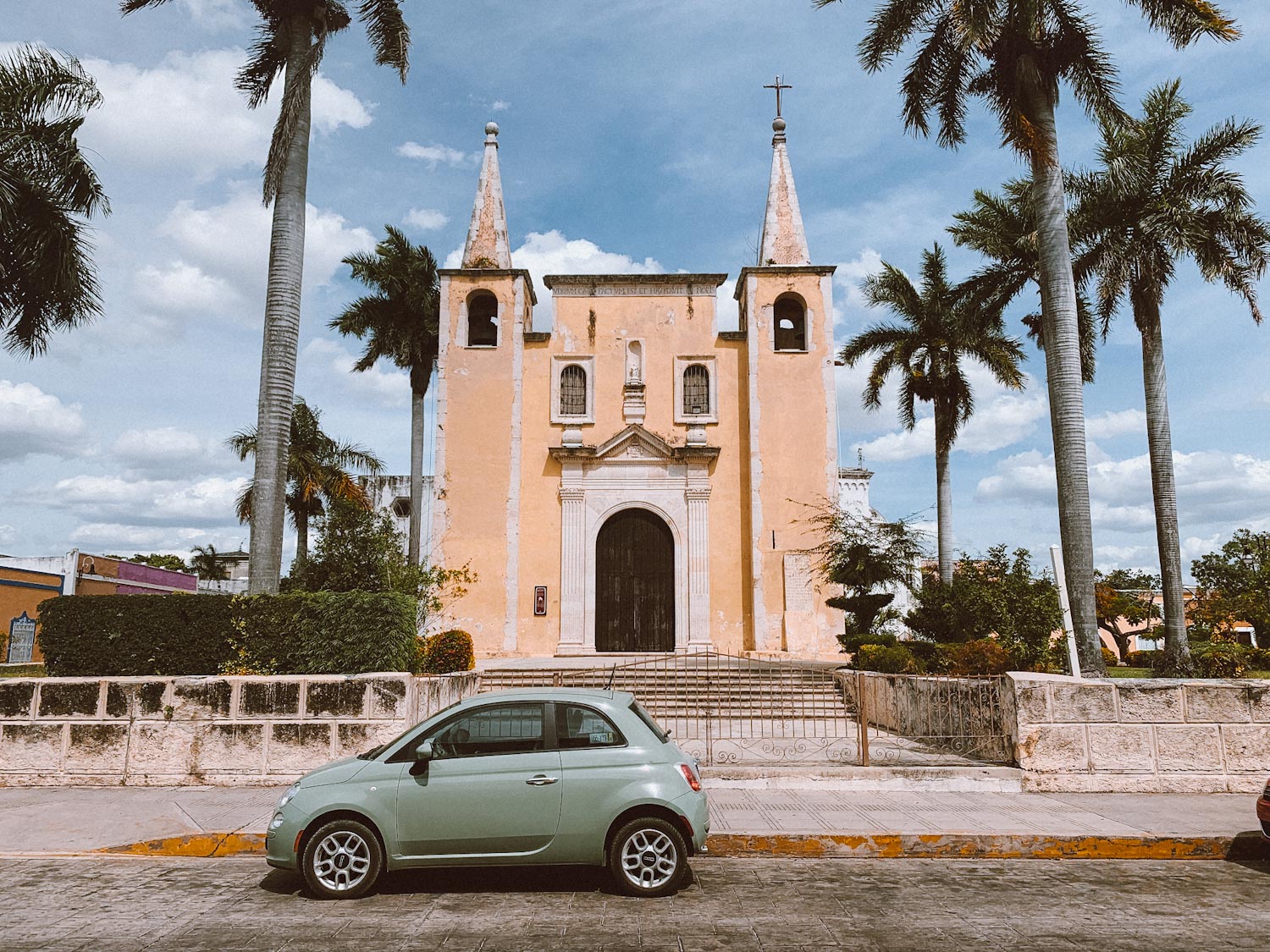 A free cultural show is held in the evening in the Cathedral square. The schedule of performances is available on the official website.
I recommend to see the Mayan ball game Poc ta Poc. The funny rule of this game is that players kick the ball with their butts rather than their feet.
A stroll through the market
Once you get to the main square, a friendly local will approach you. He'll ask you a few questions before directing you to the Indigenous artisan market. Only go if you are looking for cheap low-quality Chinese souvenirs.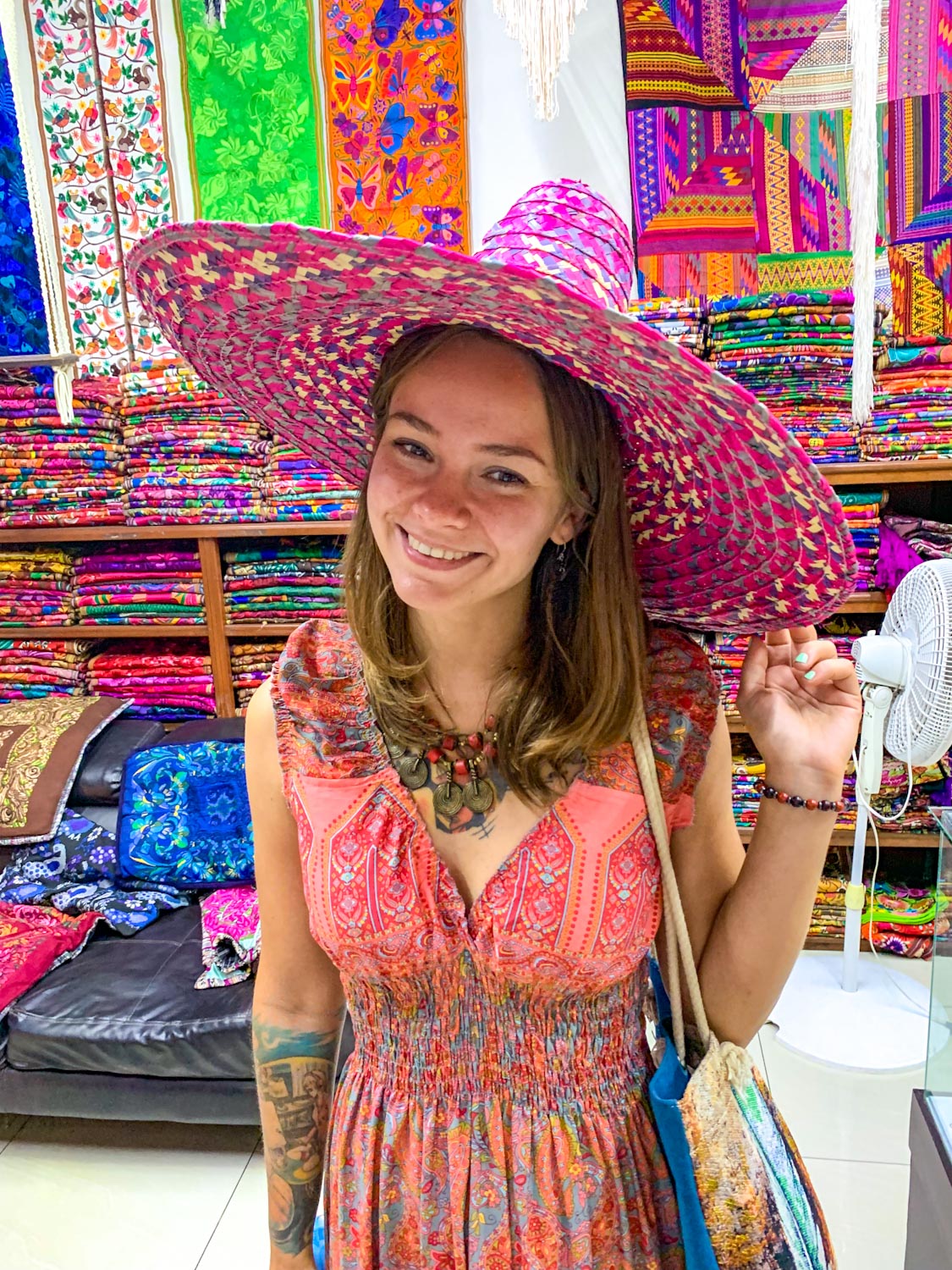 Handmade products can be found in specialty stores. They are quite pricey, yet even strolling through them is fascinating, as each art on display is a masterpiece.
I recommend Mercado Lucas de Galvez if you're looking for a food market. It's located in the heart of the city, but it turned out to be an authentic Mexican market!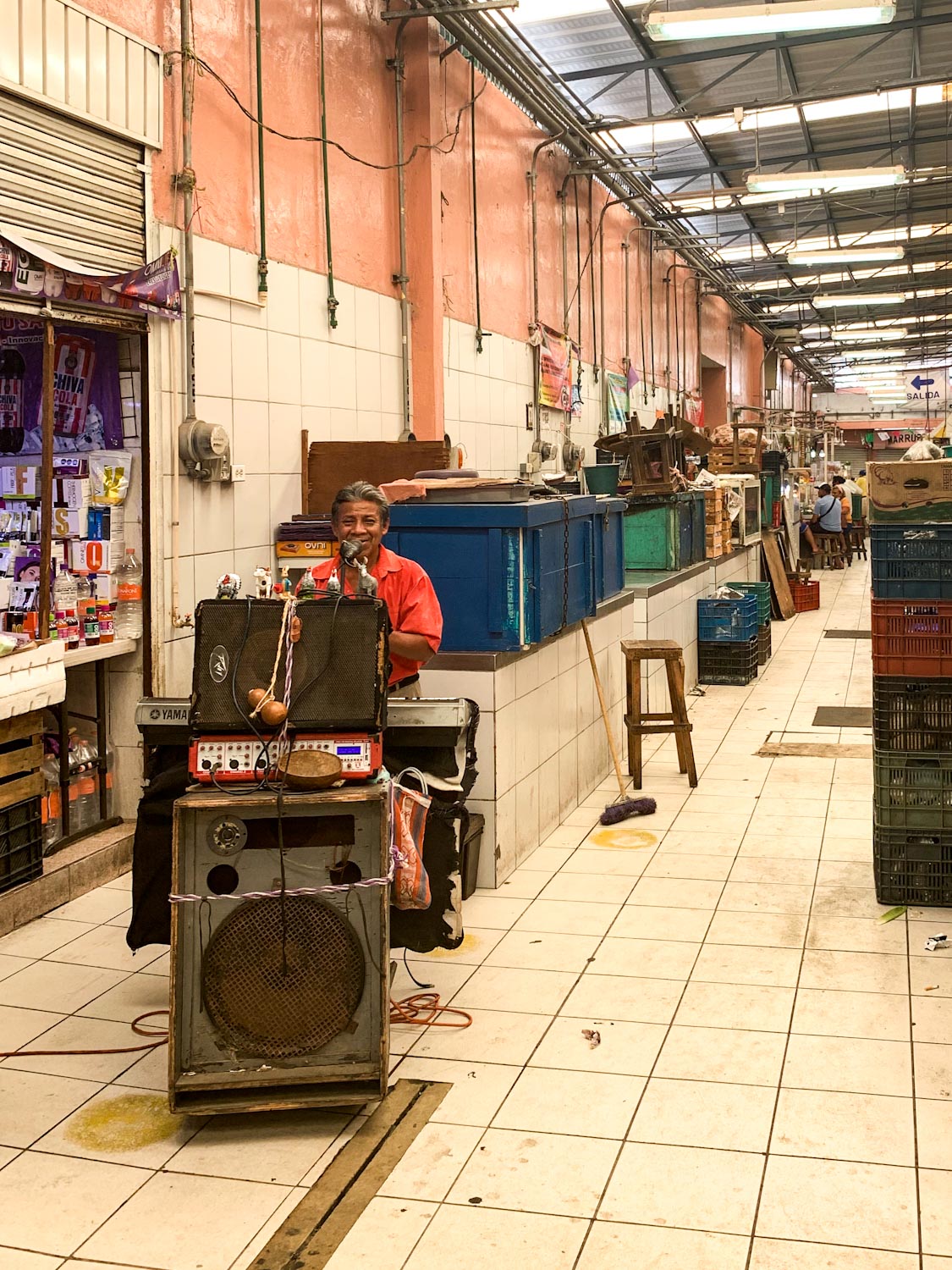 Drink craft mezcal and eat grasshoppers in the old Cantina
Cantina is a popular bar where you can sit and people-watch while drinking a cold beer or a shot of mezcal. Some of Merida's cantinas are more than a century old.
What exactly is mezcal? The agave plant is used to make both mezcal and tequila. Tequila is made solely of blue agave and originates from the same-named region. Mezcal, on the other hand, can come from any state except Tequila and is manufactured from many types of agave. The majority of mezcal producers still use the traditional method of cooking the plant in an earthen pit filled with charcoal. After that, the spirit is aged in barrels that were previously used to age whiskey or wine. Mezcal is more flavorful and diverse than tequila, but it's also more unpredictable.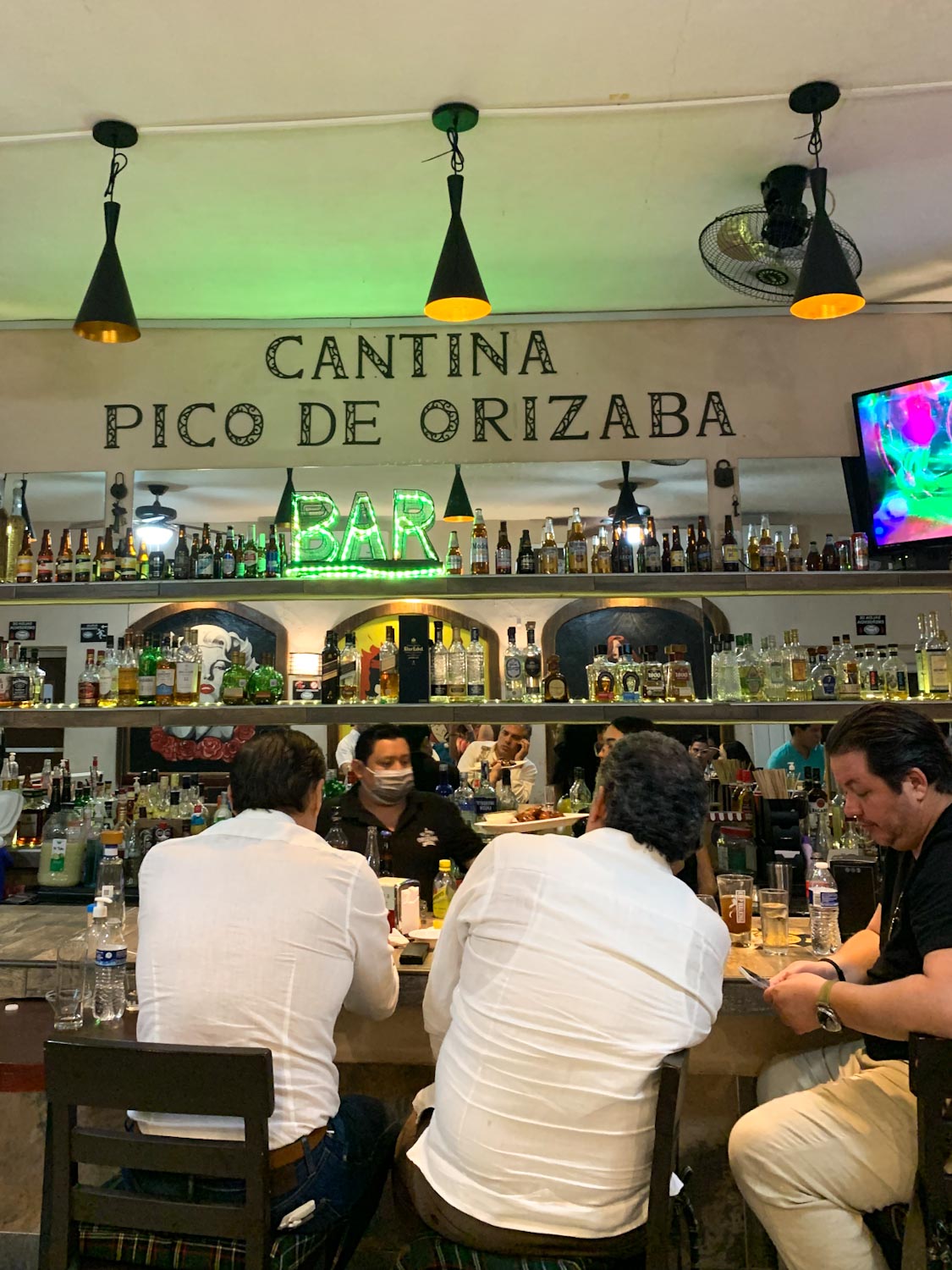 Cantinas La Negrita (a big range of mezcal and fried grasshoppers for a snack), Dzalbay (evening jazz ensemble), and Murcielago are all worth visiting (delicious and very expensive mezcal).
Initially, the cantina was a cheap bar for locals. If you are looking for this kind of vibe, then head to the cantinas Pico de Orizaba or El Raton.
Here is a map of the oldest cantinas in Merida: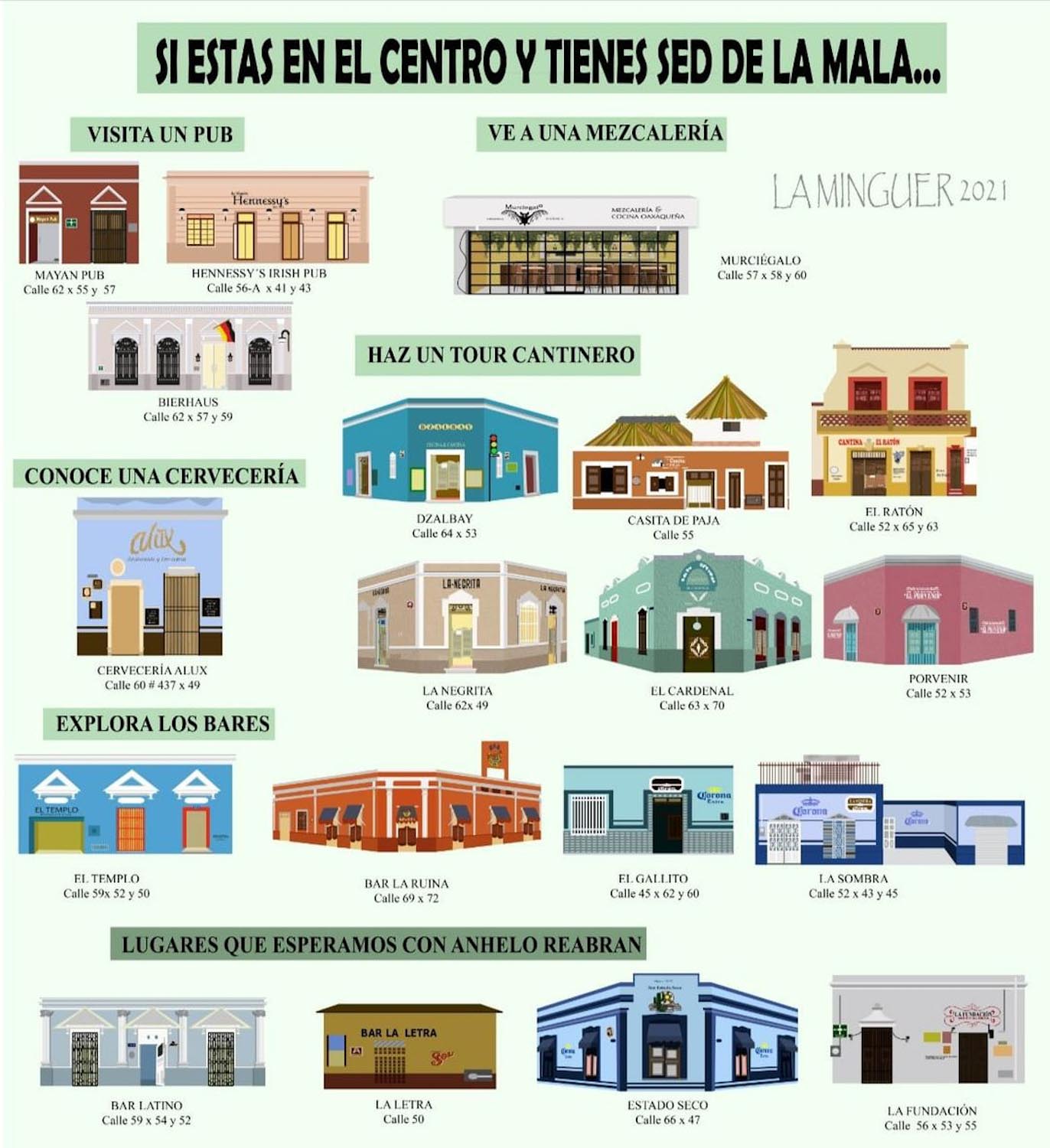 Ruins of Dzibilchaltun
Dzibilchaltun is the Mayan city closest to Merida. It's not as impressive as Chichen Itza or Uxmal, but it's still fascinating. The sun shines through two temple windows on the day of the spring equinox.
The ruins have been closed to the public since April 2022 due to a dispute between the local community and the state.
Museums of Merida
In the city, there are numerous museums, most of which are free. The Great Mayan Museum is a must-see if you only have time to see one museum.
Museum of Anthropology
Address: Paseo Montejo # 485 Por Calle 43
Working hours: Tuesday to Sunday, 8:00 – 17:00
Price: 60 pesos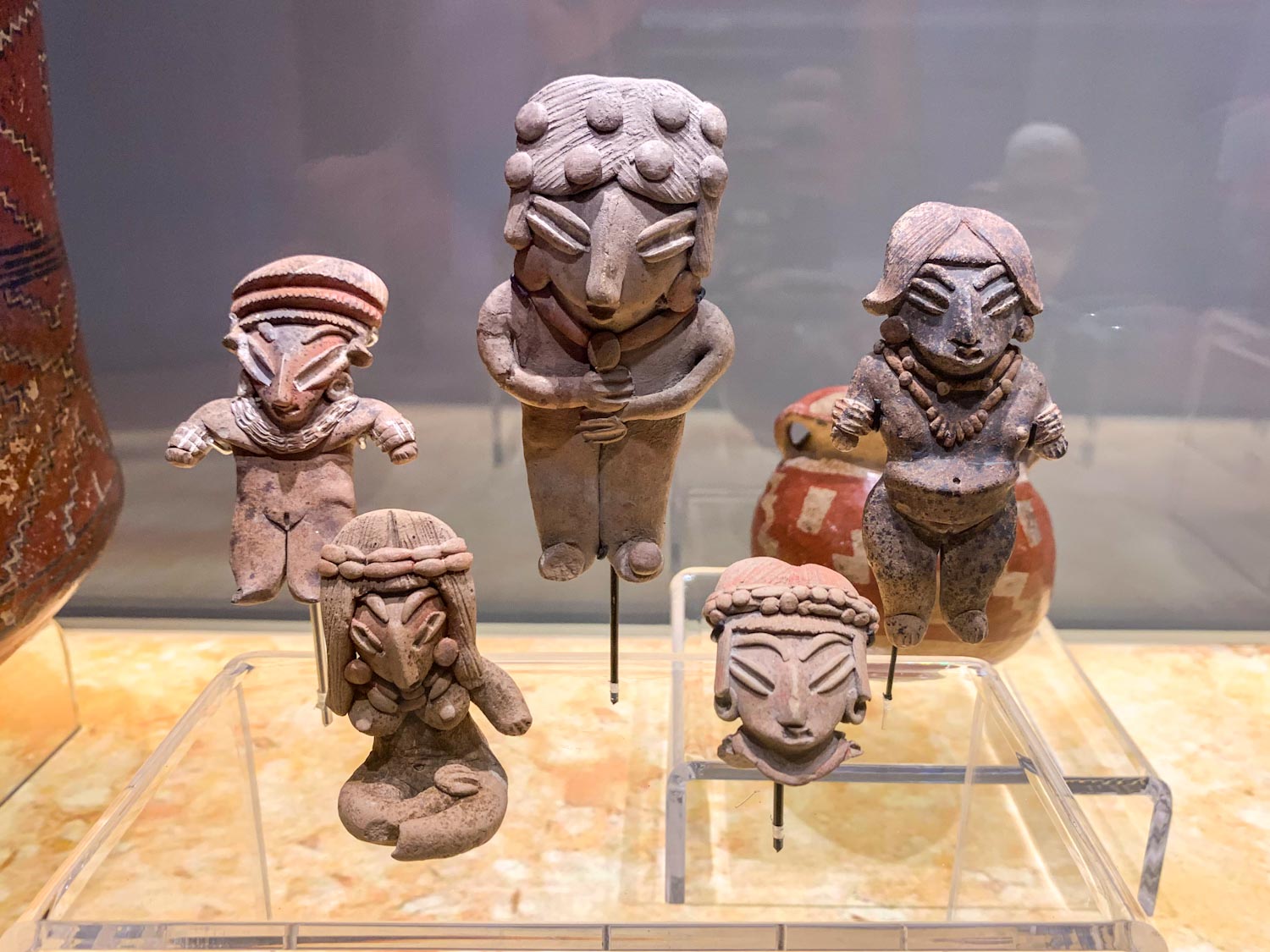 The Museum of Anthropology (Museo Palacio Cantón) is located in a historic palace on Paseo de Montejo Boulevard. The collection is small and has nothing to do with anthropology. It gives a quick overview of Merida's history. The first floor is dedicated to the Indians and the second to the conquistadors.
Museum of Folk Art
Address: Calle 50-A #487
Working hours: Tuesday to Saturday 10:00 – 17:00, Sunday 10:00 – 15:00
Price: free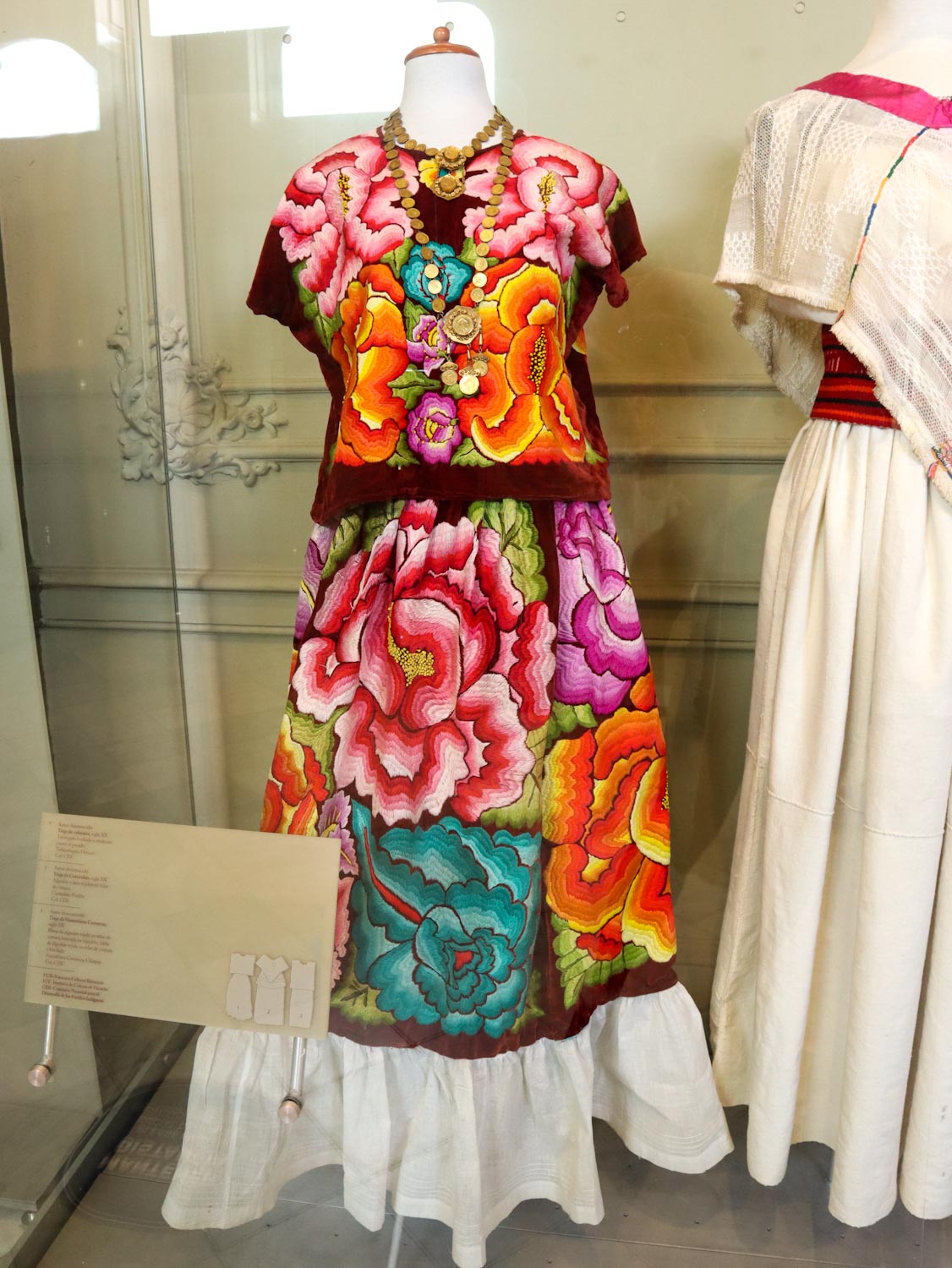 The Museum of Folk Art (Museo del arte popular) holds a curious collection of national costumes, figurines, and other handicrafts. Their exposition is interesting to see with a guide because the exhibits have few explanatory signs.
The Government palace
Address: Calle 60 X Calle 61 y 59 (main square in front of the Cathedral)
Working hours: Monday to Friday, 9:00 – 16:00
Price: free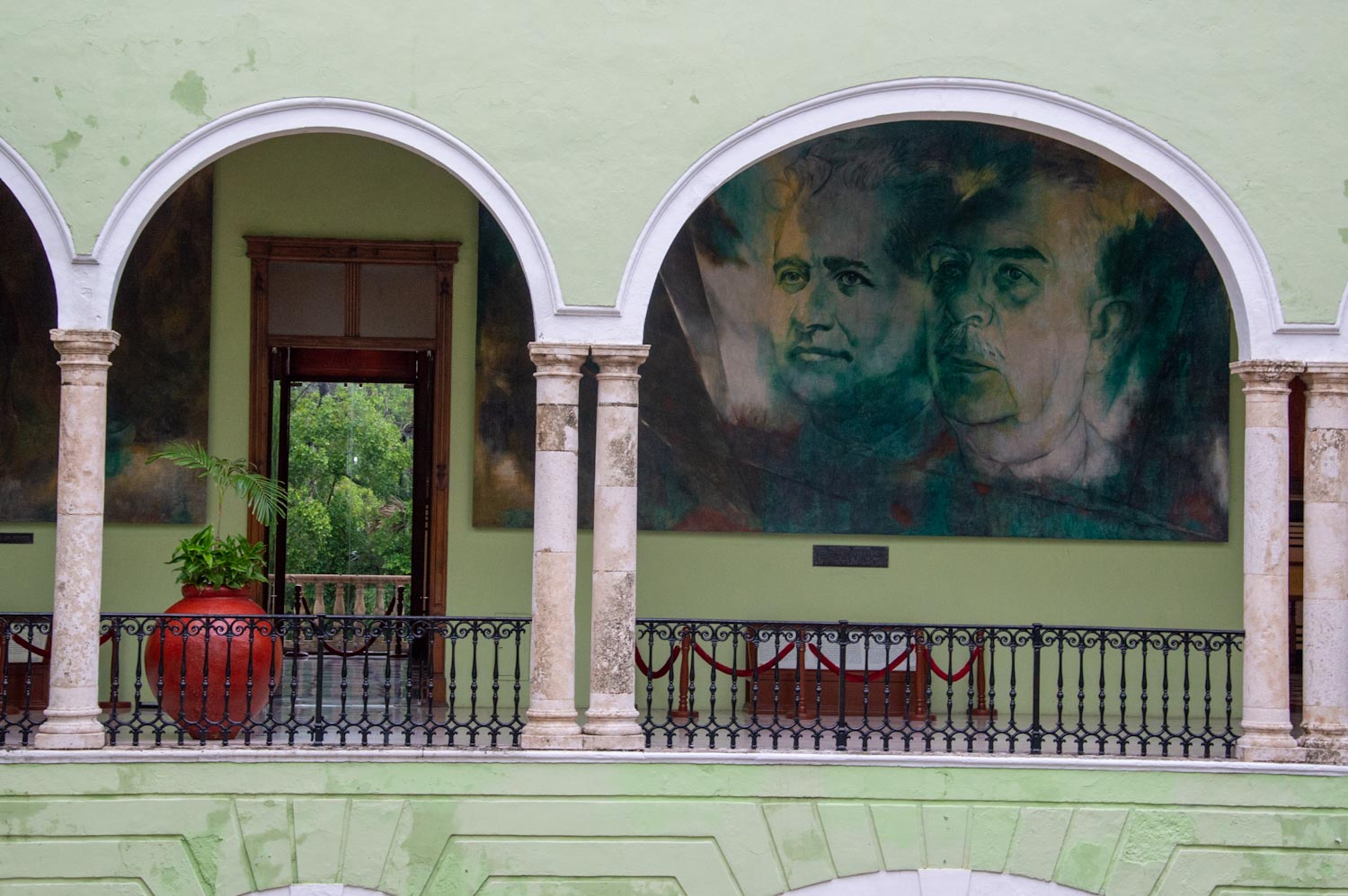 Close to the main square lies the Government Palace (Palacio de Gobierno). The current structure dates from the nineteenth century. Fernando Castro Pacheco (1918–2013), a Yucatec artist, painted 27 frescoes illustrating historical events on the walls.
Gran Museo del mundo maya
Адрес: Calle 60 Norte № 299
Время работы: 9:00 — 17:00, вторник — выходной.
Цена: 150 песо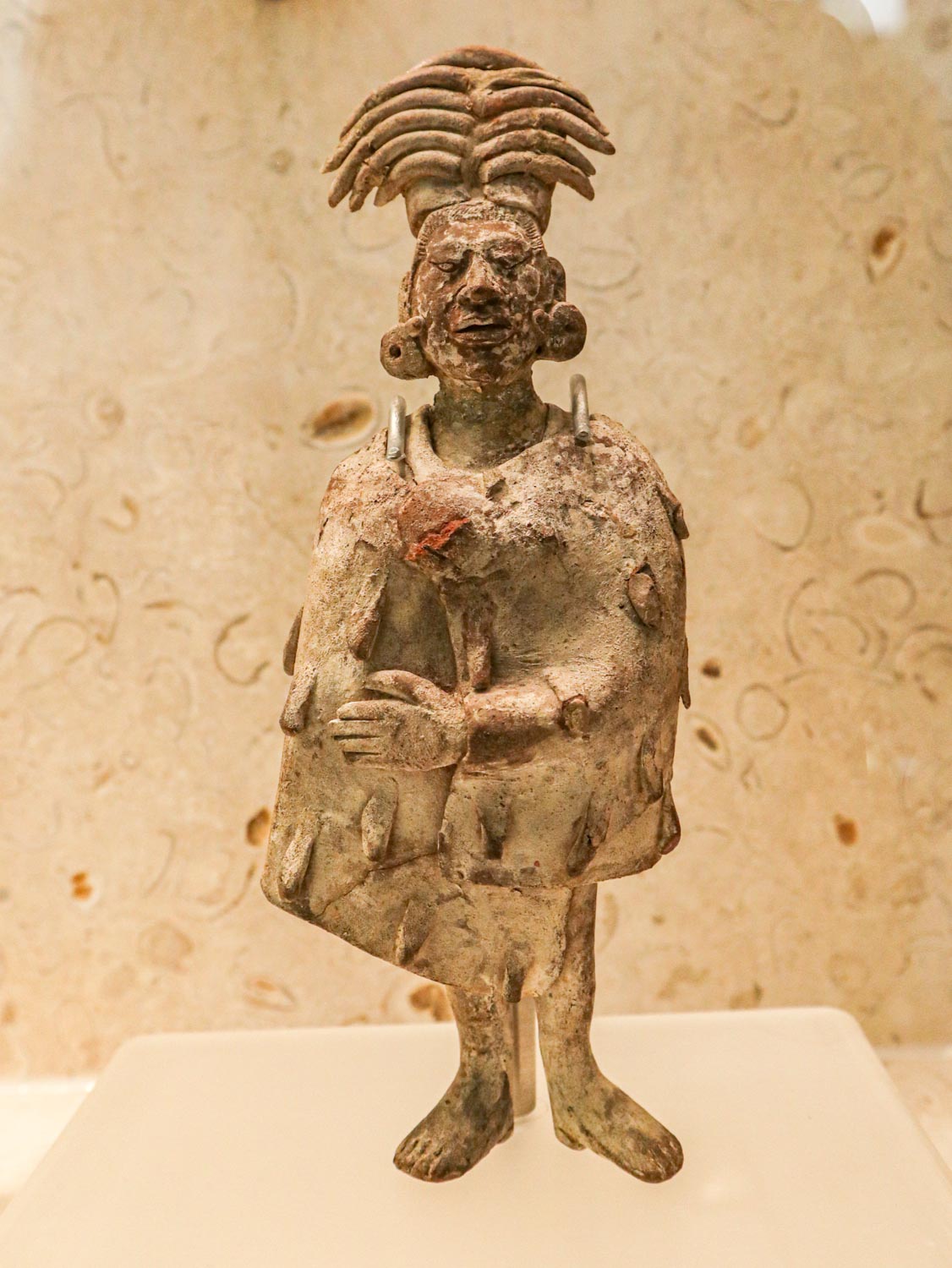 This huge museum is dedicated to the Mayan culture. The collection of this museum is very rich. It is only second to the Museum of Anthropology in Mexico City in my opinion.
Casa de Montejo
Address: square in front of the Cathedral
Opening hours: Tuesday – Saturday 11:00 – 18:00, Sunday 11:00 – 14:00
Price: free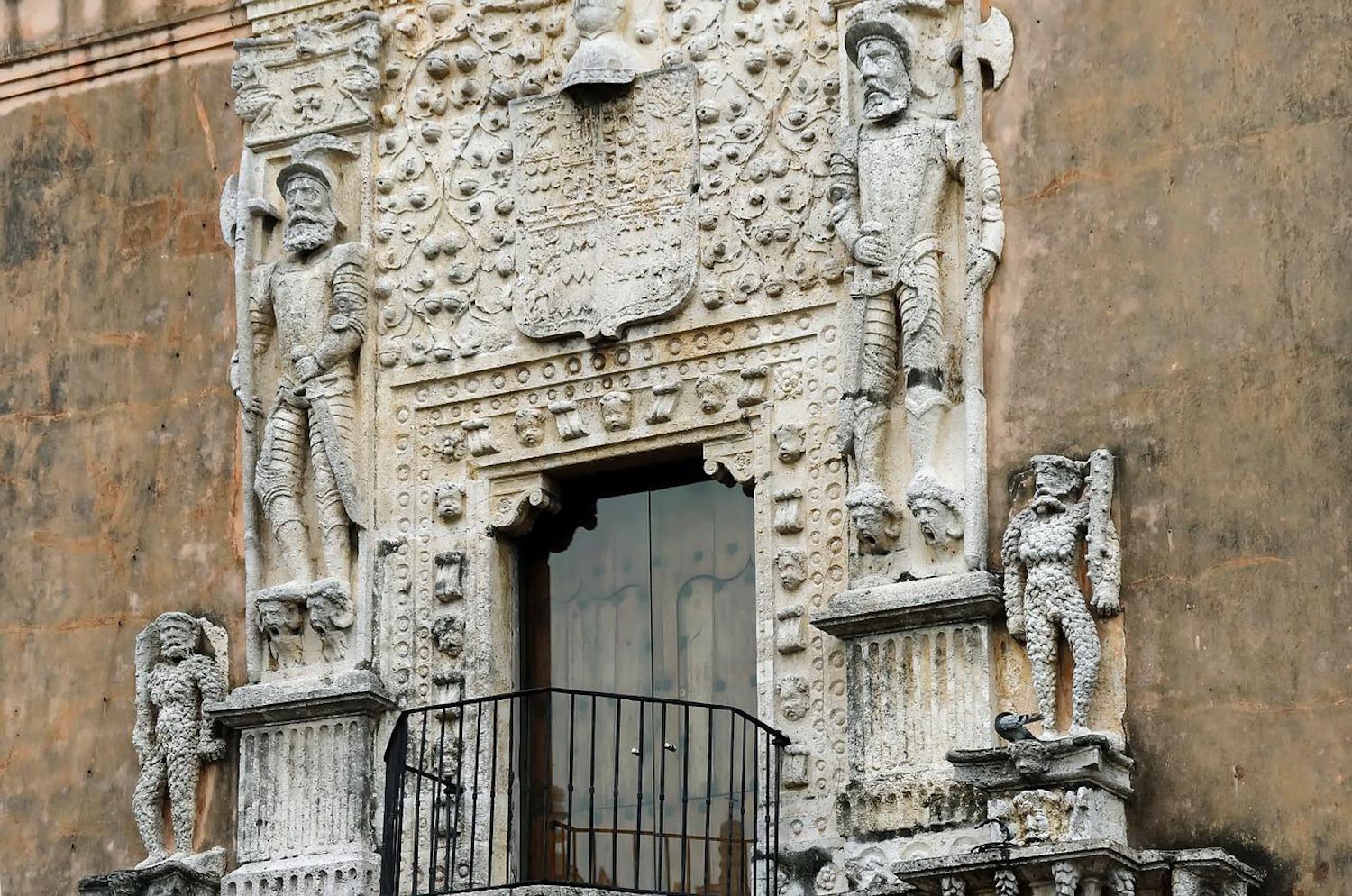 This magnificent building in the center of Merida was built by the conquistador Francisco de Montejo, his son, also Francisco de Montejo and his nephew … Francisco de Montejo. They accompanied Hernan Cortes on an expedition to conquer Mexico and the king rewarded them with the territory on the Yucatan Peninsula. Now there is a small museum in the house of the Montejo family.
Modern art galleries in Merida
Interesting activities in Merida: from diving to shamanic ceremonies
Climbing in cenotes (boulder)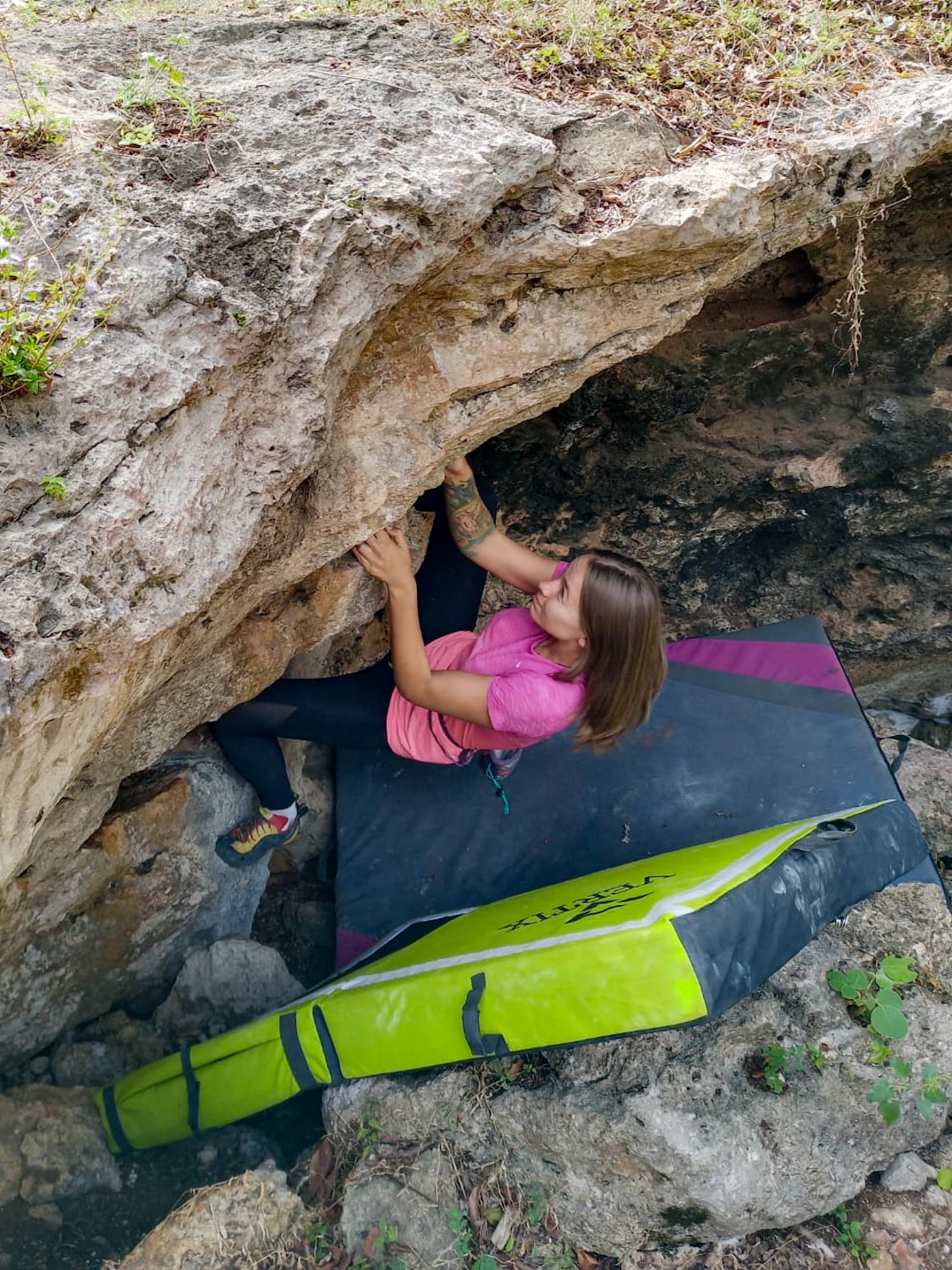 Because the Yucatan Peninsula lacks mountains, locals learned to climb in cenotes. Cenotes are caves with underground lakes, but there are also dry ones.
M20, Moon Bloc, and Gravity are three excellent rock climbing gyms in the city.
Reel Rocks 16 has a documentary about my instructor Fito (includes an interview with Alex Honnold). It is only available to those who have purchased a $100 annual subscription.
Yoga: Bikram and Vinyasa
Studio: Bikram Yoga Merida
Yoga is quite popular in Mexico. I tried Bikram yoga, also known as "hot" yoga. Classes are held in a room that is heated to 40C/ 104F. The high temperature warms up the muscles and reduces the risk of injury during stretching. Surprisingly, the "tough" conditions helped me focus on the movements and ignore all of my worries. But this wasn't a state of rest; rather, it was the final hitch before passing out from heatstroke.
Studio: Yoga Sana
Since summer began in Merida, the necessity for an additional sauna has vanished; every step outside felt like committing suicide. Vinyasa yoga was exactly what I needed. It includes a well-balanced mix of stretching and strength training. Betto even taught me how to do a handstand, which had been a lifelong goal of mine.
Ancestral ceremonies
The Yucatan Peninsula is inhabited by Mayan people. The influence of Indian culture is seen everywhere, from the cuisine to the local beliefs.
"Cuatro rumbos" organize various ceremonies. I went to the Inipi ceremony, which is the North American equivalent of the Mayan temazcal sauna, and the Peyote ceremony at the open fire. Both ceremonies were complemented by a chorus of people singing – a once-in-a-lifetime experience!
Acroyoga in the Circus
Merida has a circus that is run by very enthusiastic locals. You can learn acrobatics, juggling, handstands, or acro yoga.
Cycling around Merida
Merida is a relatively comfortable city for cyclists. A very long Paseo Verde park is a popular place to do sports in Merida. Also, there are multiple bike paths across the city. Every Sunday, the road in the historic center is blocked for cars, and everyone rides bicycles.
BiciMerida and Bicicletas C&C offer bicycle rentals.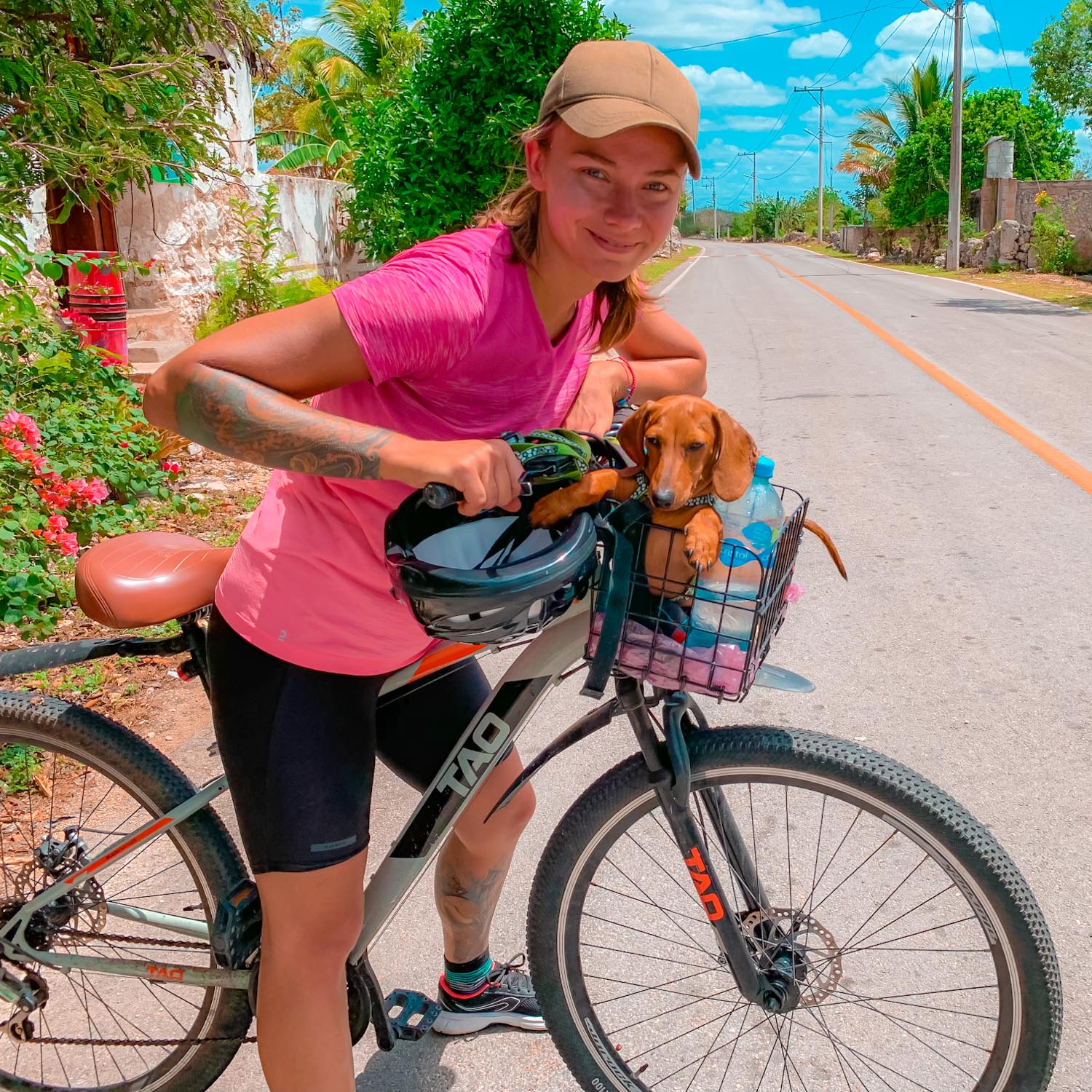 It's cheaper to buy a used bike from the Facebook Marketplace and sell it before you leave if you're living in Merida for a long period. A modest mountain bike will set you back $100-150 and will get you to the cenotes or the pyramids. Bicycles are costly in Mexico, yet I was able to sell mine for the same price within a few hours after listing it on Facebook. No complaints.
Scuba Diving in cenotes
Scuba diving in cenotes is another sport unique to the Yucatan peninsula. To dive into open cenotes, a standard scuba diving license would suffice; however, to explore the underground caves, a Cave Diving certificate will be necessary.
Yucatan Dive Center, Diving Yucatan, and Poseidon all organize cenote diving.
Cooking courses
Casa Misterio hosts cooking workshops using local ingredients. Although such recipes are unlikely to be useful in your home country, it is worthwhile to try something new.
Other food tours in Merida
The regional cuisine of Yucatan
The Yucatan Peninsula is home to the country's largest Mayan population. Their influence can be seen in the local cuisine.
Sopa de lima – chicken soup with lime
Sopa de chaya – spinach-like cream soup
Cochinita Pibil – a pig roasted in the ground
Poc Chuk – pork by the recipes of the Mayan people
Frijol con puerco – beans with pork
Relleno negro – turkey in a black sauce
Queso Relleno – stuffed cheese
Panuchos – tacos with beans
Papadzules – Yucatan's version of enchiladas
Fried octopus ceviche
Marquesitas – crispy tubes filled with cheese
Agua de Tamarindo – local fruit drink
Read more about Mexican gastronomy in my article: This strange Mexican cuisine. Grasshoppers and chicken in a chocolate souse.
Where to Eat in Merida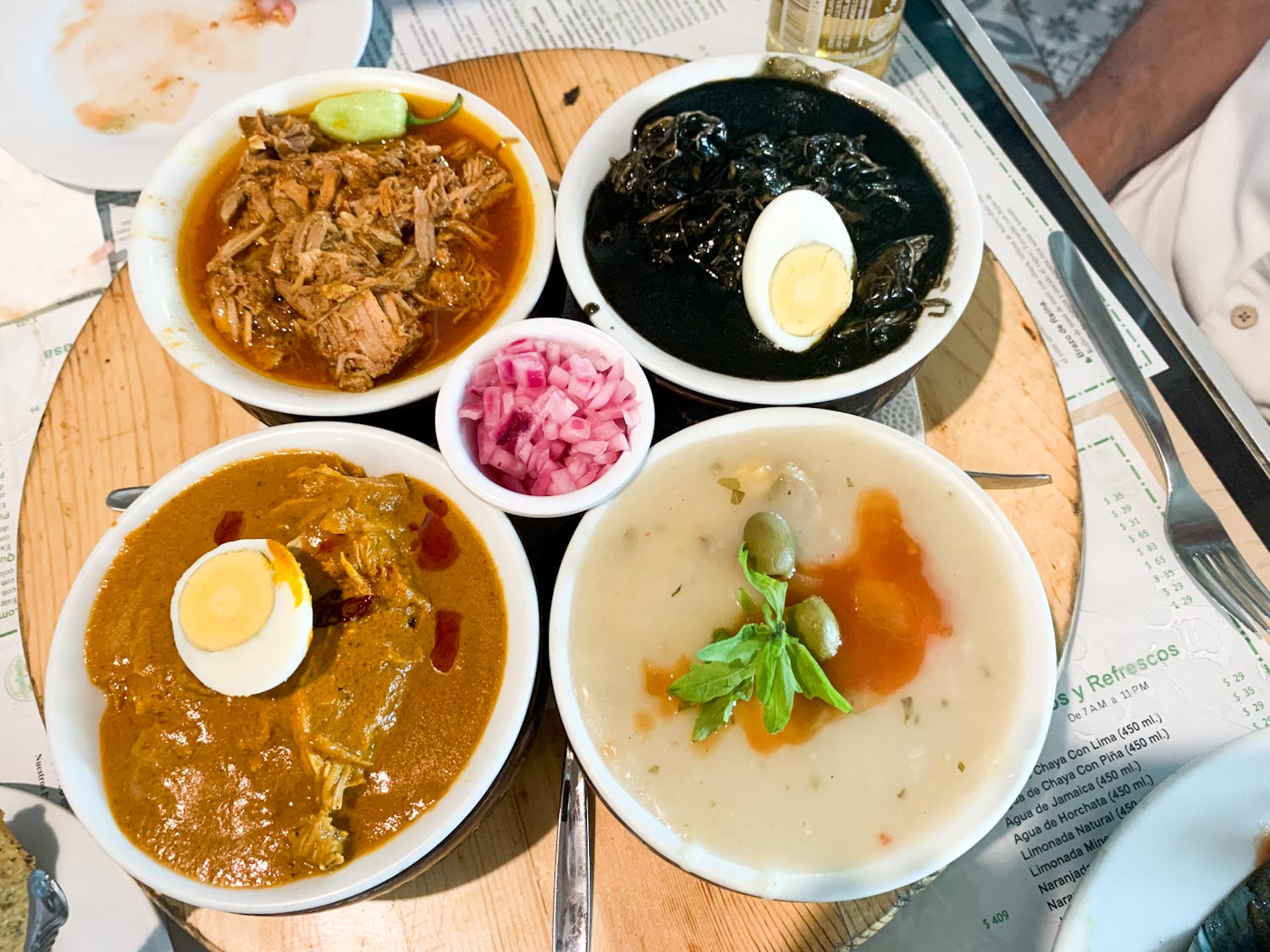 Manjar Blanco is a restaurant made famous by Netflix. You will find the best cochinita pibil there.
La Chaya Maya is a popular restaurant with a wide selection of Yucatecan dishes.
La Negrita Cantina is a bar, but they serve the best crunchy grasshoppers as a snack!
Museo de la Comida Yucateca – I never went there, but I heard only good things about it from the locals.
La Costeña is one of the best fish restaurants in Merida. It's in the Ciudad Caucel neighborhood, which is somewhat far from the city center. A chef from the island of Cozumel works at this restaurant, and he knows a lot about fish!
Kraken is another restaurant in Ciudad Caucel that serves delicious octopus.
Excellent day-trips from Merida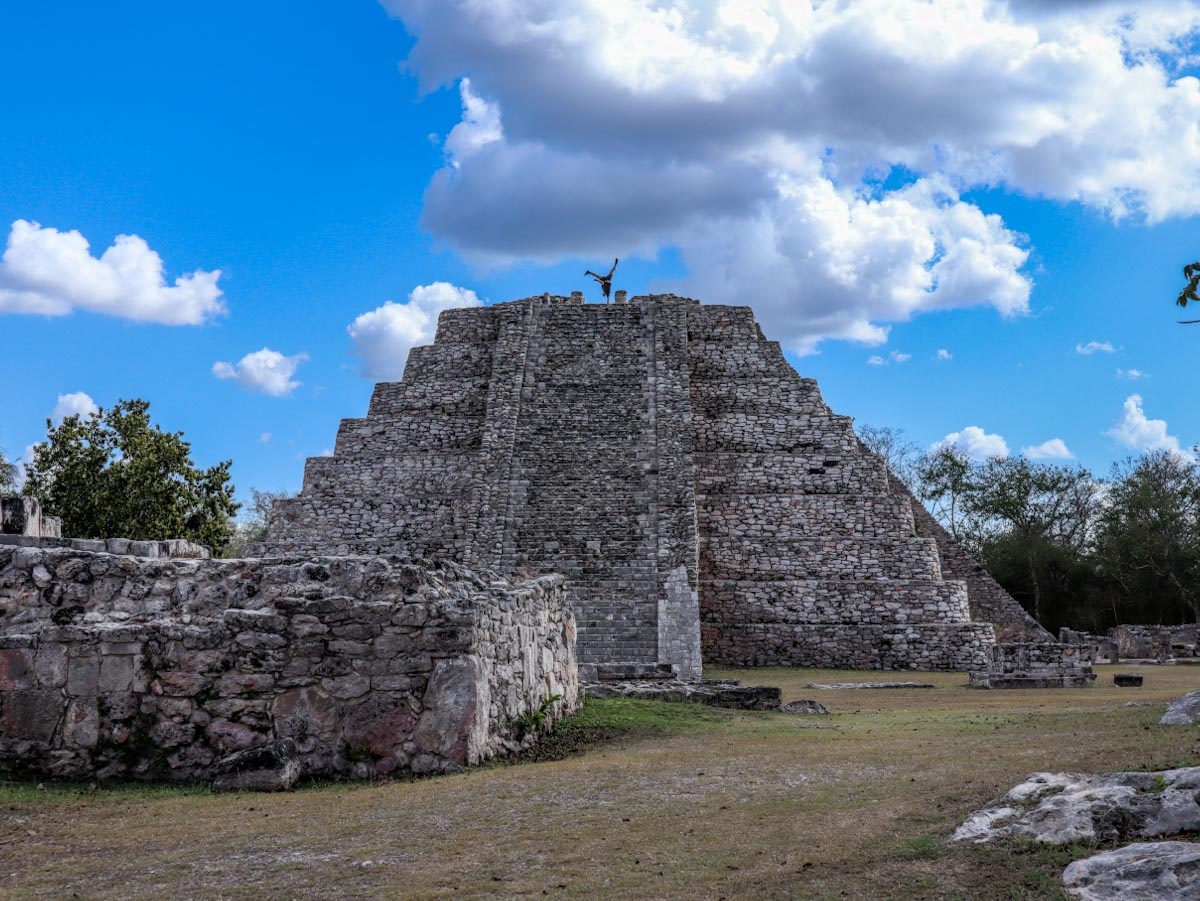 All of the attractions in the Merida area can be divided into three categories: cenotes, ruins, and beaches. There are a lot of places in the area, but you don't need to see them all.
Progreso Beach is the closest beach to Merida.
Sisal is a small but cozy beach that offers kayaking through the mangroves and visiting flamingo flakes.
Best cenotes you will find in the villages of Homun and Cuzama.
Mayapan is Yucatan's best Mayan archeological site. It's less touristic, less expensive, and you can climb the pyramids.
The pyramids of Uxmal and other archaeological sites of the Puuk culture are impressive, even though they are expensive.
Cenotes Nah Yah and Suhem near Mayapan are among my favorite.
Lepan village has cenotes, trekking and ruins of henequen haciendas. You also can camp out there.
Izamal is a picturesque colonial city near Merida.
Celestun beach is famous for its flamingos.
San Antonio Mulix is another little village with colonial haciendas and cenotes.
Should I choose Merida for a long-term base in Mexico?
My answer is NO.
I liked more the hippy town of San Cristobal de Casas in the mountains of Chiapas, where I spent two months.
Pros of Merida
Many sites near Merida have yet to be discovered by mass tourism. The entrance fee to the cenotes, for example, is still 50 pesos ($2.5). They're still wild, and they appeal to me far more than crowded cenotes in Tulum.
Merida is a well-developed city with excellent infrastructure. Everything you need to live as a digital nomad will be available: strong internet, delivery apps, cheap cabs, supermarkets, and so on. It might sound obvious, but I've lived in countries where those simple things are still lacking.
Merida is considered to be the safest city in Mexico. According to rumors, drug cartels whose relatives live in this city keep the peace.
Merida has a great sports community. Merida has a strong sports community. There are several great rock climbing walls in the city, as well as numerous yoga studios, diving, and even a circus. There are also a lot of regular gyms, however, they require that you wear a mask when working out… Ridiculous.
Cons of Merida
I arrived in Merida in January. For the first two months, everything went smoothly. Then the torture began. My greatest mistake was picking the wrong season.
In March, unbearable heat (over 38°C / 100°F) began. Merida is a long way from the shore, with few parks and trees. Normally, the UV index was 10-12. (this is a very high ultraviolet radiation that threatens skin cancer and dehydration). Drink plenty of water and electrolytes, and wear sunscreen at all times. No matter what you do, you will have a terrible headache at the end of the day. What makes it worse, locals don't believe in the air conditioners. It was impossible to stay in restaurants, taxis, or museums. As a result, we had to lock ourselves in the apartment, with the A/C running nonstop at the lowest setting. I am sure our landlord hated us, but it was the only way to survive.
Although Merida is pricey, the price-to-quality ratio leaves a lot to be desired. I last visited Mexico four years ago, and things have changed dramatically since then.
Covid restrictions are still a religion in the Yucatan. Even after masks were no longer required at the state level, Merida residents continued to wear them on the streets. Although there are no penalties for not wearing it, locals will look at you with disfavor or even encourage you to put it on. At the same time, Mexico is one of the few countries that has not closed to tourism and does not require any tests or vaccines for entry. In this insane world, Instagram depicted Mexico as the last bastion of liberty. If I had known about the mask insanity, I would have chosen another country.
Life hacks for Merida
How to get to Merida
The cheapest way is to fly to Cancun, and the take a bus to Merida. There is an airport in Merida, but it hosts very few international flights.
If you fly directly to Merida, than keep in mind, that there is no Uber or DiDi taxi available at the entrance. To avoid overpaying, you can walk outside of the airport for about 10 minutes, and call the Uber there. It may take a while. If don't want to wait than try to stop a regular taxi on the main road, and negotiate the price. It shouldn't be more than 150 peso for a ride to the city center.
There is no bus that runs from Merida airport to the center.
Most comfortable option is to preorder a private transfer.
Where to live in Merida
The historical center of Merida is filled with colorful residences, quiet squares, restaurants, and bars. I strongly advise you to stay there.
Outside the center of Merida is a boring, noisy city. Don't expect to find hidden gems and untrodden trails in residential areas. Having settled far from the center, you most likely will have nowhere to go for a walk or to have a romantic dinner.
I lived in three areas in the north of the city: Altabrisa, Francisco de Montejo and Ciudad Caucel. I liked the first two areas, but it still was far from the center. Ciudad Caucel is a new town on the outskirts of Merida for workers, with identical houses and parks that are used as garbage dumps. There is everything for everyday life, except the aesthetics.
There is a local ghetto in the south of Merida, so I would not recommend settling there.
Budget for the month
We spent an average of $1,400 for two people: $600 on housing, $600 on food, $140 on sports and entertainment, and $20 on mobile Internet.
Housing
On Airbnb, an entire house costs between $600 and $700. (price includes electricity bills, high-speed wifi, and unlimited air conditioning). The earlier you book, the better the deals. There are cheaper houses, but they have a communal kitchen or no air conditioning.
A night at a hotel starts at $20 for two people, while a hostel bed starts at $7.
Food
Lunch at a restaurant costs between $20 and $30 for two people (two main courses, guacamole started, and a drink).
Dinner of street tacos plus a drink costs $8.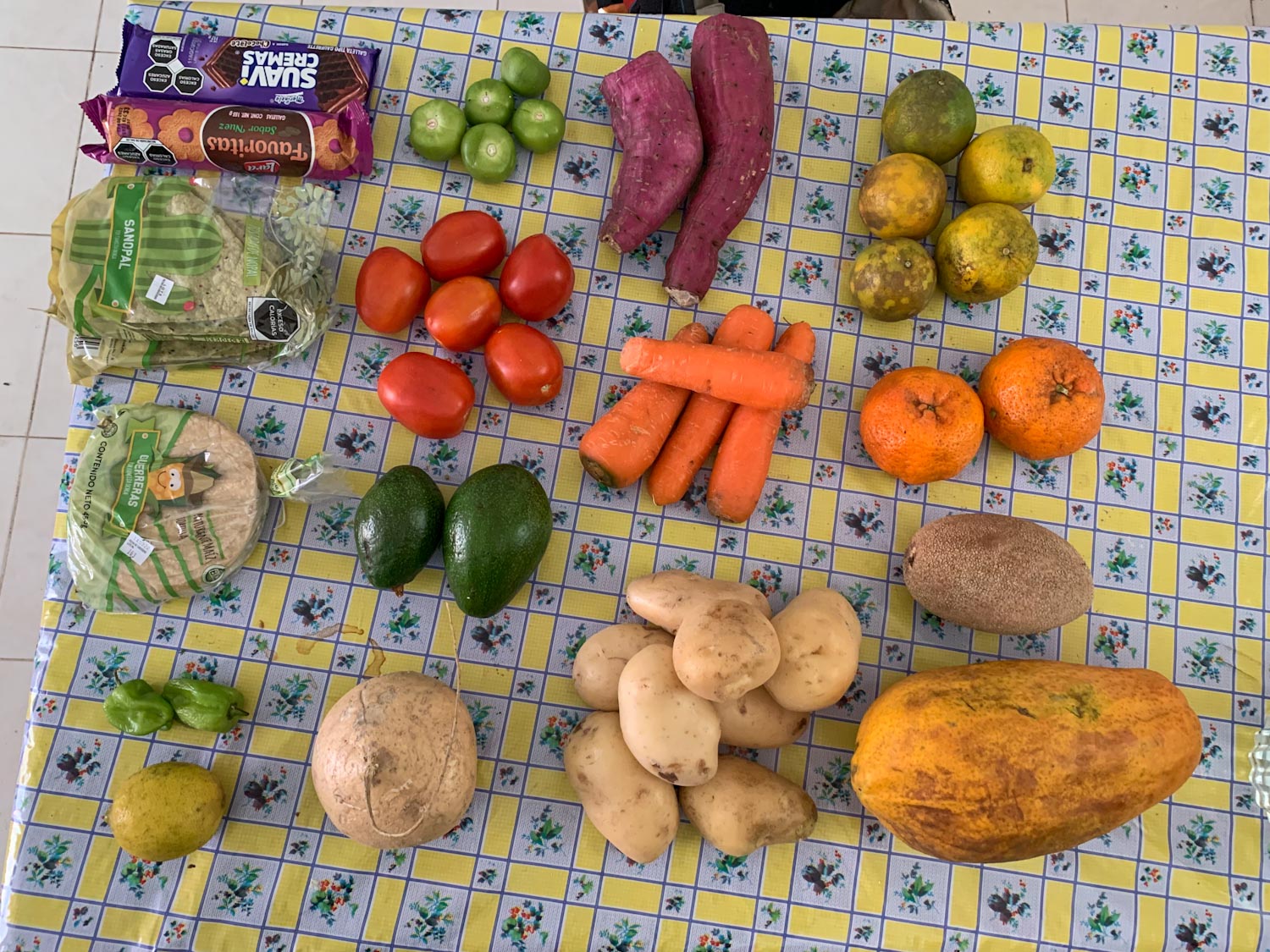 The average Walmart bill was $100, while the vegetable market bill was $15. Given that we ate out once or twice and had occasional pizza delivery, there was enough food for a week.
Transport
We mostly rode our bikes around. A short-distance taxi journey costs $1-3, and a trip across the city costs $4-5.
Internet
Telcel mobile internet costs $10 for 3 GB. You can buy a SIM card at the Oxxo store and any other store with a Telcel sign.
Entertainment
Each of our sports activities costs $20 per month or $4 per session.
Cinema tickets are $2 for a standard room and $8 for a VIP room.
Museums range in price from free to $4, with the Grand Museum of the Mayan World being the most expensive at $7.
A one-day trip by public transport to the cenotes – $4-6, to the Mayan ruins – from $8 to $35.
Useful apps and links
Rappi – food delivery.
Didi – Taxi. Maximum three passengers.
Uber is much more expensive than DiDi but still works.
Dulce Semillas – organic peanut butter delivery.
Visitante is the best car rental company in Merida. Avoid Americas and other car rentals near the airport.