El Chalten is a major hiking destination in Patagonia. It's impossible to visit without trekking to the iconic Mt. Fitz Roy. But there is so much more to see and do beyond this legendary trail! In this guide, I'll share the information about all the hiking routes in the area. So let's lace up those hiking boots and get ready for an adventure!
Where is El Chalten
El Chalten is a small mountain town located in Argentinean Patagonia, with a permanent population of 350 people. It is situated in the Andes, approximately 260 km from El Calafate and 1200 km south of Buenos Aires.
El Chalten was established in 1985 specifically for tourism purposes. The town features three streets lined with restaurants, hotels, grocery stores, and travel agencies. However, if you're searching for an authentic Patagonian experience, you should explore other areas.
For many kilometers to the north and south of El Chalten, the terrain is arid and sparsely inhabited pampas. Phone signals in these regions are weak. Although Chile is close by, crossing the mountain range requires a combination of water transport and a strenuous hike.
El Chalten is situated on the edge of the South Patagonian ice field, where constant gale-force winds and a mixture of rain and snow prevail. The magnificent peaks of Mount Fitz Roy are often concealed by thick clouds. The Tehuelche Indians, who resided in the region, named it "smoking mountain" and considered it sacred. Mount Fitz Roy was lately named after Robert Fitz Roy, the captain of the Beagle, on which Charles Darwin traveled.
Tourists, rock climbers, and mountaineers from all over the world flock to El Chalten to experience the famed Mount Fitz Roy up close. The town boasts dozens of hiking trails in the vicinity. It's one of the most beautiful places in Patagonia, but also one of the most expensive and crowded during the summer season.
A Complete List Of Hiking Trails In El Chalten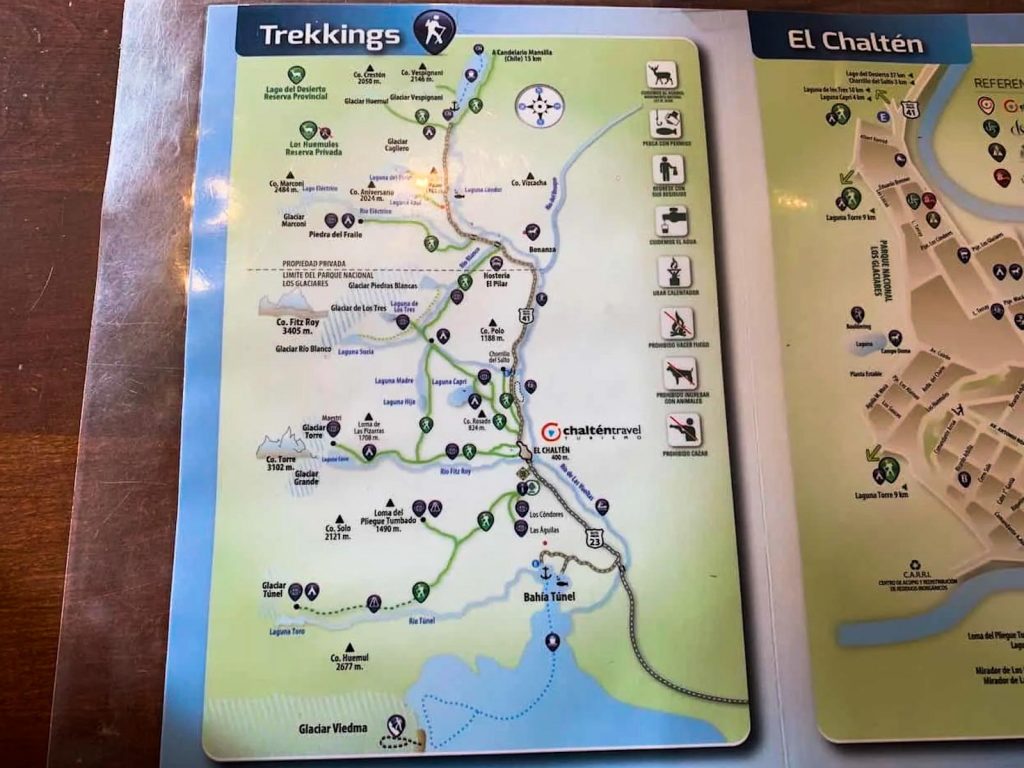 Easy Trails around El Chalten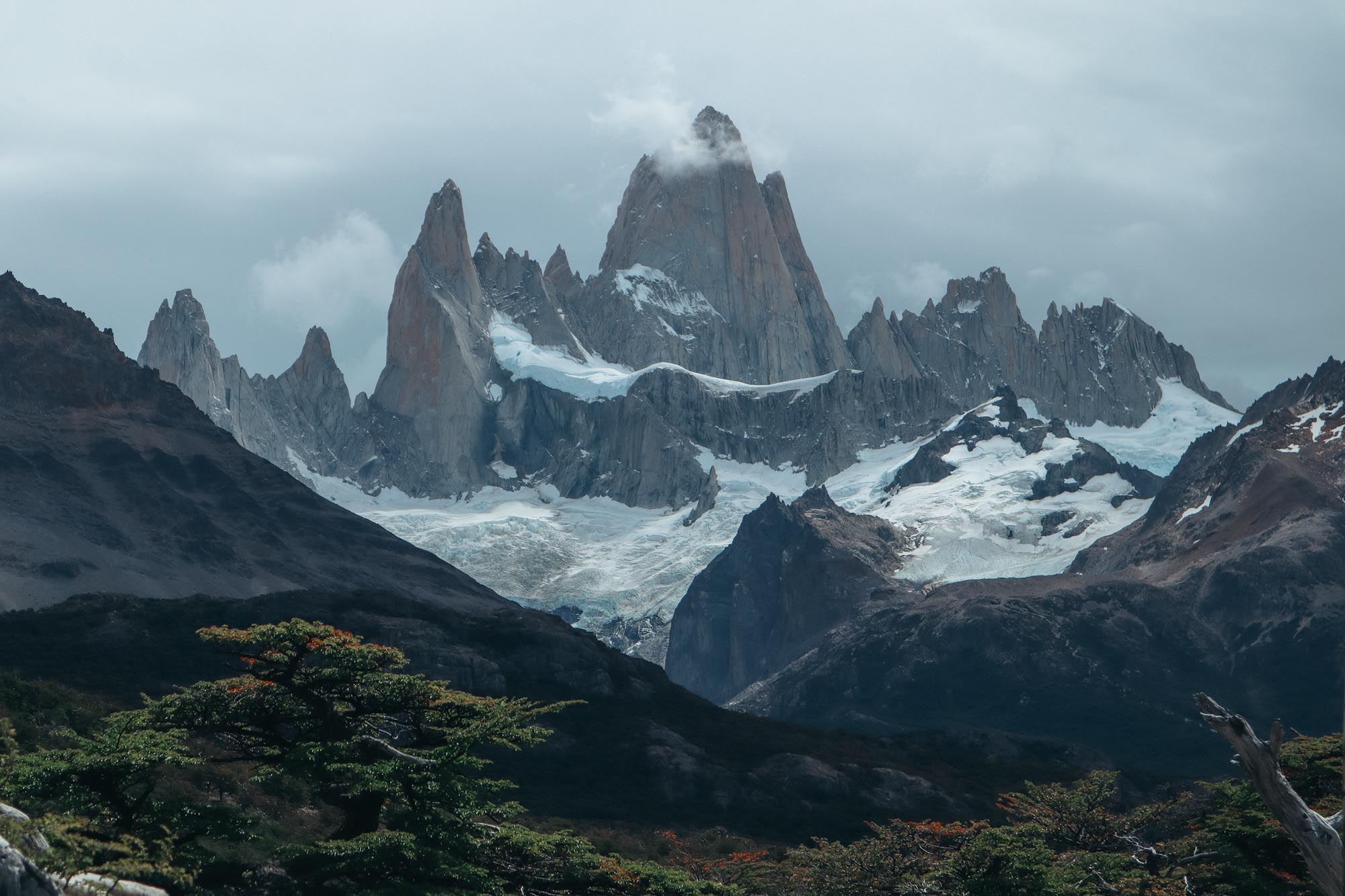 You don't have to be an experienced hiker to revel in the breathtaking views of Fitz Roy. El Chalten is located so close to the mountain that even a short walk will offer you incredible views. The following routes are suitable for people of all ages and fitness levels:
Viewpoint Las Aguilas (Mirador Las Aguilas) – overlook of Lake Viedma.
Los Condores Viewpoint (Mirador Los Cóndores) – 360-degree panoramic view of the Adela massifs, Fitz Roy and Torre peaks, as well as the Rio de las Vueltas valley.
Waterfall Chorrillo del Salto (Chorrillo del Salto).
Lake Capri (Laguna Capri) – fantastic views of the peaks of Fitz Roy. At the lake, the path divides into two: one leads to the beach, the other to the viewing platforms.
One day hikes
Laguna de Los Tres
Distance: 23 km (14 miles) round trip
Time: 8 hours
Elevation gain: 1040 m (3400 ft)
Difficulty level: difficult 
GPS trek: https://es.wikiloc.com/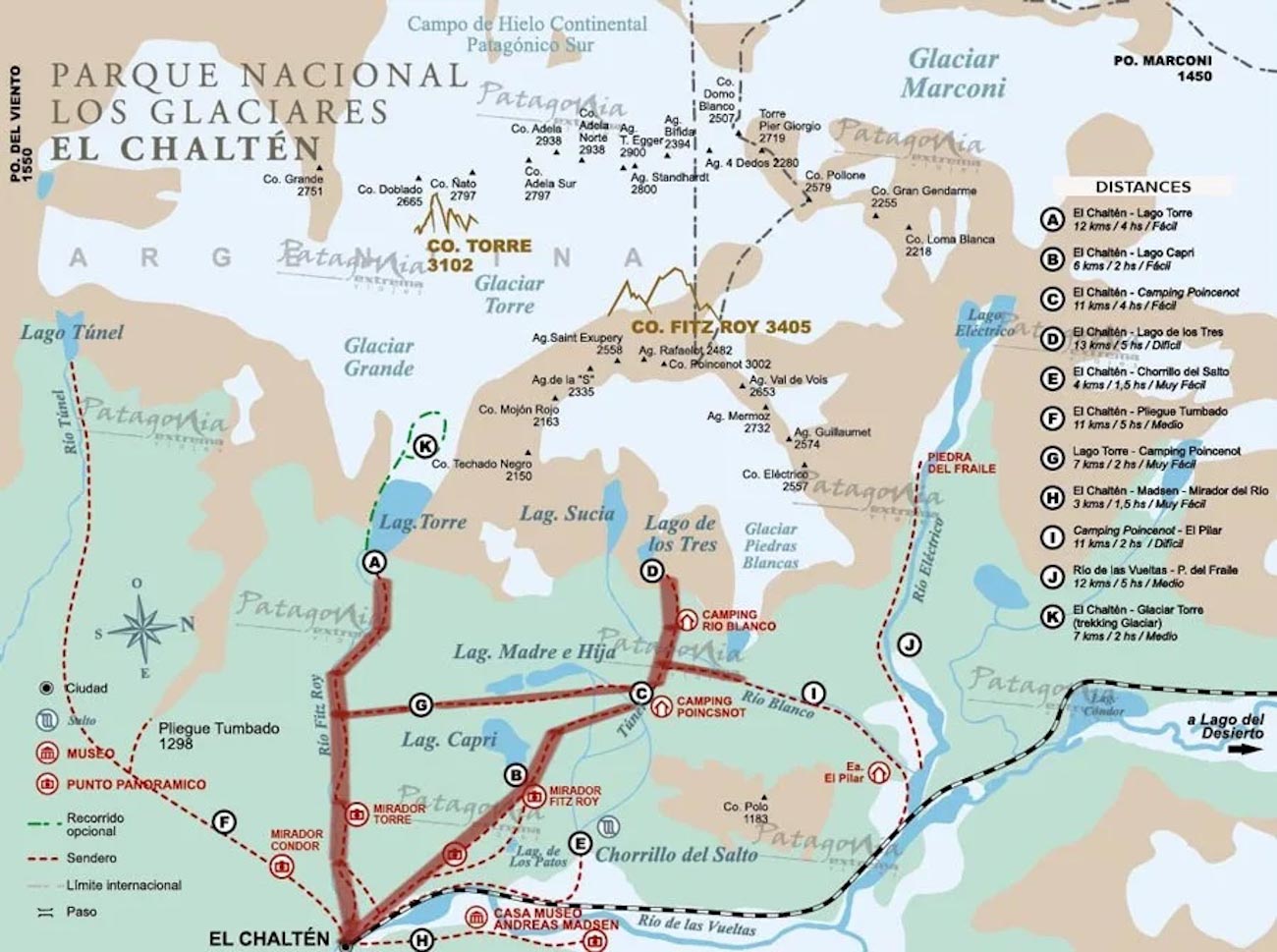 Laguna de Los Tres is one of the most popular trails in the area, and for a good reason – it offers incredible views of Mt Fitz Roy from a nearby lake. Just be sure to pick a day with clear skies and low winds, so you can fully appreciate the breathtaking views at the top. If you only have one day in El Chalten, this hike should be at the top of your list.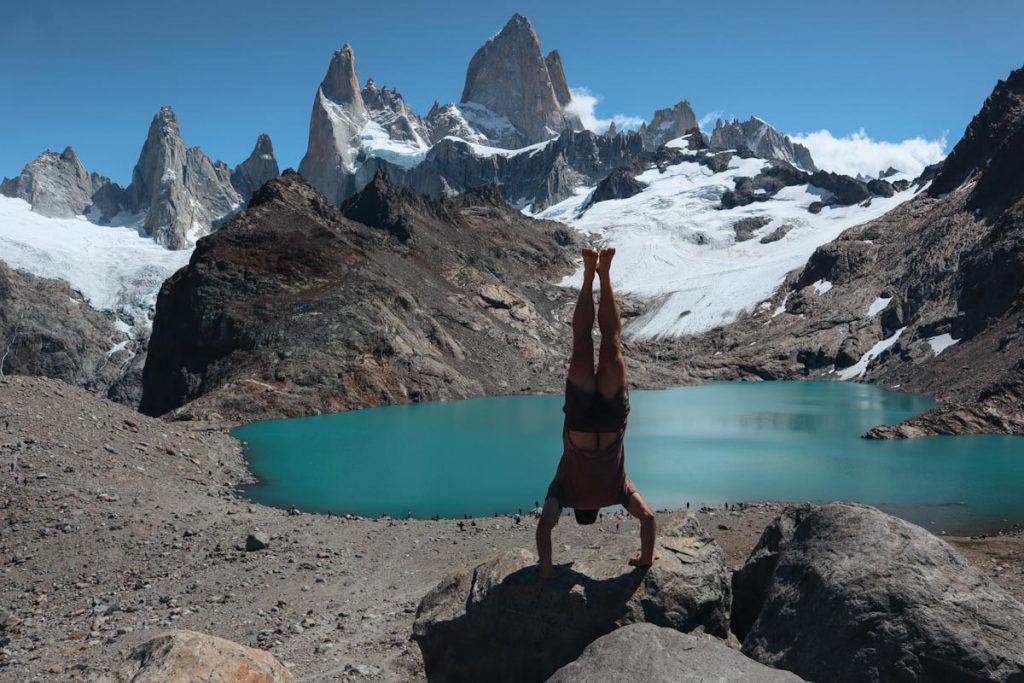 While it is feasible to reach Laguna de Los Tres in a day, many tourists opt to spend the night at the Poseinot campsite and embark on the ascent to the lakes at dawn. If the sky is clear, the mountain erupts into a brilliant fiery red – you may have seen photos of it on the internet. Although leaving the tent on a frosty morning can be a challenge, the awe-inspiring views are worth it.
Cerro Torre and Laguna Torre
Distance: 19 km (12 miles) roundtrip
Time: 7-8 hours
Elevation gain: 520 m (1700 ft)
Difficulty level: easy to moderate 
GPS trek: one day hike to Cerro Torre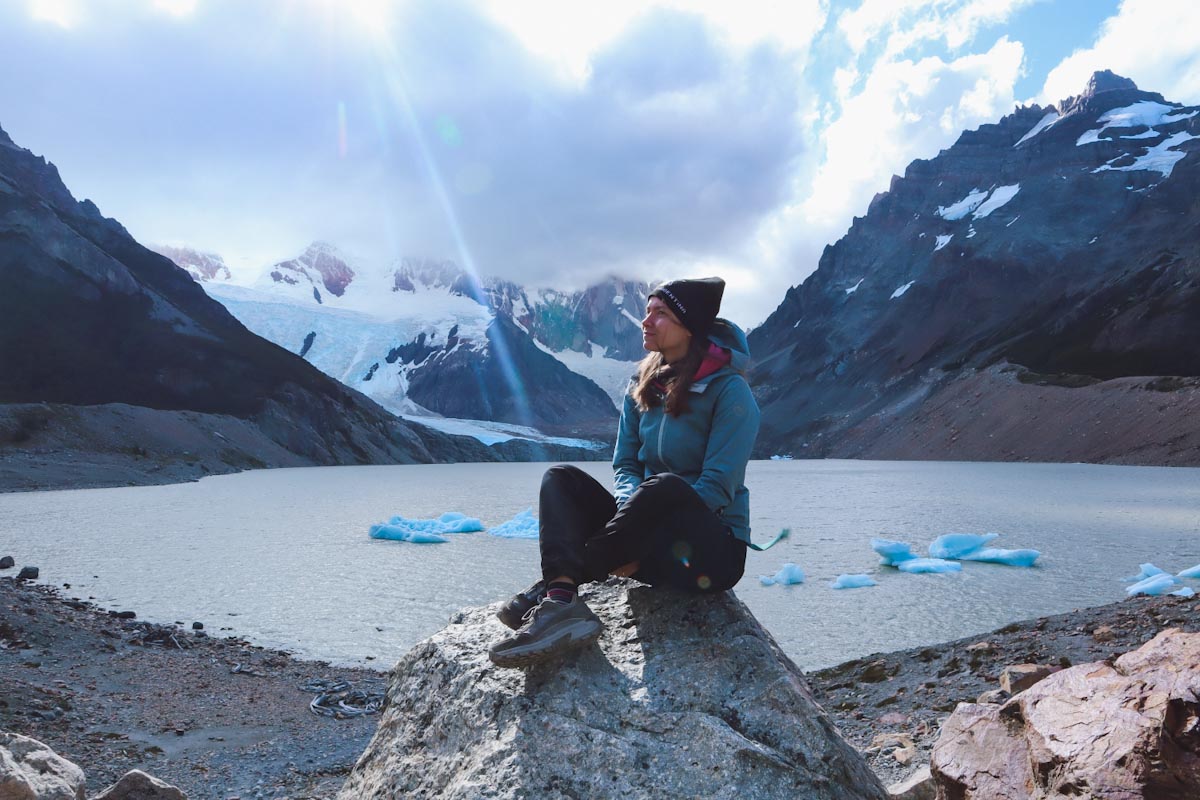 The Laguna Torre trail is one of the two most popular trails in El Chalten. It takes you to a beautiful glacial lake at the base of Cerro Torre.
It is possible to connect this route to Loma del Pliegue Tumbado. See description on Wikiexplora.
Loma del Pliegue Tumbado
Distance: 21 km (13 miles) roundtrip
Time: 8 hours
Elevation gain: 1100 meters (3,610 miles)
Difficulty level: moderate
GPS trek: https://es.wikiloc.com/
The Loma del Pliegue Tumbado trail starts at the National Park Ceferino Fonzo Visitors Centre. A small sign indicates two paths: one goes to Los Cóndores and Las Águilas viewpoints, and another goes towards Pliegue Tumbado.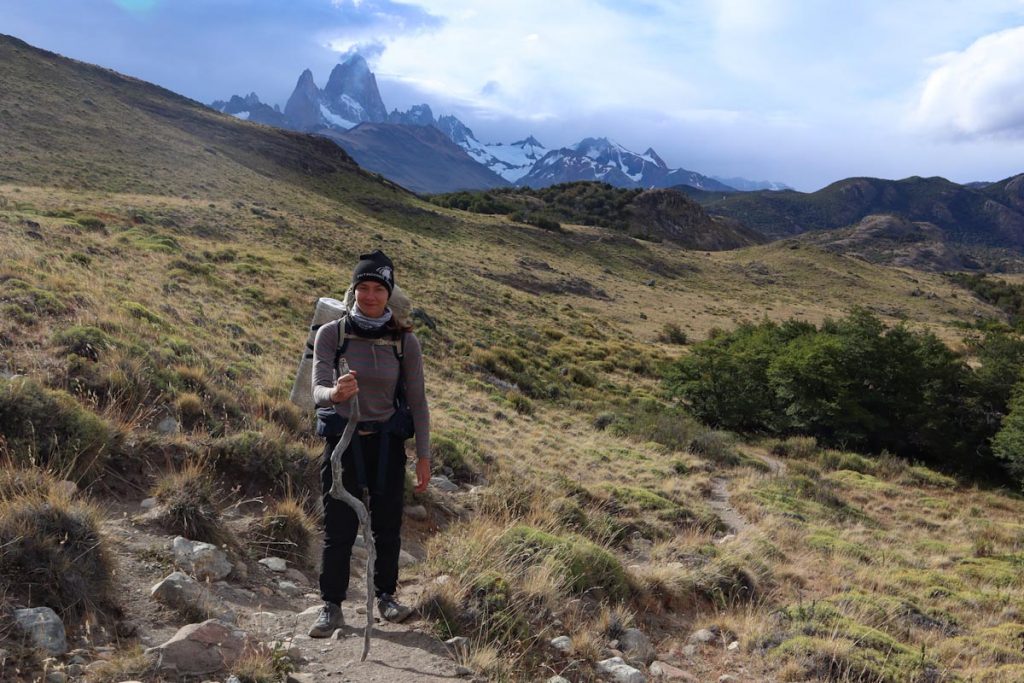 On this trail, you can appreciate the impressive Mount Huemul, the Viedma lake, and the best panoramic view of Mount Fitz Roy. Along the way, you also can find ancient marine fossils dating back 100 million years. Just be sure to bring a windproof jacket and warm clothes, as the trail can be exposed to wind and sometimes experiences a light snowfall even in summer. 
Diablo Lagoon and Cagliero Glacier
Distance: 14 km (8,5 miles)
Time: 5-6 hours
Difficulty level: easy
Price: 4000 ARS
Opening time: from 9:00 to 18:00, with the last entrance at 16:00.
This trail belongs to the private nature reserve of Estancia Los Huemules, 17 km (10,5 miles) from El Chaltén on the way to Lago Del Desierto. You will have to pay an entrance fee of 4000 ARS (as of January 2023). Camping is not allowed. To visit on a day trip, you can take a taxi or hitchhike from El Chalten.
Multi-day hikes (with an overnight stay at wild campsites)
Two day hike to Laguna de los Tres and Cerro Torre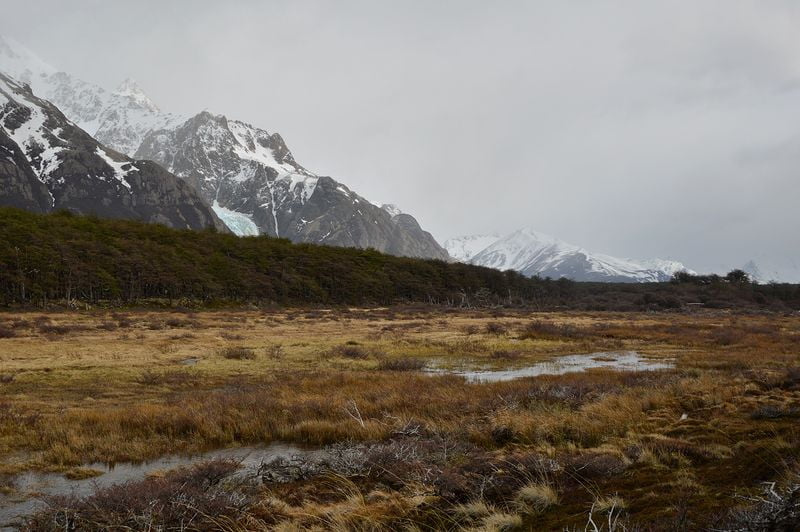 Both destinations can be visited without returning to El Chalten. In October 2017, I followed this route and spent the night at the Poseinot campsite. The trail linking both routes runs by the Madre and Hija (Mother and Daughter) lakes. Additionally, weather permitting, you can ascent to Fitz Roy at dawn for the spectacular views.
Make sure to check out my post Hiking at Mt Fitz Roy: Laguna de Los Tres and Cerro Torre Circuit
Piedra del Fraile
Distance: 13,7 km (8,5 miles) one way to the campsite + different routes around (see distance below)
Time: 2 hours
Difficulty level: easy
Price: there is a fee to pass through the property (consult by Whatsapp).
GPS trek: https://es.wikiloc.com/
This hike begins at the bridge over the Eléctrico River, 16 km from El Chaltén. After two hours of walking, you will arrive at the Piedra del Fraile campsite. The property has dorms and a small restaurant. You must pay a fee to pass through the property. Little further away is the Piedras Negras camp.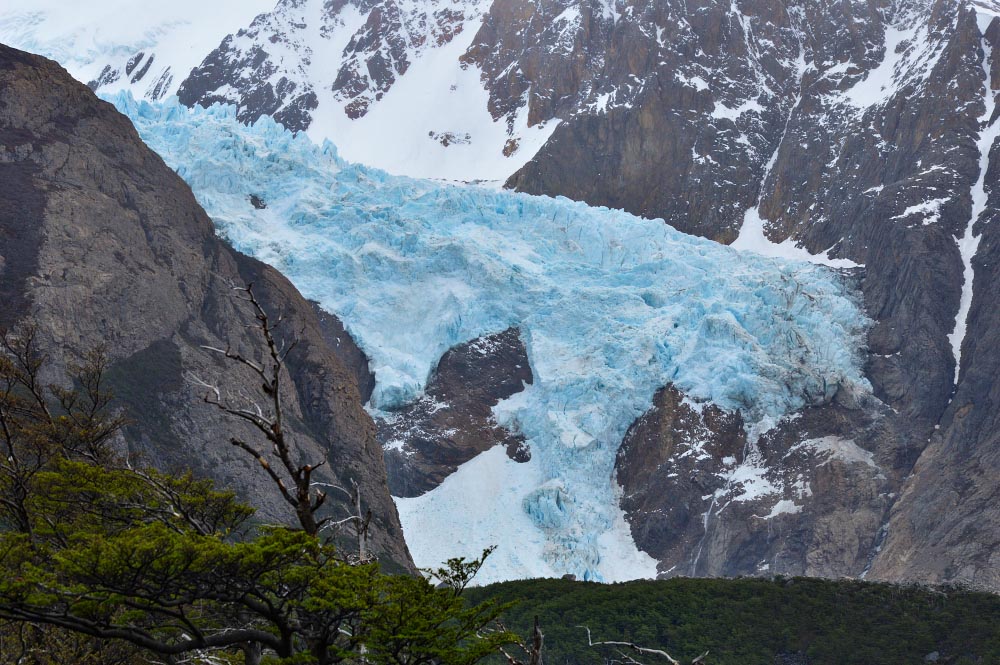 From this campsite, you can do a few day hikes:
Paso del Cuadrado 8 km (5 miles) | 6 hours | 1430 m (4690 ft) gain | difficult. GPS trek. The most picturesque hike in the area.
Lago Eléctrico and Laguna Pollone. 10 km (6 miles) | 3-4 hours | easy. GPS trek. 
Cerro Electrico. 10 km (6 miles) | 8 hours | 1636 m (5370 ft gain) GPS trek. 
From Piedra del Fraile you can continue trekking to the Laguna de Los Tres. 
Laguna Toro and Paso del Viento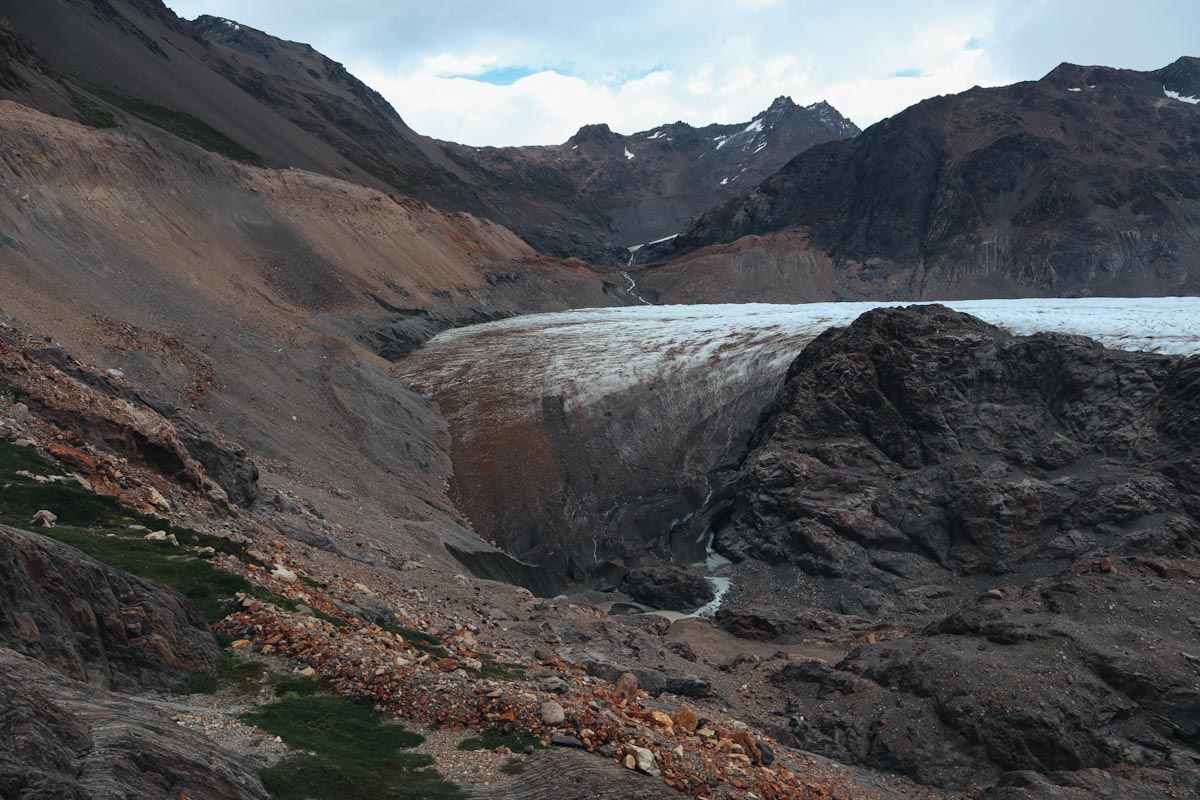 This hike is a less challenging alternative to the 5-day Huemul route. On the first day, you will trek for 16 km in 6 hours, with an ascent of 760 m. The trail will take you to the picturesque Lake Toro, where you can camp in the wilderness for the night. If you prefer not to camp, you can return to El Chalten on the same day, but you will miss out on climbing the pass.
On the second day, you can hike up to the Paso del Viento mountain pass and then return to the lakeside campsite. This is a challenging 9-hour trek, with an ascent of over 1200 meters, and it is the most exciting part of the Huemul route. You will need a zip-line harness and carabiners to cross a river along the way, which is not difficult. Harnesses can be rented in El Chalten. Sometimes the river can be crossed on foot, but it is cold and deep. Then you will climb up to the glacier, cross it directly on the ice surface, and ascend a steep pass from which you can admire the Viedma glacier.
The Huemul Circuit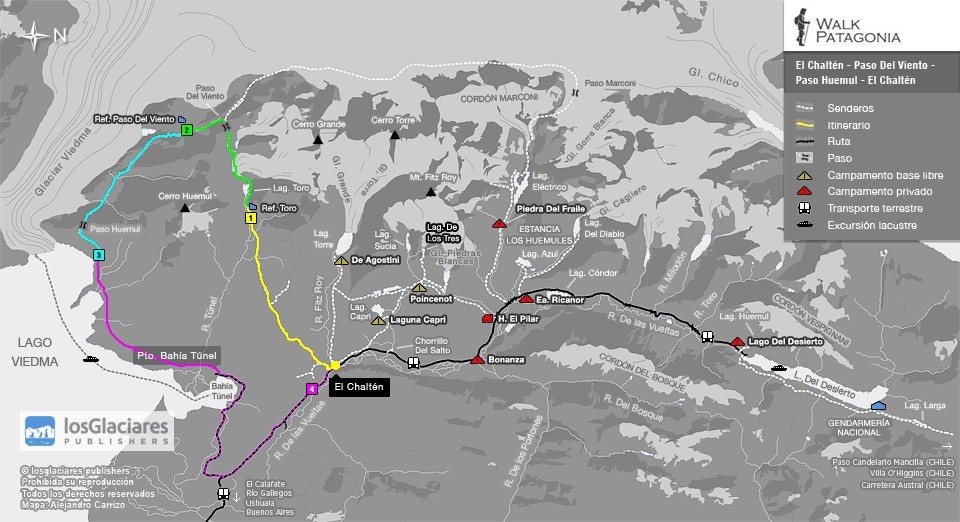 This five-day hike around Huemul Mountain is one of the toughest in Patagonia. The trail enters from Rio Túnel Valley up to Paso del Viento. Then is and continues by The Viedma Glacier to Paso Huemul. It involves semi-technical terrains, such as snow, glaciers, and moraines. The reward is an amazing view of the Southern Ice Field. 
You will have to obtain a permit for this hike. In addition, Parque Nacional Los Glaciares requires each group to carry safety equipment for the Tyrolean traverse. You can rent it in El Chalten.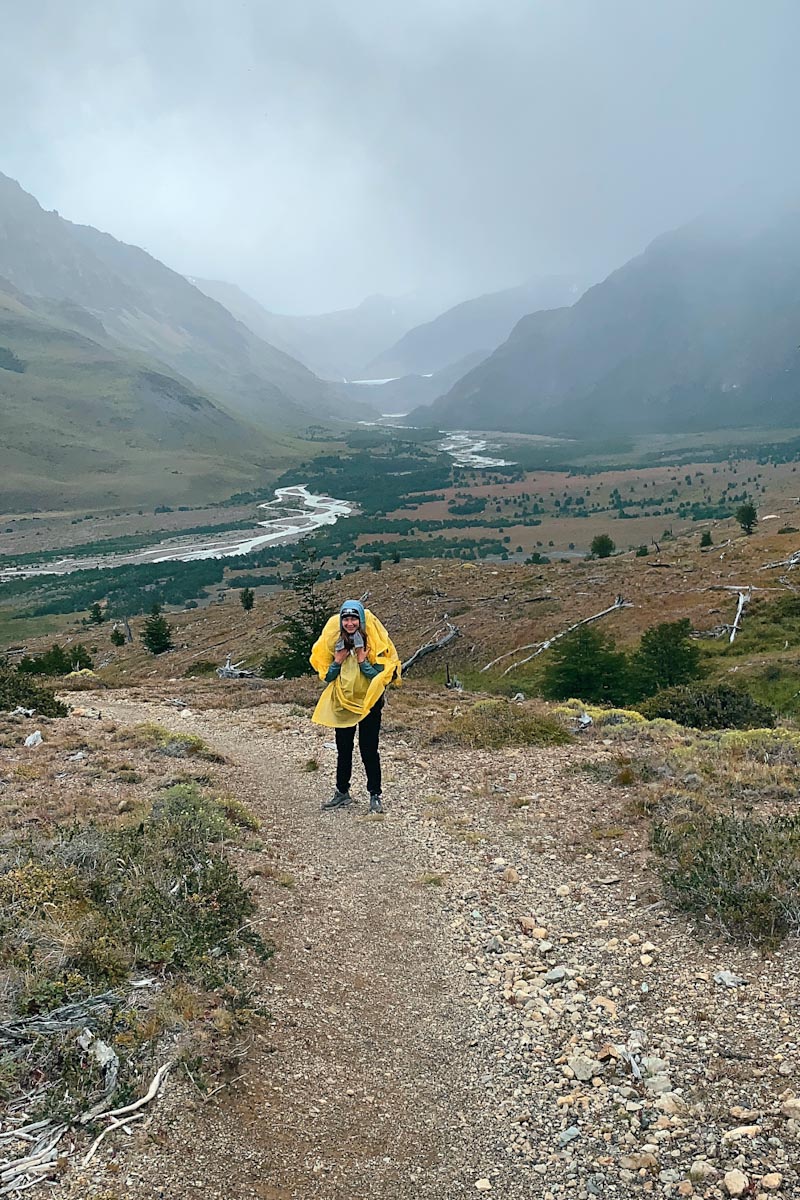 Itinerary:
El Chalten to Laguna Toro. 16km (10 miles) | 6 hours | 2500 ft elevation gain. Wild camping at the lake. 
Laguna Toro to the mountain hut at Paso del Viento. 12 kilometers (7,4 miles) | 5 hours | 900 m (3000 ft) gain. Night at the mountain shelter without outside camping spots. 
Paso del Viento to the Viedma lake. 18 kilometers (11,2 miles) | 5-6 hours | 640 m (2100 ft) gain. Camp at Bahia de Los Tempanos campsite or Bahia de Hornos on the Peninsula Ventisquero.
Lake Viedma to El Chalten by the Tunnel Bay. 18-26 kilometers (11-16 miles) | 5 hours. 
You can combine all the trekking routes in El Chalten in one mega tour. See the description of the circuit #7 on Wikiexplora.
Guided hikes at El Chalten
5 Fun Things to Do in El Chalten Besides Trekking
Looking to mix things up a bit and try something new while visiting El Chalten? Here are 5 fun alternatives to trekking that you can consider:
🐾 Puma tracking tour. Head out into the wilderness with a guide and try your luck at spotting these majestic animals in their natural habitat. This is a great activity for wildlife photographers.
🎿 8-day Ice expedition. Not a cheap activity, but definitely a unique way to experience the beauty of the region's frozen landscapes. There are various companies who offer this tour, for example Chalten Mountain Guides (Ice Cap expedition with Gorra Blanca summit). 
🏄 Kayaking or rafting. Hit the water and take in the stunning scenery as you paddle down the Rio de Las Vueltas.
🏇 Horse riding. Explore the estancias (ranches) near El Chalten on horseback and get a taste of local life.
🚢 Boat trip to the Viedma Glacier. It is not as impressive as Perito Moreno Glacier, but it is worth the visit. 
🪵 Take a guided tour to the petrified forest of La Leona, located between El Calafate and El Chalten, to see ancient trees that have turned into stone over thousands of years. It is mandatory to visit the forest with a guide, and the tours usually start from El Calafate. However, with prior arrangement, you can also join a group in La Leona. You can book a tour online or by calling +54 92966544719 (it is a little cheaper to book by phone).
🧗Rock climbing in El Chalten. Consult by phone +54 92902452671.
Planning Your Trip to El Chalten in 2023: A Comprehensive Guide
How to get there
There are several options for getting to El Chalten.
Fly to El Calafate, then take a bus to El Chalten
Take a flight from Buenos Aires to El Calafate with Fly Bondi. The flight takes 2.5 hours and costs about 50$. 
Take a VES shuttle to the bus terminal for 1500 ARS. You can make a reservation via Watsapp +54 92966544938. There is no public bus that goes to the city centre from the airport.
Then take a bus from El Calafate to El Chalten. The bus journey takes about 3 hours. It runs from El Calafate to El Chalten and viceversa from 8:00 till 21:45. It costs 5400 ARS (around 15$).
Take a bus from Bariloche to El Chalten
Take a bus from Bariloche to El Chalten, which takes about 27 hours and costs roughly 100$. Tickets in January and February are sold out a week in advance!
There is also the option to fly from Bariloche to El Calafate with Aerolineas Argentinas, but prices are typically higher (around 180$), and it is impossible to pay with cash. It may be cheaper to fly with a layover in Buenos Aires. 
Cross the border from Villa O'Higgins, Chile to El Chalten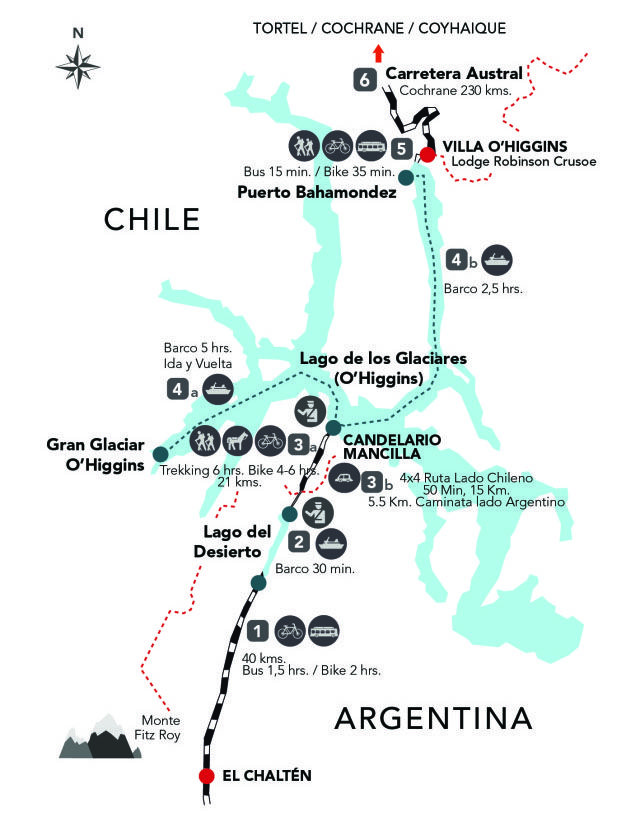 Are you planning a trip to the Carretera Austral in Chile as well? The border crossing from Villa O'Higgins to El Chalten involves a long hike and a ferry ride. Here's how to do it.
Take a bus from Villa O'Higgins to the port of Puerto Bahamondez. The bus leaves from the office of Ruedas de la Patagonia and costs 2500 CLP.
From the port, catch a boat to Candelario Mancilla. It leaves on Monday, Wednesday, and Friday at 8:30 and arrives at Candelario Mancilla at 11:00. The cost is 60000 CLP (around $70). Book online on the Ruedas de la Patagonia website. Note that the Robinson Crusoe ferry is not operating as of January 2023.
Walk 22 km to the Argentinian border control at Lago Desierto. You can use this GPS trek or contact Ricardo for a transfer at

[email protected]

. You still will have to walk 7 km with all your stuff.
Get your passport stamped at the border control. Then catch a boat at Lago Desierto at 17:30 or at 11:00 the next day. The cost is around $40. There is a campsite near the lake if you need to stay overnight. Alternatively, you can walk an additional 12 km to El Chalten from the lake.
Take a bus from the port to El Chalten (35 km).
To go from Argentina to Chile, follow the same route in reverse. The ferry from Candelario Mancilla leaves at 17:00 and arrives at 20:15, and then a bus at 20:30 will take you back to Villa O'Higgins. 
How to pay and where to exchange money
As of January 2023, there are rumors that international credit cards may be charged in pesos at the MEP rate, which is similar to the "blue" rate. However, this rate only worked twice for our Visa and Mastercard cards, and then we were charged at the official rate. I recommend to bring cash dollars, which can be exchanged at a good rate in El Chalten. Cryptocurrencies are not commonly accepted there (exchange it in Buenos Aires instead).
Flight bookings can be made online and paid in cash through the Rapipago system. It is available only for FlyBondi airline.
It's better to purchase bus tickets in cash at the ticket office. There are many buses available on the El Calafate – El Chalten route, and even during peak season, there were empty seats (unlike other routes).
Best time to visit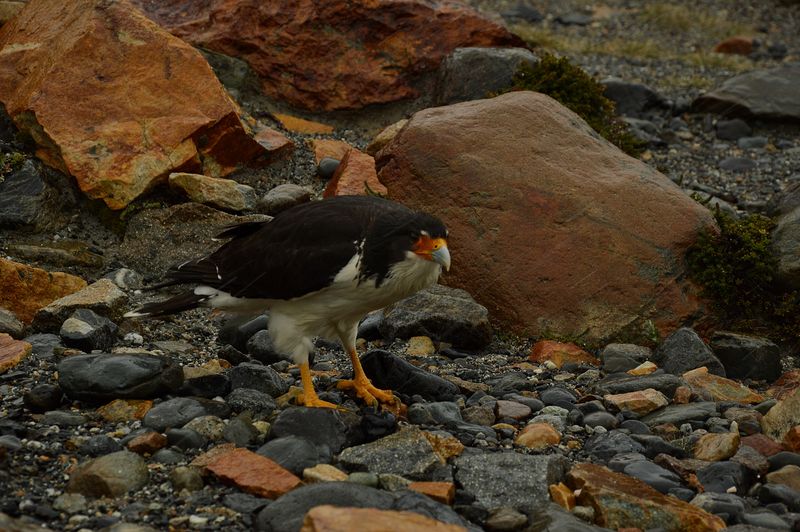 ☀ The summer months of December to February offer the best weather for hiking, but also the highest crowds.
🍃 The spring season of October to November have fewer crowds. I was on the trail to Laguna de Los Tres absolutely alone in the middle of October. However, the chance of rain or snow is higher.
🍂 In March and April, autumn is in full swing in Patagonia. The fall foliage brings bright colors to the forests. The weather is cooler, with daily highs in the 40s and lows in the 30s, and the winds are not as strong as they are in the summer. Keep in mind that the daylight hours are shorter. The thinning crowds offer a chance to see more wildlife.
❄ June to August is winter in El Chalten, with snow-covered landscapes and very few visitors. The temperatures are too cold for most outdoor activities and many accommodations are closed. If you visit during this time, bring winter clothing and gear. The weather in Patagonia is no joke.
What to pack for hiking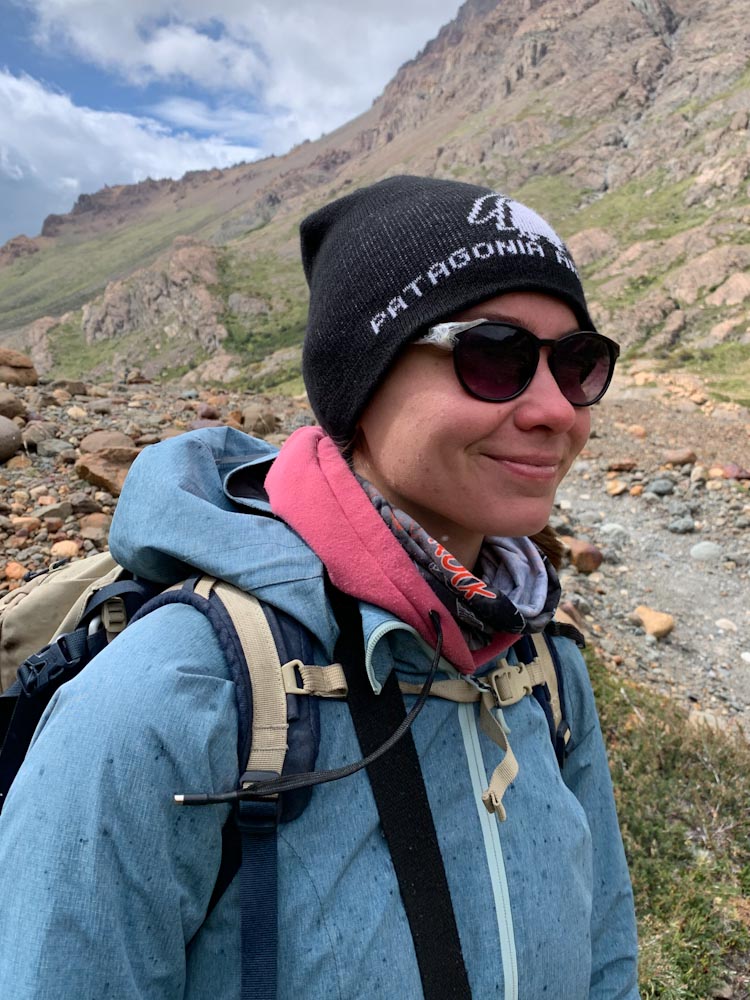 No matter when you visit El Chalten, be sure to bring appropriate gear, as the weather in Patagonia can be unpredictable.
Waterproof jacket. It will keep you dry in case of rain or snow.
Hiking boots with Gore-Tex. Keep your feet dry and comfortable on the trails with waterproof boots. Gore-Tex is a breathable material, so your feet won't get too sweaty.
Warm layers. Even during the summer, it can get cold in Patagonia. Make sure to pack a fleece, and thermo layer, as well as a hat, gloves, and a buff to keep you warm.
Sun protection. Don't forget to pack a hat, sunglasses, and sunscreen to protect yourself from the strong sun, especially at high altitudes.
First aid kit. It should include bandaids and bandages, antiseptic wipes, pain medication (such as ibuprofen), anti-inflammatory medication, aspirin, scissors, and tweezers.
Water bottle. Hydration is key on the trails, so make sure to bring a water bottle that you can refill on the way.
Water filter. Even though the water in Patagonia is generally clean, it's always a good idea to have a water filter in case of rain or if you don't trust your water source.
Map and compass. It's important to have a backup navigation plan in case you lose your way or your phone dies. A paper map and compass can be a lifesaver.
Jetboil stove. Open fires are prohibited in Patagonian parks. You'll need to bring a stove for cooking. The winds in Patagonia can be strong, making it difficult to cook on a regular stove. A Jetboil is a great option because it is designed to be wind-resistant and boils water quickly. You will have to bring a propane tank, which you can purchase in El Chalten.
Tent. In Patagonia, you may need to spend the night in a tent not only in the mountains but also in the cities – it is often the only available accommodation option without prior reservation.
Inflatable or regular mattress. I highly recommend investing in a good quality one, rather than relying on cheap mats from Argentinean stores. I once purchased a mat in Buenos Aires that allowed the cold from the ground to seep through, and ended up sleeping on my backpacks, shivering all night.
Harness and carabiners (one aluminum, the other steel). If you plan to hike along the Los Huemules route, you will need these. Renting costs $5 per day.
If you want to learn more, check out my article Pack Like a Pro: An overview of my Backpack
Where to rent hiking gear in El Chalten
You can rent all necessary hiking and camping equipment in El Chalten, including tents, sleeping bags, trekking poles, and more.
BajoZero (San Martín 685)
Camping Center (San Martín Ave., пересечение с calle Riquelme)
Viento Oeste (San Martín Ave, 898)
Where to stay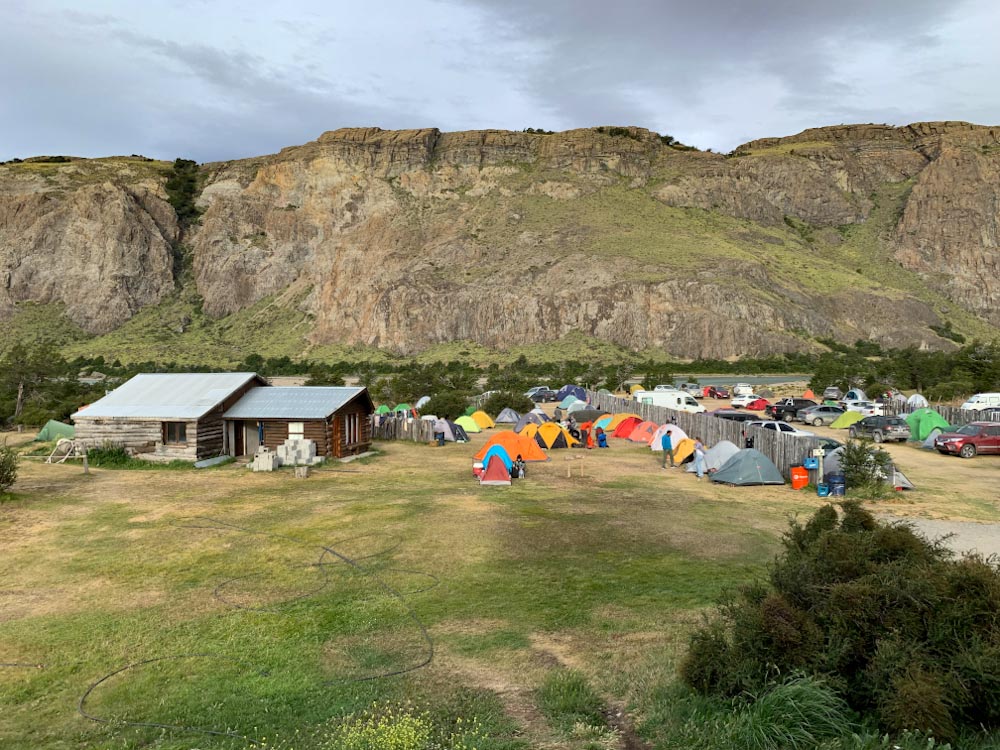 If you're looking for affordable accommodation in El Chalten, one option is to go camping. Many campgrounds in the area offer access to showers, toilets, kitchens, wifi, electricity, and a comfortable area to pitch your tent.
Some of the most popular campgrounds in El Chalten include:
El Relincho (book at +543548408964) — a lot of people and few flat places for a tent, non-working wi-fi, but a hot shower and a kitchen with a gas stove.
Casa De Ciclistas EL CHARITO — the cheapest in town.
El Paredon (book at +542966708951) — best campsite in El Chalten in my opinion. Good wi-fi, comfortable kitchen, ground is flat and protected from the wind. They also have the best exchange rate in town.
Casa Azul (location on the map). 
A bed in a hostel in El Chalten costs from $10 per night. I stayed at La Comarca, which costs 5000 ARS per person, and Pioneros del Valle, which costs 4000 ARS per person. Both hostels have excellent internet connection.
A room in a basic hotel starts from $70. I found inexpensive rooms ($30-40) at Hostería Don Galle. I highly recommend booking your accommodation well in advance.
How much does it cost to visit El Chalten
For 12 days in El Chalten we spent 780$ between two of us.
This includes:
Transportation — 365$
Flight from Buenos Aires to El Calafate — 120$
Bus from El Chalten to Esquel — 175$
Other short distance bus trips – 70$
Accommodation – 147$
4 nights camping – 55$
1 night in a hotel – 66$
1 night in a hostel – 26$
5 nights in a tent in the mountains – free of charge
Meals and groceries– 268$
Ate three times in a restaurant (burgers + craft beer) — 45$
Groceries in the supermarket — 223$
Rent and purchase of equipment – 45$
Rent of harness and carabiners for 3 days — 15$
Hat, raincoats, lip balm, buff — 30$
Recommended Guidebooks and maps
How to survive peak season in El Chalten
El Chalten is one of the most popular destinations in Patagonia, alongside Bariloche, Ushuaia, and Puerto Natales in Chile (home to the famous Torres del Paine park). Tourists arrive here by plane, visit national parks, and then return home.
The downside of it? CROWDS.
If you're heading to El Chalten in the summer, prepare for the following challenges:
Lack of accommodation. Hostels and budget hotels are in high demand. You won't find affordable options on booking.com, so you'll need to book directly with the hotel well in advance. Paid campsites (2500 pesos per person) are the only option for budget travelers on short notice. Sometimes you can grab the last bed in a hostel (4000-5000 pesos). On rainy days, we paid 25,000 pesos and searched for three hours to find a hotel room. EVERYTHING is booked.
For the budget-conscious: pitching tents in the city is now prohibited, and you'll likely be kicked out by police. The same goes for motorhomes – they've been assigned one free parking lot in front of the national park entrance. It used to be permitted to set up tents and park cars near the river, but that's no longer the case. Capri Lagoon, about an hour's uphill walk from El Chalten, is the closest free campsite to the town. There are no facilities, but there's a beautiful lake and a view of Fitz Roy.
Camping supplies and equipment are available and even cheaper than in El Calafate. Renting a harness, two carabiners (one steel and one aluminum), and 35 meters of rope for the five-day Los Huemules route costs 2,000 pesos per day.
BOOK YOUR BUS IN ADVANCE. While there are many buses in El Calafate with available seats, only one bus goes in the direction of Bariloche, and it needs to be booked a week in advance. We spent five extra days in a tent at the foot of Fitz Roy because we didn't plan ahead 😅. The situation is the same with flights. Cheap fares are sold out weeks in advance.
You can only visit the Petrified Forest La Leona with a guide for $70. Arriving at the La Leona hotel and "figure it out" won't work. Don't waste your time and money 🙂 PS – the coffee at that hotel is terrible, and doesn't worth two bucks. There's a campsite in La Leona for $10 per person if you're interested.
WiFi in El Chalten is nearly non-existent. You can connect, check your email, and sometimes even upload a photo to Instagram, but you won't be able to work remotely here.
The cozy Hosteria Kaulem serves delicious coffee and has fast WiFi. If you need to work urgently, go there. The El Mirador restaurant at the bus stop serves a hearty "hamburgesa completa" for 2600 pesos with cheese, egg, and french fries. If there aren't many people at the station, their WiFi works well.
Check the weather on the Windy website. You can select a specific point in the mountains and see a special mountain forecast by selecting "Forecast Model BLUE" Waiting for good weather in El Chalten can cost a pretty penny.