Mount Fitz Roy, a stunning peak in the southern Andes, towers over the wild Patagonian landscape. It is undoubtedly one of the most beautiful places in South America for hiking. In this article, I will share my experience hiking around Mt Fitz Roy to the famous Laguna de Los Tres and Cerro Torre. 
Where is Mt Fitz Roy
Mt. Fitz Roy is located near El Chaltén in southern Patagonia, Argentina. It is known for its distinctive spire-like peak, which makes it popular among climbers. The Los Glaciares National Park lies nearby.
Self-Guided Trek in Fitz Roy: Laguna De Los Tres And Cerro Torre
Map of the hiking trail around Mt Fitz Roy
GPS trek: https://www.wikiloc.com/hiking-trails/arg-el-chalten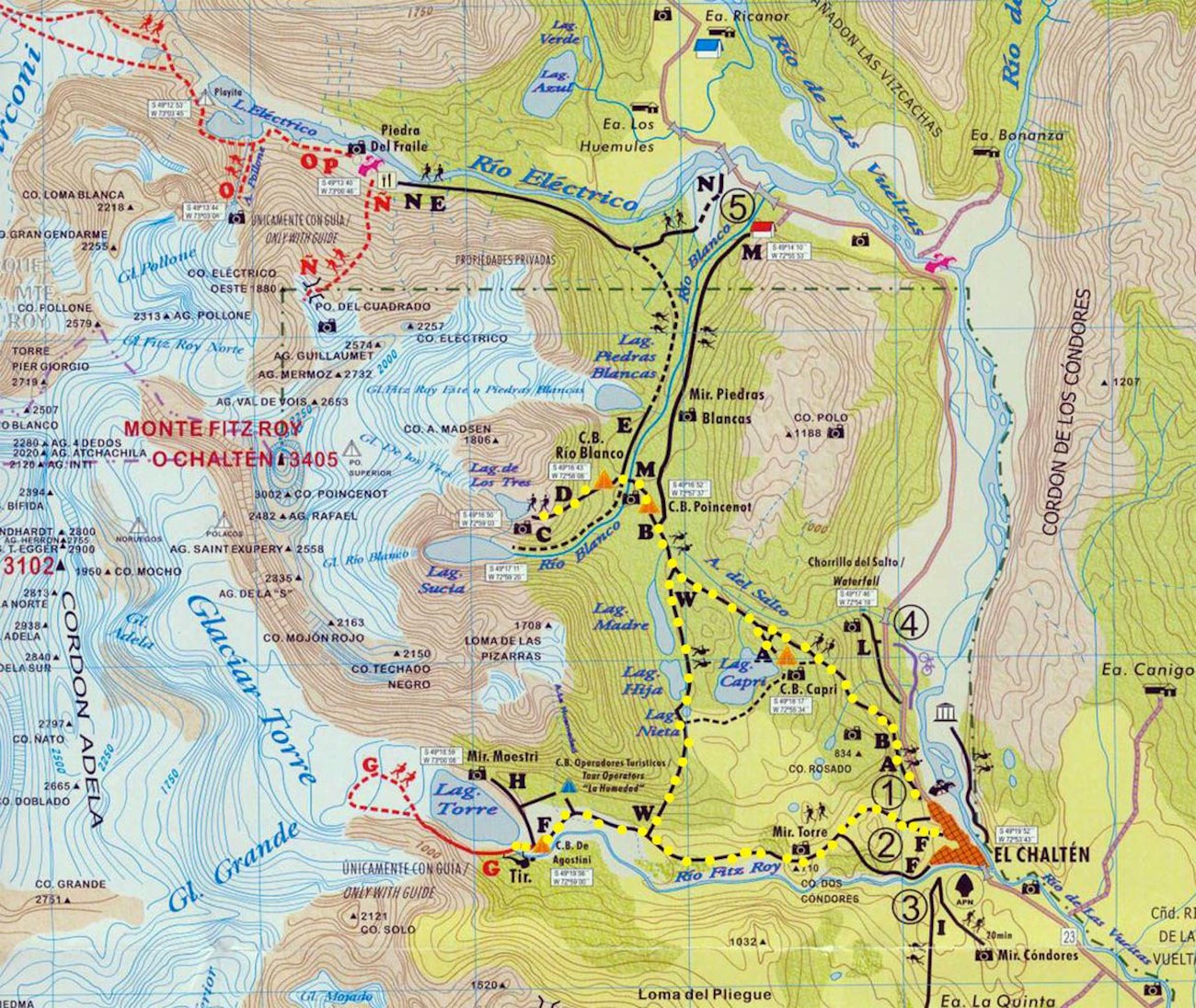 Hiking itinerary
Tourists often visit one of the two attractions and stay overnight in the village. However, we decided to take a circular route and camp out at the base of Laguna de Los Tres trail.
On the first day, we walked from El Chalten to the Poincenot campsite. The distance was 10 km (6 miles) and it took 3 hours to complete. The elevation gain for this leg of the journey was 300 m (1000 ft). On the same day, we hiked to the Laguna de Los Tres. It was a distance of 7 km (4,5 miles) and took about 3 hours. The elevation gain for this hike was 500 m (1700 m).
On the second day, we hiked for 3 hours from the Poincenot campsite to Laguna Torre, a distance of 11 km (7 miles). This leg of the trail was mostly flat. Then we returned to El Chalten. A 10 km (6 miles) downhill took us about 3 hours in a slow pace. 
Total 38 km (23,5 miles | 2 days.
Difficulty: easy to medium.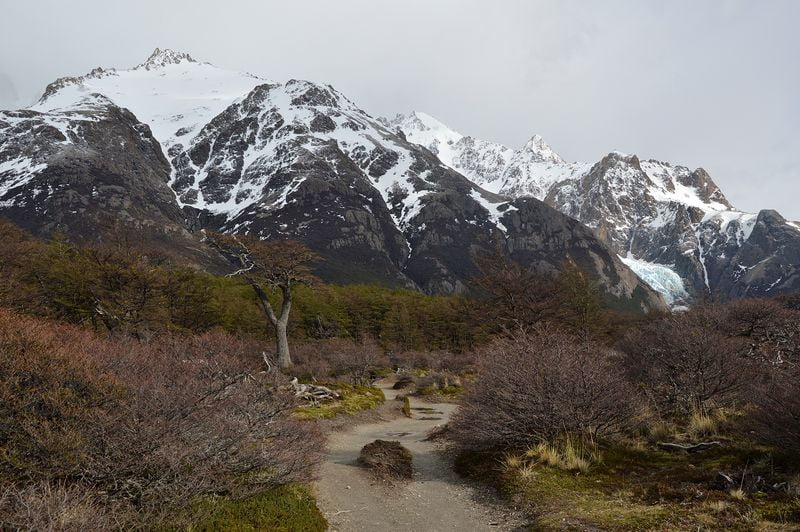 If you do these hikes as a day trip from El Chalten:
Laguna de Los Tres and Mt. Fitz Roy hike. 26 km | 8 hours | 800 m elevation gain.
Cerro Torre hike. 18 km | 6 hours | 480 m elevation gain.
Hike to Laguna de los Tres from El Chalten: my experience
My travel buddy Pawel and I arrived in Patagonia in October when the spring began to blossom. The weather, however, was not exactly ideal for hiking.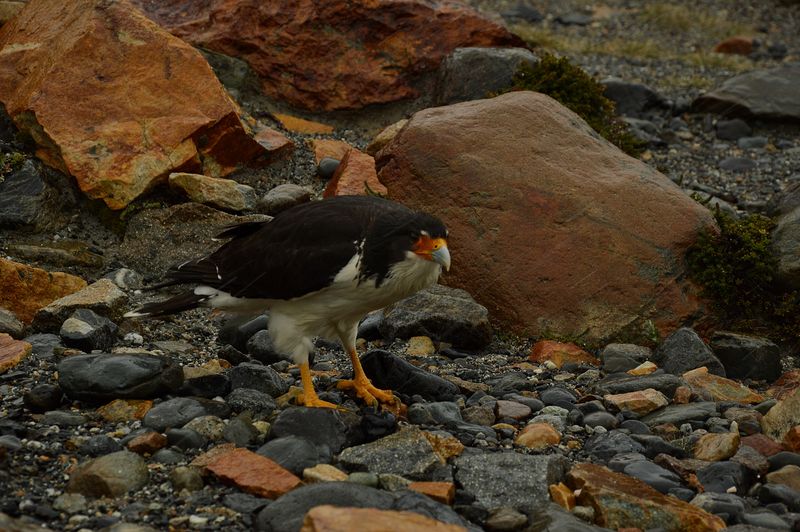 On the day we planned to hike to Mount Fitz Roy, the wind was howling, and the rain was pounding on the roof. I wanted to stay inside, wrapped up in a blanket, and drink hot cocoa while watching movies. However, Pawel gently reminded me that I was a fearless conqueror of Patagonia, the bravest woman on Earth, unstoppable in her desire to see the gorgeous mountain peaks. I got his point. We weren't going to let a little bad weather stop us.
We started our hike from the charming village of El Chalten, which is home to a few cozy hostels and some overpriced stores. Despite the weather, the hike to the Laguna de Los Tres was gorgeous. The rugged beauty of the Patagonian mountains took our breath away (literally and figuratively, thanks to the strong winds).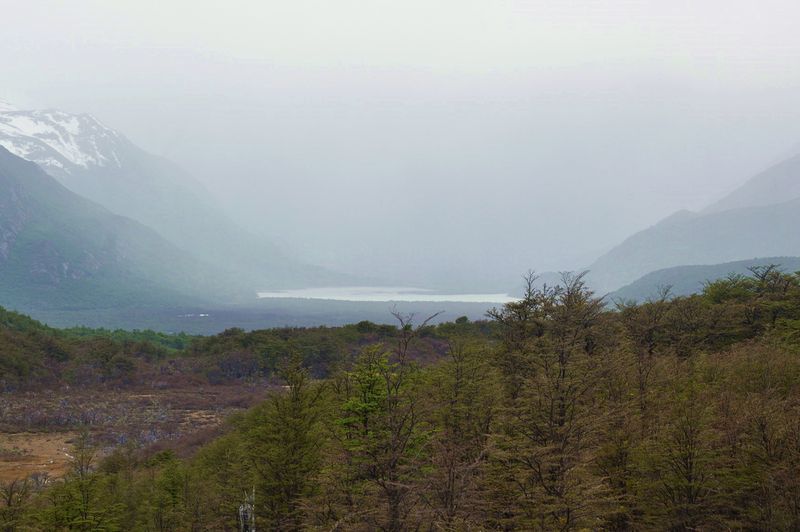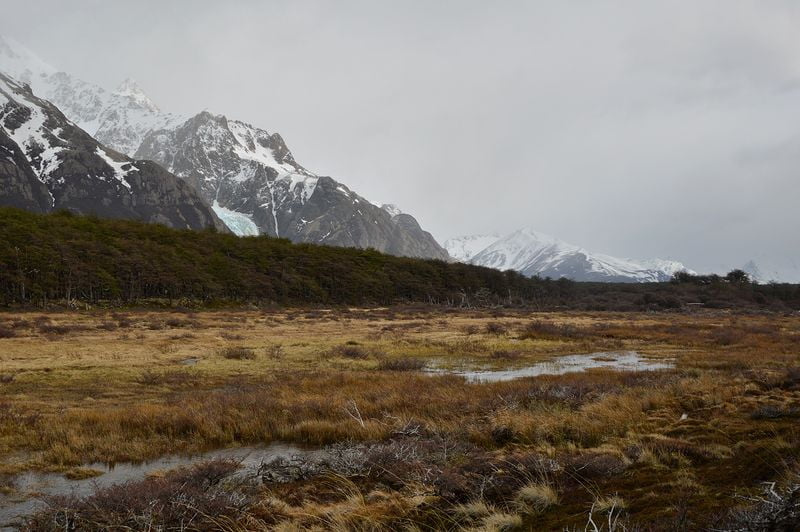 Patagonia is no joke when it comes to the weather. The wind in the valley was so strong that it blew us off our feet. It is not an exaggeration – it actually knocked me to my knees. Pawel's hat was blown right off his head.
We didn't see a single soul on the trail or at the campsite. It was just us and Mother Nature, and it was an incredible feeling.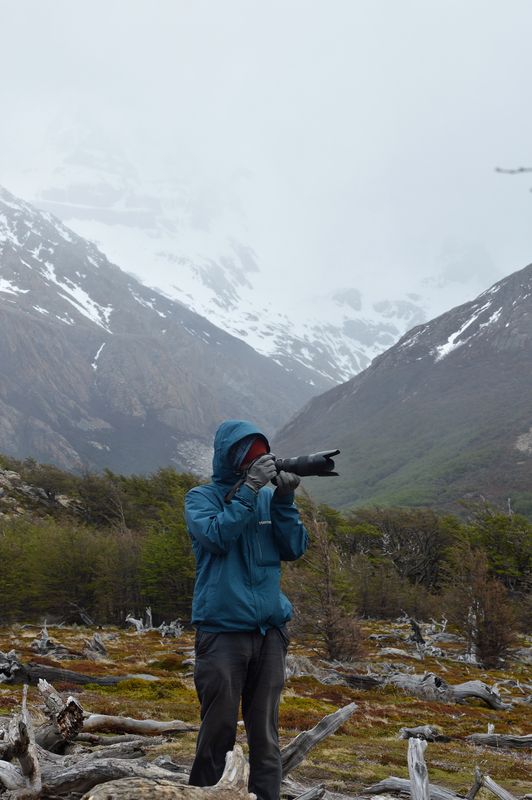 The wind eventually died down in the valley, allowing us to fully appreciate the stunning burgundy and brown tones of the surrounding landscape. Suddenly, the gorgeous peaks of Mount Fitz Roy emerged from the cloud — just for a second.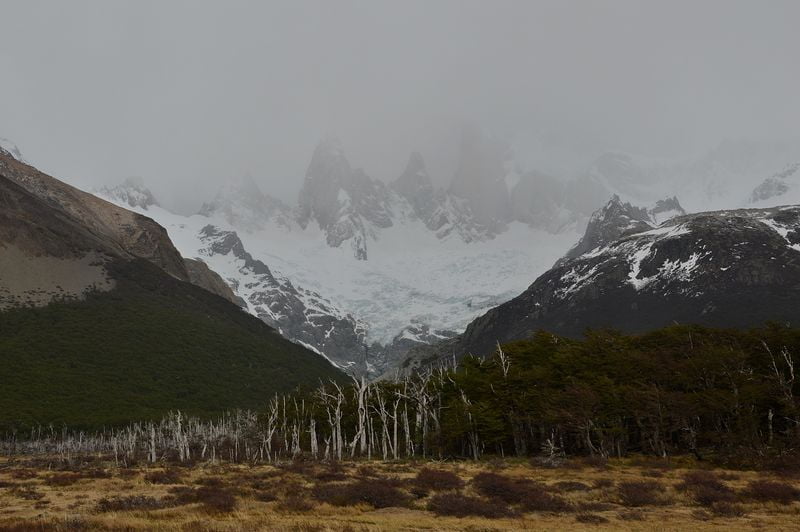 We arrived at the Poincenot campsite and quickly set up our tent. The campsite was well protected from the wind and surrounded by a dense forest. As we were getting settled, a park ranger came to warn us about the possibility of encountering pumas in the area. We made some coffee and waited for the clouds to clear, but unfortunately, they didn't.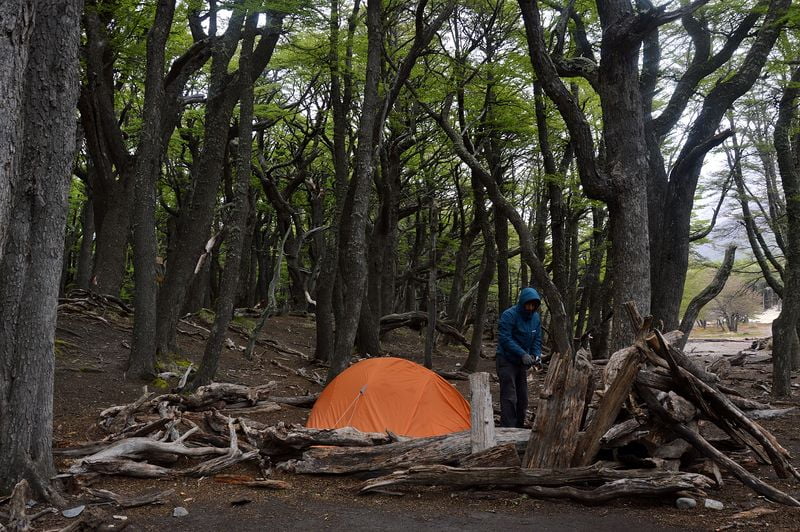 Despite the less-than-perfect conditions, we decided to go ahead and hike to the lakes at the foot of Fitz Roy. The trail was a steady uphill climb with an elevation gain of 500 m. We walked along the bed of a stream, which turned into an icy slide closer to the top. The strong wind made the climb unsafe, so we moved slowly and cautiously. At one point, I even had to crawl on my knees and take cover behind a big rock to avoid being blown over by the gusts.
At the top we found a thick fog and a snow-covered lake. The view from the cliff was still stunning, though, as we could see a deep crevasse with a glacier and a dark blue lake below. We waited for an hour hoping the clouds would clear, but no luck.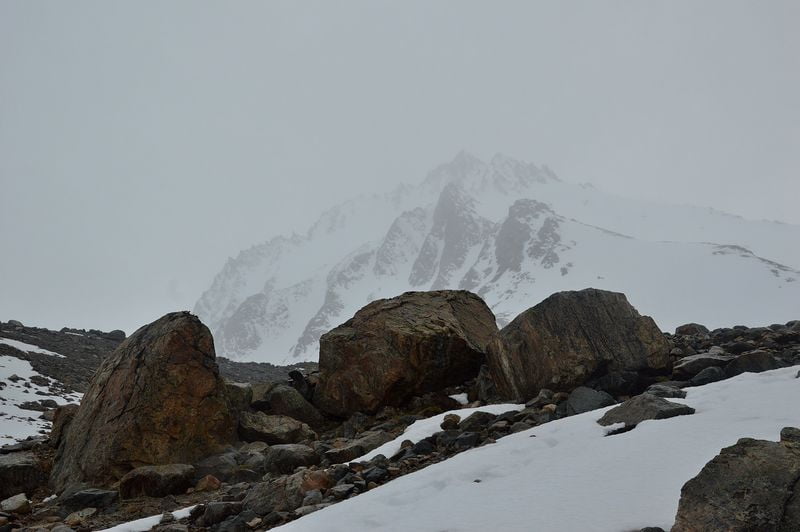 That night, the trees in the forest crackled and snapped above us, and the wind howled through the branches. I woke up multiple times, thinking about pumas and the cheese that I left in my bag. My sleeping bag, which was already eight years old and had a few holes and lumpy filling, was not up to the task of keeping me warm. Lesson learned: investing in good quality gear is crucial for this kind if adventures.
Hike from Mt Fitz Roy to Laguna Torre
The next day, we set out to visit Laguna Torre. The trail was mostly flat, and we were treated to beautiful views of several lakes as we walked.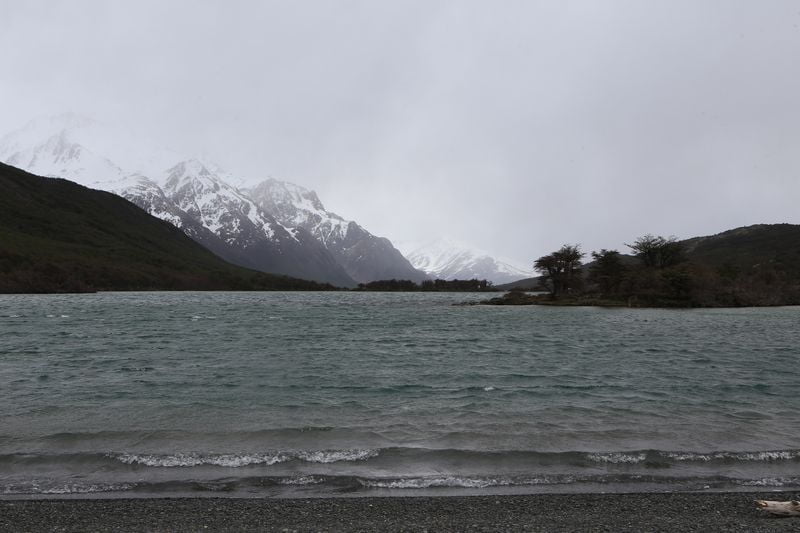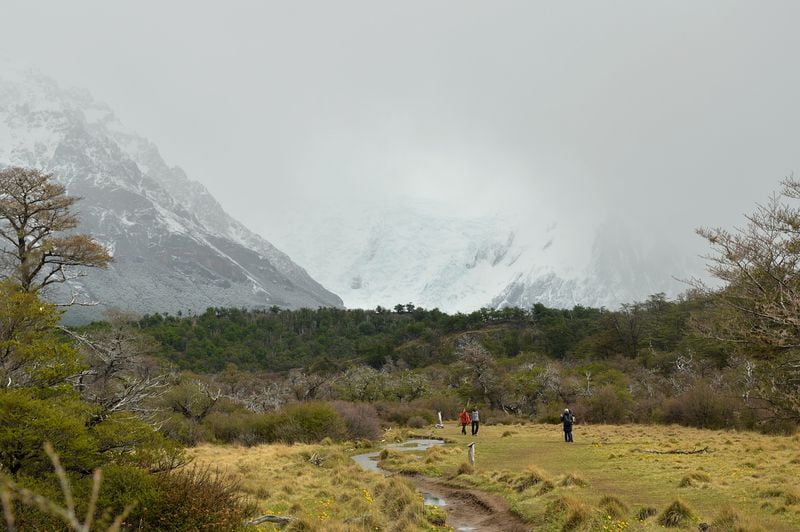 Laguna Torre was located in the Eternal Fog. It was so dense that we couldn't even see the tips of our own fingers when we stretched out our hands. To keep us warm, Pawel brewed a bucket of coffee using glacier snow. We made our way to the perfect spot for people-watching. On one side, we saw hopeful hikers making their way up the mountain, while on the other side, we saw people trudging back down the mountain, seemingly disappointed.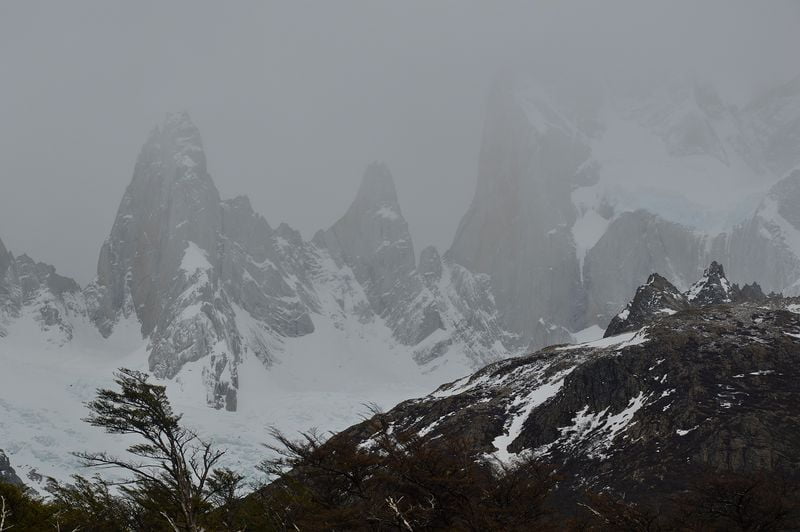 After three hours of waiting for the fog to lift, Pawel and I gave up. We decided to abandon our plans for the second night of camping too. One freezing night was enough.
As soon as we left the mountain, the weather improved dramatically. The beautiful, rushing rivers in the valleys below delighted our eyes. It was sunny and hot in El Chalten. But every time I looked back, I saw clouds swirling around the peaks.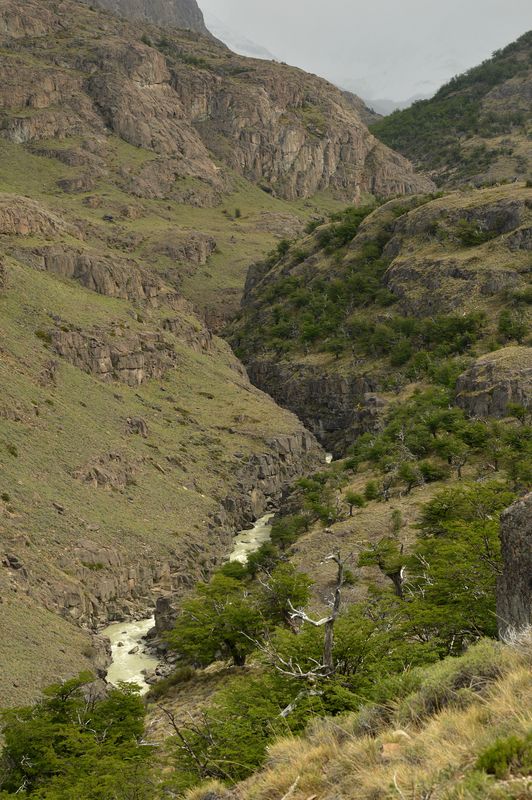 Even though I didn't get to see the postcard-worthy views of Fitz Roy, I wasn't disappointed. The raw beauty of Patagonia had completely captivated me. This was exactly how I had always imagined it in my mind. To me, being alone with nature is more meaningful than getting Instagram-worthy pictures. But since then, I've dreamed of returning to Fitz Roy.
If you want a better experience at Mount Fitz Roy than I did, be sure to read my guidebook below for some helpful tips!
How to Plan Your Mt Fitz Roy Trek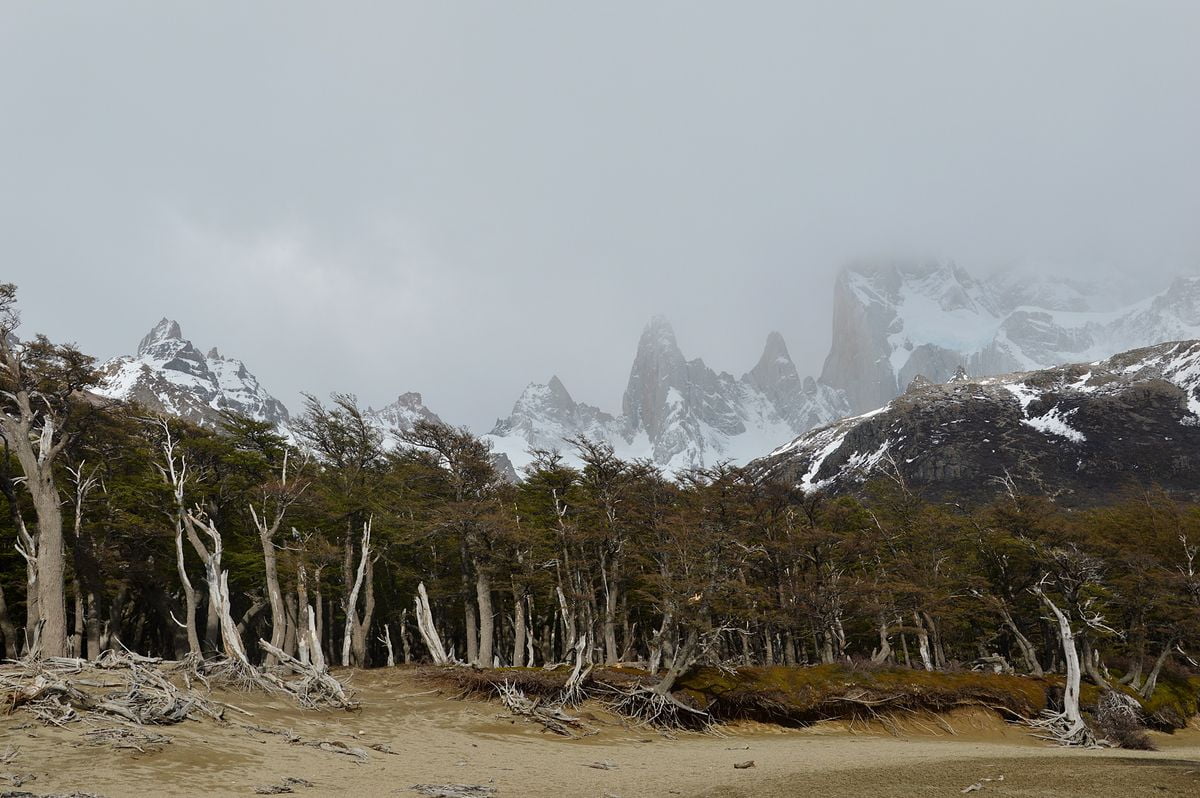 How to get there
Fly to El Calafate, then take a bus to El Chalten
Take a flight from Buenos Aires to El Calafate with Fly Bondi. The flight takes 2.5 hours, and costs about 50$. 
Then take a bus from El Calafate to El Chalten. The bus journey takes about 3 hours, and costs 13$.
The bus schedule from El Calafate to El Chalten is at 8:00, 13:30, 14:00, 17:30, and 18:30 pm; in the opposite direction, the bus schedule is at 8:00, 12:30, 13:00, 18:00. More information about these buses here.
Note: If you pay with an international credit card, you will be charged a higher price due to the difference in "official" and "blue" exchange rates. You can book your flight online and pay in cash through Rapipago (only available for FlyBondi airline). When buying bus tickets, it's best to purchase them with cash from the ticket office. Though, there is a risk that this bus will be fully booked during high season).
Take a bus from Bariloche to El Chalten
Take a bus from Bariloche to El Chalten, which takes about 27 hours and costs roughly 100$.
There is also the option to fly from Bariloche to El Calafate with Aerolineas Argentinas. Prices are typically higher (around 180$) and it is not possible to pay with cash. It may be cheaper to fly with a layover in Buenos Aires. 
Best time to hike in Fitz Roy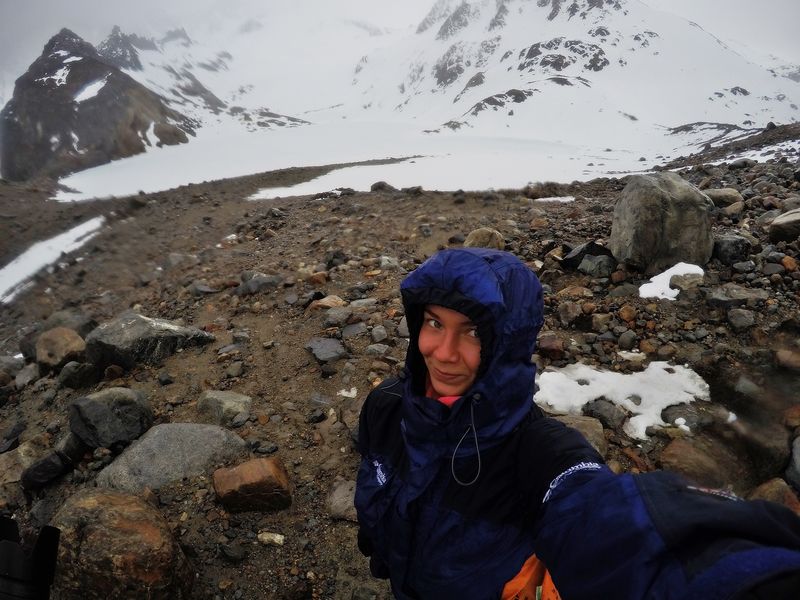 The peak hiking season for Mt Fitz Roy is during the summer months of December, January, and February, when the weather is milder and the days are longer. This is also the busiest time of year.
Spring lasts from September to November. It is the best season to see flowering flora in the region and enjoy the scenery without crowds. However, rain falls often. I recommend planning a few days extra for El Chalten. This way you can reschedule your hike if the weather is bad.
Fall is from March to June. The landscape comes alive with color, and the trails start to empty out as days become colder. The wind is often ferocious, but the spectacularly beautiful views are worth it!
Winter is from June to August. It is not a good time for hiking in Patagonia. The majority of hostels are closed during this period, and you will certainly experience cold nights and high winds. Most of the trails are inaccessible due to the snow.
Weather in Patagonia
The weather in Patagonia is unpredictable. It can be extremely windy in early summer (end of November/early December). The average temperature is from 70°F to 40°F (21°C to 4°C).
The wind speed in Patagonia can reach 80 miles per hour (128 km/h). It is not safe to hike during those times. If the wind speed is 30-40mph (50-65 km/h) you can still try to go. However, use caution as the gusts can be quite sudden and powerful and can knock you down to the ground.
We used Mountain-forecast and Windy, both are great for hikers. 
Overnight hike vs one-day hike – which should you choose?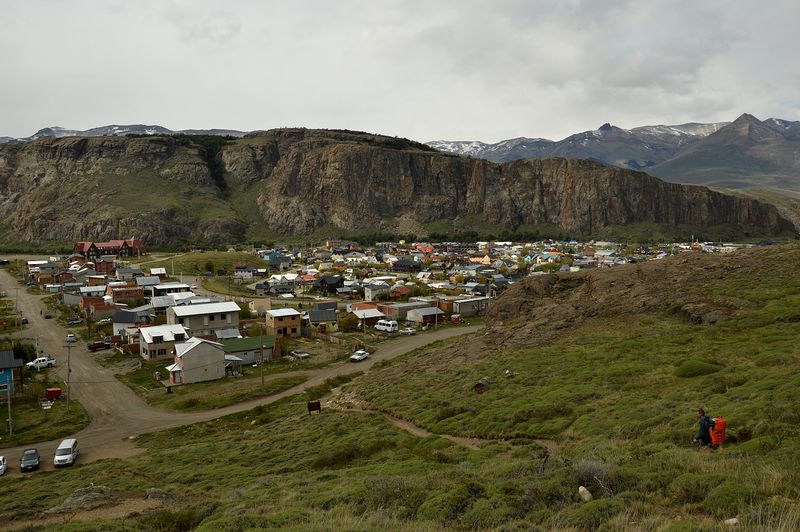 Mount Fitz Roy and Laguna de Los Tres can be visited on a day trip. This way you can spend a night in a warm hostel in El Chalten, and carry only a day pack with you. 
On the other hand, an overnight hike allows you to save up on the hostels. Spending a night at the base of the mountain will allow you to adore the majestic mountain peaks at sunset or sunrise.  
How much does it cost?
There are no entrance fees at the park, and campsites are also free.
There are only two ATMs in El Chalten, both by the bus terminal. The town gets crowded in the summer, and the ATMs often run out of money. Many businesses still don't take credit cards. I advise you to take out cash before getting to El Chalten. Due to the current economical situation in Argentina it is better to bring cash dollars or euro with you, and exchange it at the "blue" exchange rate on the street. When you withdraw money from the credit card you automatically get an official exchange rate (half price of the blue rate).
Campings at the Mt Fitz Roy
There are three campsites available for this hike. They are basic and do not provide any amenities such as showers or cooked meals. They only have a clean area for setting up a tent and a hole-in-the-floor style toilet. Drinking water is available at each campsite.
Poceinot campsite is located at the start of the climb to Laguna de los Tres.
Laguna Capri campsite is located near the Capri lake. It is protected from the wind by the thick forest.
Camping de Agostini is next to the Laguna Torre glacier. It offers the opportunity to see Fitz Roy at any time of the day. However, it is much colder at this campsite compared to Laguna Capri.
Organised hiking tours to Mt Fitz Roy
If you don't like self-guided hikes, you can take an organized hiking tour. Let the company take care of all the equipment, food, and logistics. All you have to do is enjoy the views!
Is there wild animals at Mt Fitz Roy?
Mt Fitz Roy is located in a protected natural area. It is home to a diverse range of wildlife. During a hike, you might see birds like the Andean condor or the Magellanic woodpecker, as well as mammals like guanacos and foxes.
One animal you should be aware of is the puma. These big cats may visit camping sites in search of food. That's why it's important to keep all food stored safely and out of reach. If you do happen to encounter a puma, you must stay calm and try to make yourself look as big and intimidating as possible. You can do this by raising your arms, holding a branch or other object, and making noise by shouting or clapping.
Is the hike at Mt Fitz Roy worth it?
Mt Fitz Roy is one of my top-3 hikes in South America, with the Huayhuash trail in Peru and Torres del Paine in Chile. Even though the weather was bad during my hike, I still really enjoyed it. There were a few moments when the sky cleared and I could see the beauty of Mt Fitz Roy. I didn't want to rush and take my camera out of the backpack.
The hike itself is easy with a great reward. Just look at this picture taken on a clear day.
Recommended books and maps